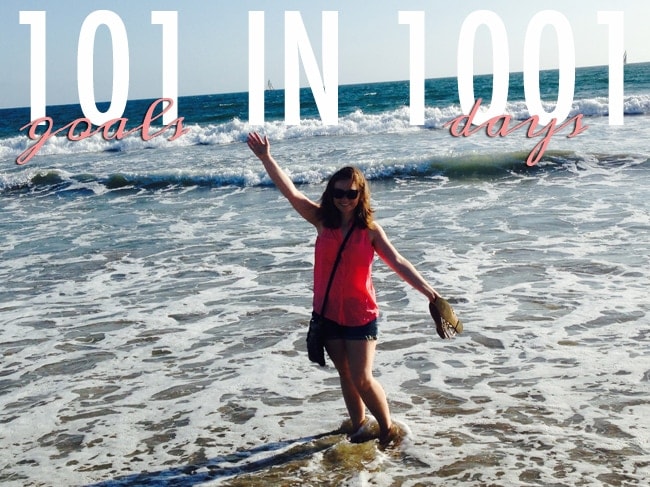 [Update April 1, 2018]
1001 days is simultaneously longer and shorter than it sounds. In the nearly three years since I shared this post, I have achieved dozens of goals and accomplished so much more I couldn't have even dreamed of.
The final count on my 101 in 1001 list:
Goals completed: 48
Unfinished goals that I'd still like to accomplish: 28
Unfinished goals that I will say goodbye to: 25
Why so many goodbyes? Many of the goals I created to this list were fluff goals just to get to 101. It's very hard to create a list of desirable, achievable goals. It's tough to fathom all of the possibilities! Also, my dreams and desired have changed (understandably) in the past 2+ years.
In addition to my goals completed, things have happened in my life that I couldn't have anticipated. For example, I didn't travel to San Francisco or Portland, but I did travel to Dallas, Washington D.C. and Phoenix. Also, I may not have purchased patio furniture, but I did give my office a makeover.
Having a list of goals was wonderful. Would I do it again? Yes and no. I will absolutely create a new list, but no, it probably won't be a 101 in 1001. It doesn't make sense to have a static list when life is anything but static! But I like the idea of setting goals and revisiting them and evolving them.
Thanks to anyone who followed along!
---
After reading 101 in 1001 on To The Alter + After, I decided it was time to make a list of 101 things I would like to do over the next 1001 days (2.75 years). I understand now more than ever the truth behind the phrase, "time flies." As a kid time dragged on and I couldn't wait to get the the next event or activity, and now I have no idea where my time goes. I've been living in Denver for 3 years now, but I've barely made a dent in my Colorado bucket list.
I've done my best to include a combinations of things I want to do and things I ought to do. I tried to avoid goals that were too general in nature or lacked purpose. I'll keep you updated on my progress in this post as well as on Twitter using #101in1001. Here goes nothing!
Start Date: July 5, 2015
End Date: April 1, 2018
Inspire someone to write a list of their own (Laurie & Falyn)
Blog/vlog about at least half of the items on this list

Shopping Pearl Street in Boulder
Long-Distance Wedding Planning: Picking a Venue
5 Tips from a First Time Backpacker
Pacifica Stellar Gaze Mascara Review & Giveaway
How We Planned Our European Honeymoon
101 Things I've Done

Go on an overnight backpacking trip Read about my backpacking trip!
Buy hiking boots (I guess that should come before #3)
Visit Indian Hot Springs
Add a related posts widget
Send Modern Martha's first newsletter (subscribe in the sidebar!) Sent July 9, 2015
Book my wedding venue (Long-Distance Wedding Planning: Picking a Venue)
Marry Xavier June 5, 2016
Go on a honeymoon. (How We Planned Our European Honeymoon)
Visit Portland, Seattle or San Francisco
Go on a girl's trip
Read and/or listen to at least 27 books (Maybe I should have set a higher goal? Finished on October 23, 2016)

The Da Vinci Code
Where She Went
The Martian
Dark Places
Me Before You
The Coincidence of Kallie & Kayden
Mr. Kiss and Tell
Tietam Brown
After You
Eleanor & Park
You Deserve a Drink
All the Light We Cannot See
A Criminal Magic
North and South
Eeny Meeny
One Plus One
The Nightingale
Savannah Blues
The Royal We
Where'd You Go, Bernadette
The Night Circus
The Ocean at the End of the Lane
The Good Girl
The Girl
Can I See You Again?
Fangirl
The Girl with the Lower Back Tattoo

Finish my goal of 20 books in the Goodreads 2015 Challenge. (Finished on December 13, 2015)
Open an Etsy shop (Take a peek at my Etsy shop, By Kelsey Smith)
Finish replacing the kitchen hardware
Bake a cheesecake (I have three springform pans, it's kind of ridiculous)
Buy seating (bench?) for my front porch
Buy a table and chairs for the backyard
Host a party in my backyard
Attempt royal icing
Post a high-altitude-friendly cookie recipe on Modern Martha
Go to Film on the Rocks at Red Rocks Amphitheater
Film/upload at least 3 D.I.Wine episodes
Film/upload a Nude lips video for my Lips Four Ways series
Read Harry Potter (I've resisted for so long, I guess it's time)
Upgrade my makeup storage
Frame my two photographs of downtown Tampa (half way there!)
Hang them both in my living room (also half way there!)
Hang my IKEA Mongstad mirror in the dining room
Go ziplining
Go to a drive-in theater (I went to the Denver Mart Drive-In and saw a Jason Bourne and Suicide Squad double feature)
Leave the country. (France, Spain & Italy)
Hang my diplomas
Attend a Spin class. (I love Spin, but I've let the high cost keep me away.) Check out Epic Ryde in Denver.
Watch Gone With the Wind
Buy a new comforter for my bed
Sign up for Vegan MoFo (I've missed sign up every year for the past 4 years)

4 Ways to Up Your Toast Game

Go vegan for 1 month
Attend a show at Denver Center for the Performing Arts (The Sound of Music, June 2016)
Donate blood (I donated regularly in college, but I haven't donated since graduation)
Volunteer (same)
Attend 5 concerts/shows

Train/The Fray
Taylor Swift
Goo Goo Dolls
Taking Back Sunday
Moon Hooch

Make 12 Pinterest recipes
Watch 6 classic films from Rotten Tomato's Top 100 Classic Movies list

Miracle on 34th Street (1947)
To Catch a Thief (1955)
TBD

Run a 5K
Finish writing a story (short story, novel or otherwise)
Have a headshot of me taken that I actually like
Go kayaking
Do a cookbook challenge
Make homemade pie crust
Make Modern Martha business cards
Write a book review (Going to call this done, Books I Read in 2016)
Run a mile without walking (I should probably/definitely do this before I attempt #46)
Take Xavier on a surprise date
Have my prom dress hemmed (yes, I still have my prom dress, and yes, it's worthy of hemming)
Write a will
Decorate my bathroom
Watch Downton Abbey Season One
Vote in the 2016 presidential election and feel confident in my vote
Shop Pearl Street in Boulder, CO Read about my day shopping Pearl Street.
Watch the pilot of Scandal (and if I like it, watch the whole first season)
Complete an alphabet photo series of my name
Take a time-lapse photo from a bridge/overpass
Go geocaching in Denver
Host a giveaway Pacifica Stellar Gaze Mascara Review & Giveaway
Donate on Kickstarter Gingerdead House
Buy something featured on Shark Tank
Donate or sell my sage green sofa set
Buy a new couch (Living Room Color Scheme: Navy & Yellow)
Sell clothes at Plato's Closet (Did ThredUp instead)
Buy new photography lighting (Ring Light)
Finishing the flooring in the basement
Visit 10 restaurants on Westword's Best of Denver list that I haven't been to before.

Go to an improv show (Improv Olympics Chicago)
Buy my own skis
Visit Denver Art Museum
Downgrade my cable package (because Xavier and I never watch TV anyway)
Send someone a care package just cause
Lose 10 pounds
Buy or build a table for the entryway of my house
Save $1 a day for the next 1001 days
Build a Nether Portal in Minecraft
Go to the Nether in Minecraft. (I just got over playing in Normal mode, don't judge me.)
Go thrifting AND share at least 1 outfit on Modern Martha
Use the mini cake pan my brother bought me
Visit Garden of the Gods
Read a book in 24 hours (Where She Went by Gayle Forman, Instagram Proof)
Make a list of 50 things that make me happy (Read my list of 50 things that make me happy)
Carve/decorate a pumpkin
Write a letter to Future Me
Write a guest post on someone else's blog
Eat at a new food truck (Can't remember the name! But it was at Stem Ciders.)
Buy a watch, and not the smart kind
Create a 30 day blog challenge or 30 blog prompts
Complete the Boyfriend Does My Makeup challenge on YouTube
Buy new gym clothes (I signed up for Fabletics)
Write at least 10 blog posts using A Girl, Obsessed's 25 Lifestyle Blog Post Ideas
Enter a contest
Make a list of 101 items I achieved prior to this list (101 Things I've Done)
Have you made a 101 in 1001 list? Tell me what items would be on your list, or comment with a link to your post! Wish me luck.