You don't have to go high-end to get full coverage. These full coverage drugstore foundations are affordable AND pigmented.
I'm in the midst of finding my next full coverage drugstore foundation. Turns out my old favorite from Rimmel was discontinued, so I'm on the hunt. I figured I'd share my research with you.
This post contains affiliate links, so if you click and make a purchase, I will receive a commission.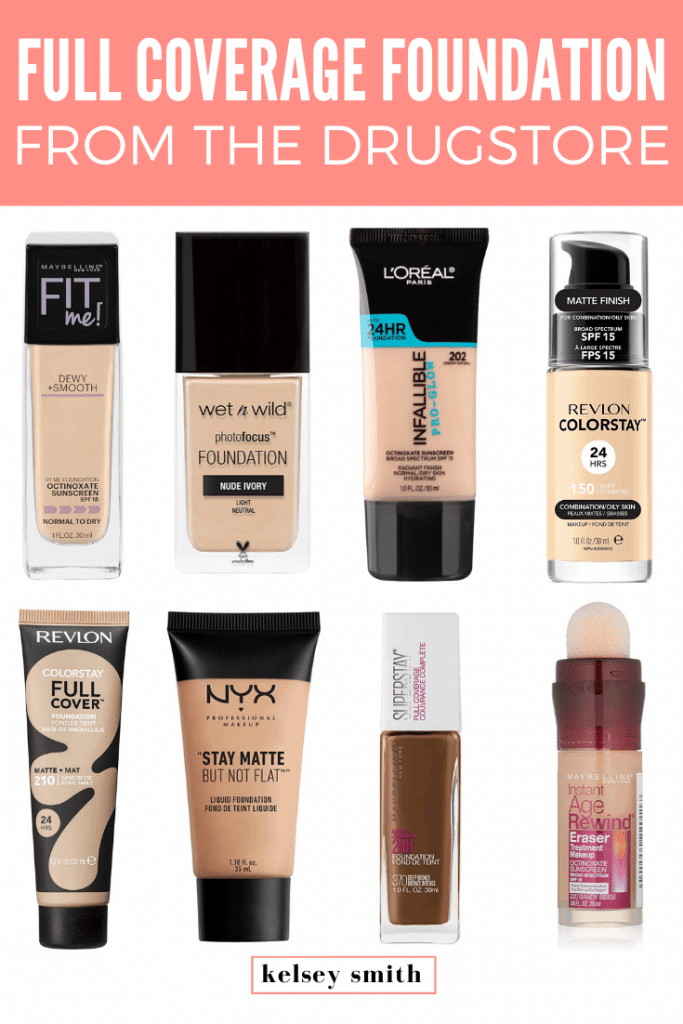 Maybelline kills it with their foundation game.
The Fit Me line has been around for a long time and now comes in multiple finishes. The Maybelline Fit Me Dewy + Smooth Foundation is hydrating with a luminous finish for normal to dry skin.
The matte version comes in 40 shades, which is pretty extensive for drugstore makeup.
The dewy version comes in 24 shades.
Never turn your nose up at wet n wild. They always surprise me with great products. The wet n wild Photo Focus Foundation is a matte formula that's cruelty-free.
Photo Focus comes in 20 shades.
I'm always skeptical of 24-hour wear claims (please, wash your face), but I do like a foundation that aims high. L'Oreal Infallible Pro-Glow Foundation is hydrating and promises a healthy, radiant finish.
The foundation has a disappointing shade range with only 12 options. This knocks it off my list as the lightest shade is Classic Ivory.
This is an OG full coverage drugstore foundation.
This is an incredibly versatile foundation formula because you can get solidly medium coverage out of it, but it easily builds to full coverage with a second layer. Just apply two thin layers of Revlon ColorStay Foundation for smooth, even skin.
Many people compare this to the MAC Studio Fix Fluid Foundation, but I find the Studio Fix has just a bit more coverage with one layer.
There was a formula change a few years ago, so if you didn't enjoy this before, you may want to give it another go.
The SPF is only SPF 15. I prefer SPF 30, but regardless, I wear sunscreen every single day.
ColorStay Foundation comes in an impressive 43 shades, however, I still believe the deeper end of the color spectrum needs some work.
If you can't be bothered to build up the Revlon ColorStay Foundation to full coverage, try Revlon ColorStay Full Cover Foundation.
The ColorStay Full Cover foundation is new-ish and only comes in 16 shades, so I hope they expand the range.
I've noticed drugstore makeup companies in particular have a tendency to release foundation with a limited number of shades and then add more if the foundation is a success.
NYX is so affordable, and I've found over the years that their products are very high quality. This NYX Stay Matte But Not Flat Foundation formula is meant to give an airbrushed, matte look that feels lightweight.
I believe this foundation is in the process of being discontinued.
Womp, womp.
This means you'll only find a select number of shades available.
Snag it while you can!
Maybelline Superstay promises full coverage with a natural finish that is long-lasting. The formula is oil-free, so you don't have to worry about it clogging your pores. This foundation also offers a medium-ish range of shade options.
This foundation comes in 28 shades, which is probably above average for drugstore but certainly leaves a lot of room for improvement.
This foundation has been on the market for awhile, so I would think there would be more shades...
Maybelline Instant Age Reward concealer is my absolute favorite under eye concealer, so it's a wonder I've never tried the Maybelline Instant Age Rewind Eraser Foundation.
This foundation is supposed to "erase" fine lines with an anti-aging formula that's designed to smooth the appearance of the skin.
Plus, it has SPF 18, which isn't quite enough for me, but hey, it's a start. Add it to the wishlist!
However, this foundation has a disappointing 12 shades and none light enough for me.
What do you look for when it comes to a good drugstore foundation?
Tell me in the comments!