Looking for alternatives to lip balm to treat your chapped lips? If Chapstick isn't working for you, try one of these non-Chapstick solutions. Find your best lip balm alternative to turn dry lips into smooth, hydrated lips.
Some links may be affiliate links. As an Amazon Associate, I earn from qualifying purchases.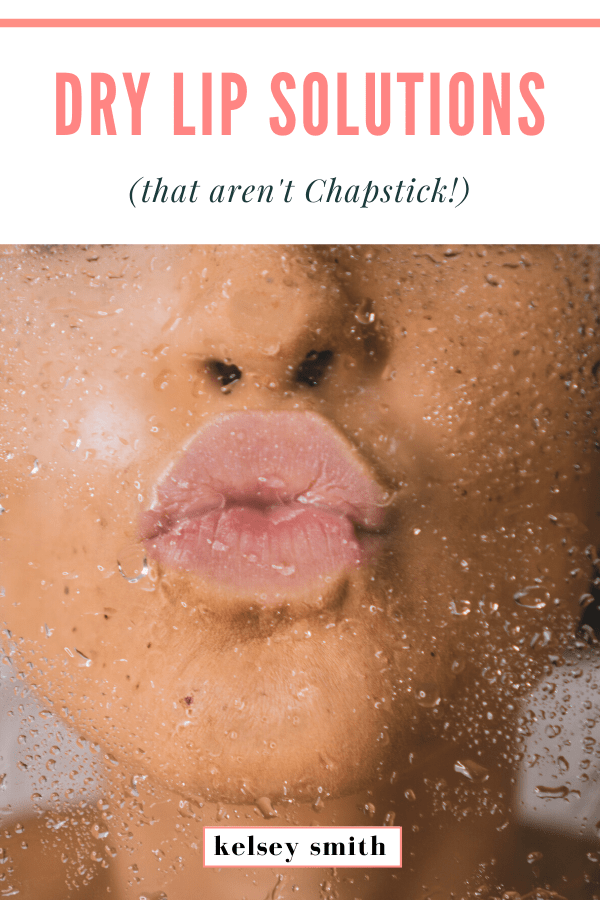 Dry lips (dry skin in general, really) is something I've dealt with since I was a teenager. What I've learned is traditional lip balms don't always cut it.
In high school, I was so desperate for relief. My lips would peel to the point of bleeding and leaving me with swollen lips and an ill-defined lip line.
At that time, I turned to Vaseline, but I later learned that petroleum jelly only seals in moisture but doesn't provide any additional moisture. Even the Vaseline Lip Therapy products only contain petroleum jelly, and some contain dye.
If you use Vaseline, apply something moisturizing first (even a body lotion or face moisturizer), and then apply a layer of Vaseline.
So, what do I recommend now?
Glad you asked.
Pure Lanolin
Pure lanolin is often marketed as a hair conditioner or as nipple cream for chapped nipples as a result of breastfeeding. But lanolin has far more applications that just these.
You can use lanolin to condition your lips, hair, hands, cuticles...
If you opt for a lanolin-based lip balm vs a lanolin cream or pure lanolin, be sure to read the ingredients and make sure you're not buying a petroleum jelly lip balm in disguise.
In this arena, I would recommend Lanolips 101 Ointment Multi-Balm ($16.95). I discovered their Lano Hands Hand Cream this year and can vouch for this brand.
However, you may find purchasing pure lanolin creams, like Ameda Triple Zero Lanolin ($9.99) is more affordable.
Lip Serum
What is the difference between a lip balm and a lip serum? Serums are generally lighter weight so they absorb deeper into the skin. However, skin care companies use the term "serum" liberally.
Blistex Conditioning Lip Serum Moisturizer ($3.99) is an oil-based serum. Even though it's rich in oils and conditioning ingredients, it comes out more like a lotion. Although this product has a bit of an identity crisis, it works wonderfully.
Coconut Oil
Coconut oil is one of those multi-purpose ingredients that can seemingly do it all. Applying pure oil doesn't always have the best lasting power though, so I recommend applying a light layer of coconut oil and then using balm on top.
Virgin, unrefined coconut oil will come in a large tub and is a solid. I scoop out some of the oil and put it in an oil skin care container. For example, I have an old Clinique 1 fl. oz. moisturizer container that I fill with coconut oil so I can keep it in my bathroom, separate from the coconut oil I use to cook in the kitchen.
If you're using solid coconut oil for your lips, just swipe your finger over the surface until it warms, and then dab it on your lips.
Lip Masks
Lip masks are designed to be deeply hydrating, and they're often meant to be worn overnight, which means they're generally thick and stay on for hours of mouth-breathing. Sometimes lip balm feels futile because it wears away so quickly.
Just because a product is designed for overnight use doesn't mean you can't use it during the day. Wear your lip mask all day if you want! This is one of my favorite alternatives to lip balm.
The Laneige Lip Sleeping Mask ($20) is the lip mask I have personal experience with. It's not a low price point, so I would try a few of the more affordable alternatives before dishing out $20 for a lip product.
But what I can say about the Laneige lip mask if that it lasts. When I apply it at night, it's still on my lips when I wake up 8+ hours later. Even into the morning, if I don't apply a new lip product, I still feel moisturized.
So, if I buy these, I'm cured, right?
Well, maybe not.
Taking care of your lips and taking care of your skin is a life-long endeavor. Your lips and skin may change over time or in various climates or seasons, but treating dry lips is likely something you'll need to do indefinitely.
But, with the right ingredients on your side—with the solution that really works for you—taking care of your lips no longer feels like a chore.