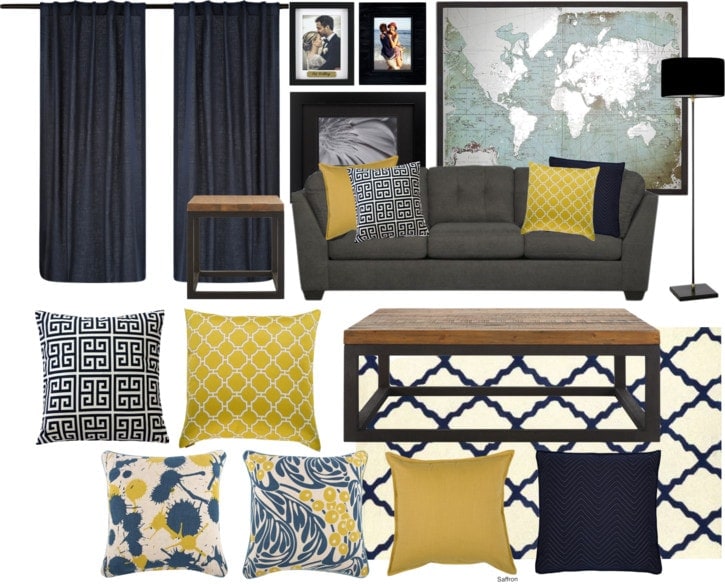 When Xavier and I bought our house in 2014, I was so excited to decorate my first home. The only thing bumming me out was our living room color scheme.
We bought a sage green sofa two years prior for our rental thinking it was a great neutral shade. But, when we moved it into the new space I had the toughest time landing on a color scheme I liked.
This post contains affiliate links. As an Amazon Associate, I am paid for qualifying purchases.
I toyed around with color inspiration boards before X and I landed on navy blue and sage. While I do like the navy blue and sage combo, my dislike for the couch grew exponentially. So much so that I added it to my goals list.
Xavier and I (well, mostly me) decided that this Christmas we should skip the gifts to each other, and instead buy a gift for the house: a new couch!
After sitting on every single couch inside Sofa Mart and American Furniture Warehouse, we finally found THE ONE.
Couch Wishlist
Since we got rid of the guest room this summer in favor of an office for myself, a sleeper with a pullout bed became my priority. Xavier, on the other hand, loves the look of a sectional and the comfort of a chaise longue. Finding a couch meeting all three of these criteria was impossible!
We came across a couch from Ashley Furniture that did indeed have all three elements, but it was far too large for our space, as you would imagine. Our second and third options were both sectionals, one with a chaise longue and one without, but both were without a pullout.
Making it Work
Unsatisfied, I made one last run through American Furniture Warehouse before I came back to the will-never-fit-in-our-living-room couch. I realized looking at it that it was a three-piece couch. If we removed the chaise long and kept the sofa and armless sleeper, it would not only fit into our space but it would have my number one and Xavier's number one priority taken care of.
I brought Xavier over and shared my genius plan. We crunched the numbers and were delighted to find that it came in under our budget. A light bulb went off in Manchild's head. If we have room in the budget, I could get a recliner for the corner of the room.
When X and I were at my parent's house for Thanksgiving, he fell in love with my dad's recliner. He would use it as a reading chair every single evening. I asked him if he was disappointed with the chaise being nixed, but he said he was even more excited about his new recliner.
Living Room Color Scheme
I'm elated to find a couch that fits our needs. It's a steel grey shade, a true neutral. I still love the navy, so now I'm trying out more color schemes. I created the navy and yellow inspiration board to see if we can brighten up the space.
I'm also toying with a navy and coral idea. If you have any living room color scheme ideas for me, tell me in the comments!