[UPDATE 1/7/17] My finally purchased a new couch! Read our latest update.
I posted back in June about my color scheme conundrum. Xavier and I purchased sage green couches about two years ago, and now I hate them. They're incredible comfortable and easy to clean, but they're oversized and, well, sage green.
I considered sage and navy and sage and purple. Lakia and Angela, two commenters, wanted to know, how did everything turn out?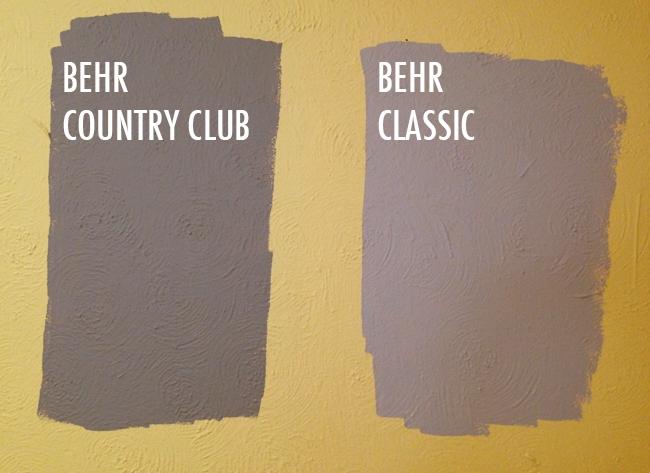 First, we chose a cool-toned taupe, Behr's Classic. The shade takes on a bit of a lavender look depending on the lighting.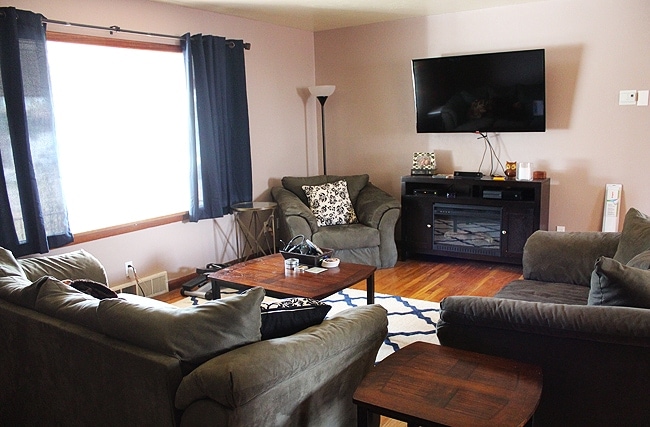 Navy and sage won the battle! And I have to say, I love it. I wouldn't say this is an "after" photo because there's plenty of work to be done! Gotta hide those cables for starters.
The infamous couch set is the Darcy Sofa in sage from Ashley Furniture.
The TV stand is the Del Mar Chocolate Oak Fireplace TV Console.
The rug is a NuLoom 5x8 ivory and navy rug, purchased from Rugs USA. It sheds a good bit and continues to shed 5 months after purchasing, so I can't say I'd recommend it, but it looks lovely.
The coffee table set was purchased from American Furniture Warehouse a few years ago. They were pretty scratched up in the move, so I'm pretty eager to replace them.
The reading chair is Xavier's favorite spot. The side table is one of my favorite pieces in the room. It's a hand-me-down from my parents, so I can't tell you where it's from.
The damask accent pillows are an old purchase from Dillards.
The lamps are on the short list of items to be replaced. They were a Walmart and/or Target college purchase. I have my eye out for something new.
I purchased the navy curtains from Boscov's. They're sheer enough that I can see outside, but not sheer enough that anyone can see inside. We have four panels to cover our oversized window.
The entryway still needs a console table and some wall decor. Baby steps. The runner matches the rug, also from Rugs USA.
And finally, my pride and joy. I found this buffet and hutch at a Habitat for Humanity ReStore. If you're not familiar with ReStores, they are essentially furniture/home improvement thrift shops that benefit Habitat for Humanity. I found this bad boy, in perfect shape, for $120. It doesn't fit in our dining room, so right now it's in our entryway.
It's hard to remember a time when this room was empty! But here it is, photo evidence.