This meal makes me feel accomplished because look at how beautiful it is! It's flavorful, it's colorful, and it takes minimal effort (WOO!) thanks to Maya Kaimal Indian sauces (not sponsored, I swear!). I've played with curry and Indian spices many times over the past few years, but nothing I've made has tasted as good as the Maya Kaimal Madras Curry Indian Simmer Sauce. Curry, black pepper, coriander... Mmm! Plus, it's vegetarian AND gluten-free.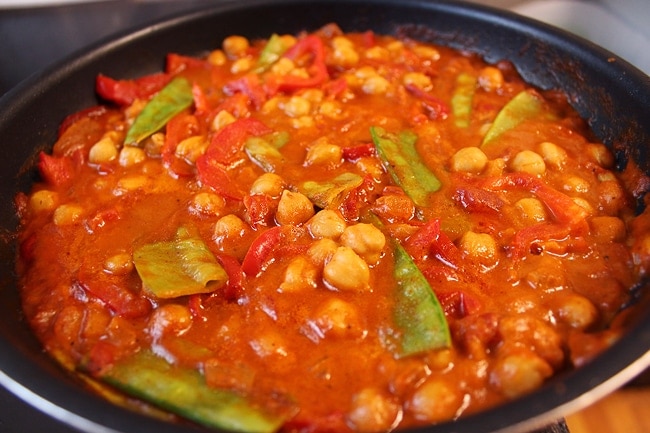 This post contains affiliate links. As an Amazon Associate, I earn from qualifying purchases.
Maya Kaimal Madras Curry Sauce
Maya Kaimal's Madras Curry Indian Simmer Sauce is a sauce made with black pepper, coriander, coconut milk, and curry leaves. Simmer with chicken, lamb, pork, or vegetables. They're usually around $5 per jar, but I can usually find it on sale on Amazon for less than $4.
Ingredients:
Water, Onion, Coconut Cream (Coconut Cream and/or Coconut Extract, Water), Tomato Paste (Fresh-Vine Ripened Tomatoes), Safflower Oil, Garlic, Ginger, Spices (including Turmeric), Sea Salt, Urad Dal Lentils, Lemon Juice Concentrate, Serrano Chili, Organic Tapioca Starch, Curry Leaves. Contains: Tree Nuts (Coconut)
A few ideas...
My favorite type of meal is quick, easy, and delicious, but sometimes this is the most difficult type of recipe to think up. I like to keep a jar of this curry sauce on hand for those I-have-nothing-to-eat nights.
Whatever veggies are in your house will do- onions, snow peas, bell peppers, garlic, broccoli, zucchini, potatoes, spinach. Throw in the whole kitchen sink! Stir fry your veggies until they're soft, throw in a can of chickpeas (drained), cover with simmer sauce, and let simmer for 15 minutes. I serve with rice to stretch this into four portions. It's not really a stretch, but it feels like it because I always want to eat the whole thing.