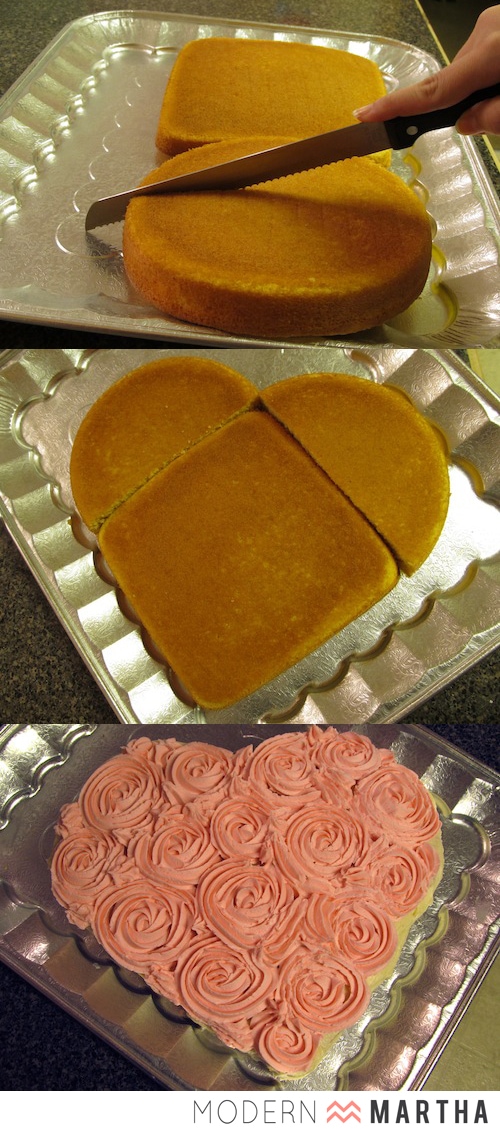 For my tenth birthday my mom and I made a heart shaped cake. We didn't have a heart-shaped pan, so we pieced together a square and a circle cake to make the heart. My freshman year I made one on my own and frosted it to look like a candy heart that said, "Be Mine." It was really cute, but I completely messed up the cake (how do you mess up a box of cake mix, anyway?). After seeing this rose cake on I Am Baker, I decided to buy a 1M icing tip and do this heart shapes cake right for Valentine's Day.
Make sure the diameter of the circle pan matches the length of the square pan. One box of cake mix is enough for both pans.
Divide the cake batter between the two pans, putting slightly more in the square pan. You know... corners.
Since cakes rise in the center when baking, you'll put the cake together upside down. Cut the circle cake in half.
If one shape is taller than the other, cut a small amount off the top (now the bottom) until they align.
Perfect! Time for frosting...
For this cake I made two batches of this butter cream frosting recipe, adding an extra half stick of butter and an extra half cup of confectioner sugar to each batch. For the batch for the roses, I omitted the milk so the roses would keep their shape longer. If it was a two layer cake or if I had done the sides in roses, I'd recommend an additional batch.
To make the roses, follow
I Am Baker
's instructions. I started out by outlining the cake and then filling in the center.
Ta-da!
Have a wonderful Valentine's Day!