If you're looking for a more affordable alternative to the Urban Decay Stay Naked Liquid Foundation, look no further than the L'Oréal Infallible Fresh Wear Foundation.
This is a straight-up drugstore dupe, and interestingly, both of these cosmetics brands are owned by the same parent company.
This post contains affiliate links, and the Urban Decay Stay Naked was sent to me complimentary by Urban Decay, while I purchased the L'Oréal Infallible Fresh Wear Foundation myself.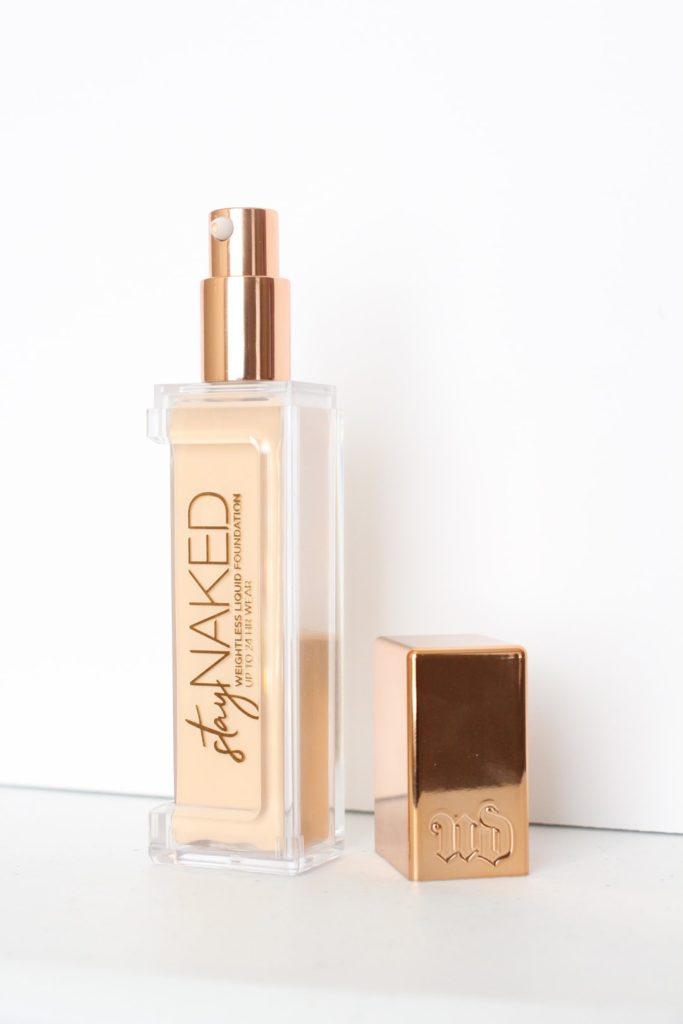 Are Stay Naked and Infallible Fresh Wear the same foundation?
A Sephora review tipped me off that the Urban Decay Stay Naked Weightless Liquid Foundation and the L'Oréal Infallible Fresh Wear 24HR Foundation have very similar ingredients.
I decided to compare the two formulas to see what I could discover and did a side-by-side wear test to see if the Urban Decay Stay Naked and L'Oréal Infallible Fresh Wear are the same formula or not.
I tested 405 Porcelain (L'Oréal) and shade 20NN (Urban Decay) on fair skin, and I have combination skin.
The short answer is: yes AND no, but mostly yes.
Watch my full video below for the entire rundown (there are Google spreadsheets involved!), but basically the ingredients decks don't align perfectly, but the ingredients with the highest concentrations do, so they perform incredibly similarly.
In fact, on my skin, I really could not tell a huge difference at all.
I did a split face for a 5-day wear test so you can see them side-by-side:
The main differentiator is L'Oréal Infallible Fresh Wear is HEAVILY SCENTED. Like... yowza. If you're not bother by scents, this may not be an issue for you.
There are EIGHT ingredients in the L'Oreal version that are used for masking and/or fragrance. This could be attributed to the sunscreen ingredients.
As we all know, sunscreen can have a particular odor that many find unpleasant.
The other big differentiator is the L'Oreal version contains SPF. That may be a positive for you, but personally I wear SPF each day regardless of my foundation.
These may be pros or cons, depending on your outlook. I find the scent off-putting, but it does fade throughout. I find the SPF to be a bonus but not essential.
What else?
There are a few other ingredients that differ, but my guess is they achieve the same function. And in the case of L'Oreal, my guess is they achieve the same function at a lower cost.
This means, you're probably getting higher quality ingredients with Urban Decay.
For example, some of the colorants (which you can see in the "may contain" section) vary.
I discuss this more thoroughly in the video, but basically cosmetics companies list ingredients in order of concentration, but once you hit the one percent threshold, the ingredient can be in ANY ORDER.
This means that it probably doesn't make a difference that so many ingredients towards the end of the two ingredient decks are misaligned.
Which do I prefer?
Neither one works very well for my combo skin, for some reason they just aren't a good fit for me. Check out my review of the Urban Decay Stay Naked Liquid Foundation for more details there.
That being said, I would much rather pay a drugstore price tag, so my pick is the L'Oréal Infallible Fresh Wear Foundation.
Another question is: is this scammy?
Urban Decay and L'Oreal are owned by the same parent company, so it's possible they shared a base formula and made tweaks to hit a certain price point or profit margin. I only know a little bit about what goes into pricing cosmetics, but I'm going to guess there is a much smaller profit margin on drugstore cosmetics since they operate at much higher volumes than high-end cosmetics.
At the end of the day, these foundations are basically the same, and one is $14.99, and the other is $39. What gives?
Well, as I mentioned, the ingredients in the Urban Decay formula are probably higher quality ingredients. But you have to decide if that's worth it for you. I'm not a chemist, so I can't give you too much sage advice here.
Pro tip!
Additionally, I recommend using the Urban Decay All Nighter Face Primer. As far as I know, there's no comparable drugstore dupe for this primer. But seriously, it works wonders.
The primer made a big difference for me with both of these foundations. Which kinda tells me that my combo skin may not be totally compatible with this formula.
Skin is important! And everyone's skin is a little different.