Urban Decay sent me the Urban Decay Stay Naked Liquid Foundation complimentary so I could test and review it for you guys.
This post contains affiliate links, so if you click, I make a small commission.
This is the Urban Decay Stay Naked Liquid Foundation in the shade 20NN with is for fair skin with a neutral mastertone and a neutral undertone.
The packaging is really nice. The box indicates the color on the outside, which is helpful when shopping in-person.
Also, the bottle is quite nice. It's elevated without being too, too bulky. The cap is a little extra, but it's not the worst offender at my makeup vanity.
What is a mastertone? What is an undertone?
Well. I wasn't entirely sure, either.
Companies usually talk about undertones and surface tones, but this is the first time I've heard the word "mastertone."
Truth be told, I think Urban Decay coined this phrase. UD explains in this video that mastertone = surface tone.
Now that I understand this a bit better, I probably would have chosen 20CN rather than 20NN. 20NN works perfectly well for me, but I would be curious to swatch 20CN in person.
Let's dive into the 5-day wear test.
I decided to do a 5-day wear test so I could shade my first impressions but also give you a thorough review. I also wanted to try different application techniques throughout the week.
Check out the video to see the variations I tried. My favorite was applying it with a damp sponge. I also found that on my skin it was self-setting, so powder wasn't necessary.
My skin is combo/dehydrated, I get a little shine on my forehead and nose, but I also deal with dryness, and I have several dry patches from acne spots. The foundation clung to my dry patches, so I do not recommend this for dry skin.
The Foundation Claims to...
Urban Decay Stay Naked Liquid Foundation claims to offer:
buildable medium coverage
24-hour wear time
flexible wear
breathable wear
real skin matte finish
does not transfer
minimizes the appearance of pores
stay-true color (does not oxidize)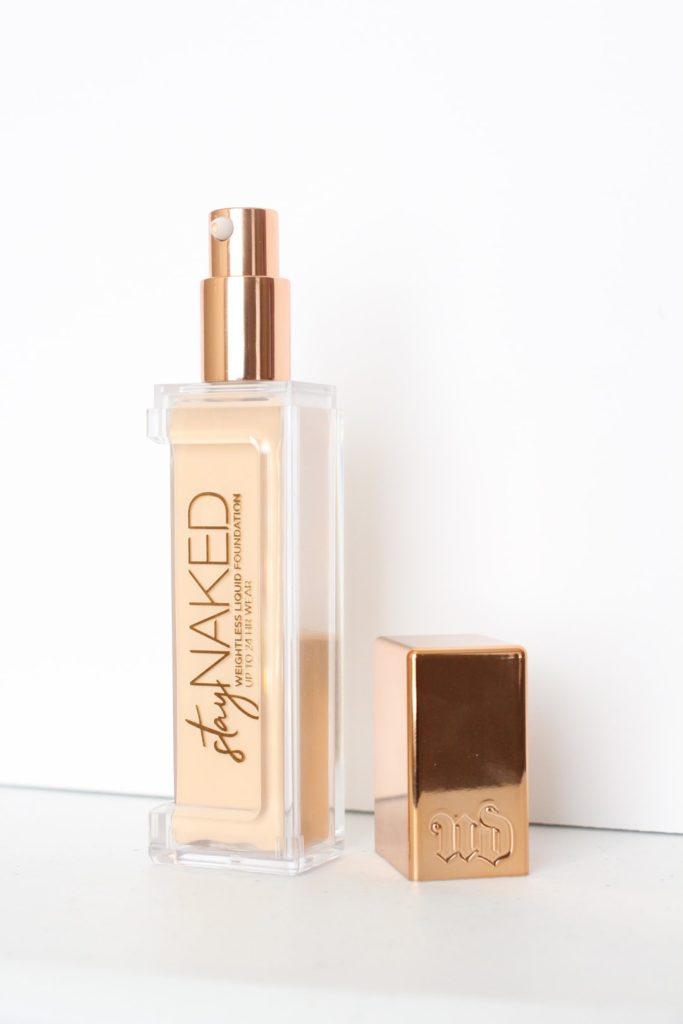 Buildable Medium Coverage?
Nope. The first layer of this is less than medium coverage. You can build it just past medium, but nothing too impressive.
I found this oddly similar to the L'Oreal Infallible Pro Longwear foundation.
Watch my video to see what it looks like with just one layer. I think you'll agree with me that it's a little disappointing.
24-Hour Wear Time?
Who is wearing their foundation for 24 hours? I really need to know.
I tested this up to 12 hours and found it did last all day.
Flexible Wear
I got a little cracking around my eyes from smiling, so I would say this isn't completely flexible.
Breathable Wear
Absolutely, the Urban Decay Stay Naked Liquid foundation felt like nothing was on my skin at all. And that is really, really nice.
Real Skin Matte Finish
Nope. This was matte-matte.
Not semi-matte, not your-skin-but-better matte, just matte.
Does Not Transfer
I didn't experience any transfer, even one the day when I wore a white shirt and accidently swiped it all over my face when I took it off.
Minimized the Appearance of Pores
It was smoothing but not undetectable, it definitely looks like you're wearing makeup.
Stay-True Color
I did not experience any oxidation with this foundation, which is great because I have experienced oxidation with Urban Decay foundations in the past.
Shade Range
50 shades. This seems to be the golden standard these days, thanks to Fenty Beauty.
Plus, with the added layer of undertones and mastertones (surface tones), there seems to be a good range.
So, What's the Verdict?
This is a pass for me.
It looks amazing on camera, the color was a great match, and it lasted all day long, but the finish is just too mattifying for my taste.
I tried this with the Urban Decay All Nighter Face Primer, and I have to say, that primer is BOMB! It corrected a lot of things I didn't like about this foundation, which really shows you that skin is so important with foundation.
If you enjoyed my Urban Decay Stay Naked Liquid Foundation review, let me know in the comments. Also, don't forget to check out my list of full coverage foundations from the drugstore.