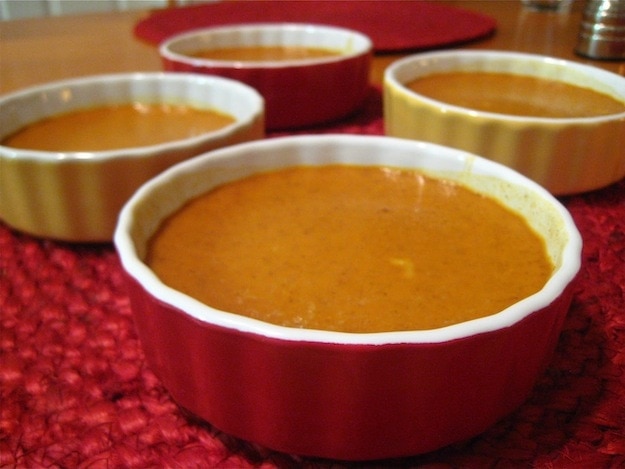 Martha, you've outdone yourself again. Why would I expect any less? I read a pumpkin custard recipe from my blog subscriptions and, since I've had pumpkin on the brain, it only seemed natural that I had to make some. Since this is my first time making any sort of custard I decided to play it safe with a Martha Stewart recipe from Whole Living. I was really excited to use my new custard dishes I found at Dollar Tree (dishwasher, microwave, AND oven safe). I don't know how these landed in the dollar store but they are a gem. (Note, FSU colors!) It turned out very well, basically a crustless, personal pumpkin pie. Megan and I enjoyed some while avoiding homework. Procrastination, GO!
Ingredients
¾

cup

pumpkin puree

2

large eggs

1 ½

cups

evaporated milk

1

teaspoon

pure vanilla extract

½

cup

packed light brown sugar

2

teaspoon

cornstarch

½

teaspoon

cinnamon

¼

teaspoon

ground ginger

¼

teaspoon

salt
Instructions
Preheat the oven to 350.

In large bowl, whisk pumpkin, eggs, milk and vanilla. In small bowl, mix brown sugar, cornstarch, spices and salt, breaking up any clumps.

In batches, add dry mixture to pumpkin mixture until well blended.

Pour into four ¾-cup custard cups. Place the cups in a 9 X 11-inch baking pan. Add enough warm water to come halfway up the sides of the custard cups.

Bake 40-50 minutes, or until set and browned lightly.

Transfer the custards to a wire rack to cool.
Note: Nutrition was estimated using WP Recipe Maker.