These Instant Pot ground beef recipes make for easy dinners. Find your next family favorite quick meal, from hearty soup to cheesy pasta.
I've rounded up a variety of ground beef recipes including burgers, Salisbury steak, cheeseburger macaroni, beef chili, and more. You'll find low-carb, gluten-free, and even vegan ground beef recipes.
Above all, pressure cooker ground beef recipes use simple ingredients. You can use any type of ground meat, including lean ground beef, ground chicken, ground turkey, and more.
This post contains affiliate links. As an Amazon Associate, I earn from qualifying purchases.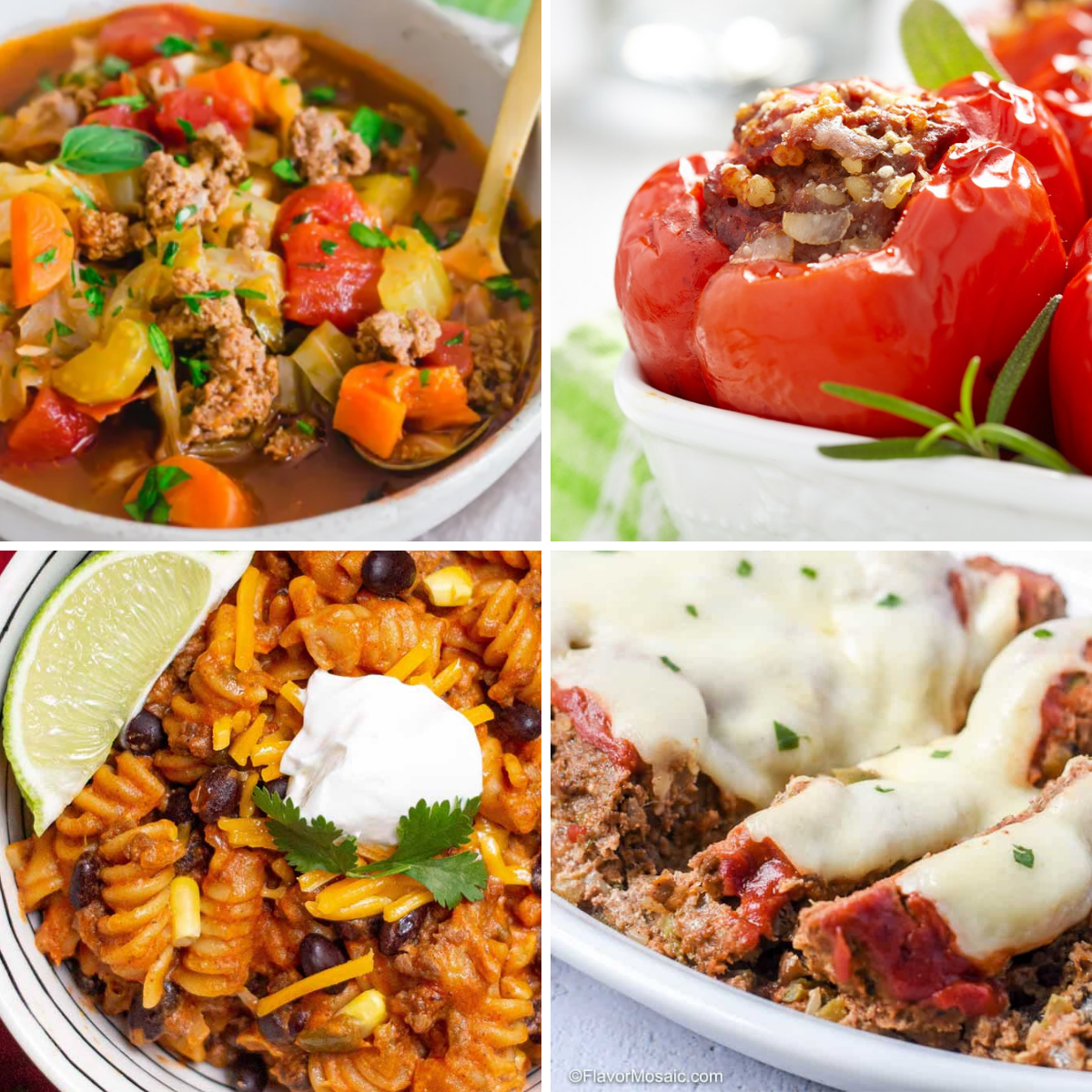 Jump to:
What is an Instant Pot?
Instant Pot is a multi-functional electric pressure cooker with built-in safety mechanisms. It can also work as a slow cooker, steamer, rice cooker, and more.
Cooking time is often short, but recipes can take a while to come to pressure, depending on how full the pot is. Even so, an electric pressure cooker can often cook dishes in a fraction of the time.
Most recipes are cooked on high pressure and call for a quick release or a natural release. Be sure to read the recipe from start to finish.
See my how-to for jasmine rice.
Ground Beef FAQ
Why type of ground beef should I use?
There are several types of ground beef such as regular ground beef, ground chuck, ground round and ground sirloin.
When selecting beef, consider the cut, the fat content, and the grade.
The cut and the fat are interconnected. Higher fat content generally means more flavor. Leaner meat can be more expensive and have less flavor, but it depends on the cut.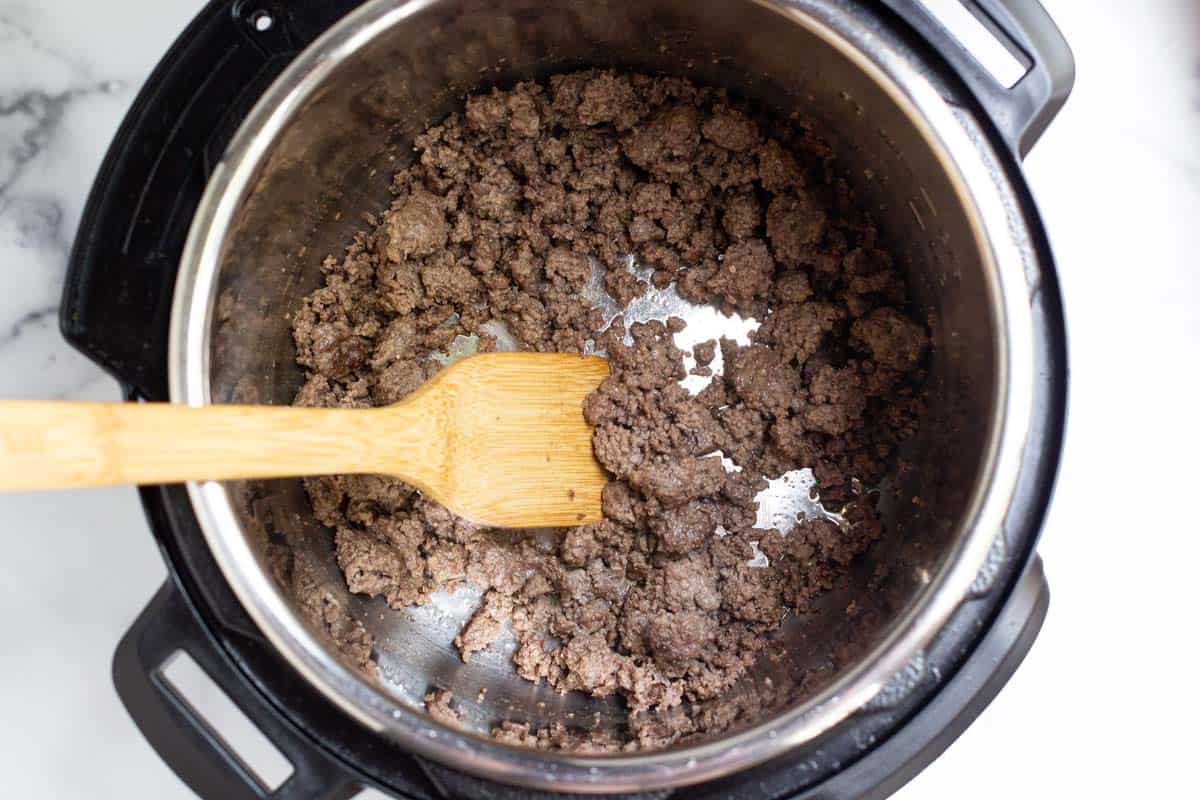 Ground beef (generally most affordable option) usually has around 30% fat, ground chuck has 20%, ground round has about 10%, and ground sirloin (usually the most expensive cut) has around 10%.
Personally, I like ground chuck for most purposes because it has enough fat for a rich flavor and is in the middle-ground for price.
Can I substitute ground turkey?
Ground turkey will change the flavor of the dish in most cases, but it can be a healthier alternative to ground beef and a good option for people avoiding red meat.
Ground turkey should be cooked to a minimum internal temperature of 165°F.
Can I substitute meatless crumbles?
Meatless crumbles won't always be a perfect substitution for ground beef recipes (for example, meatballs may not form correctly), but in many cases, vegan or vegetarian "ground beef" products can work.
Generally, when you see a recipe using ground beef in crumbled form, such as Instant Pot Taco Pasta, meatless crumbles should be a good substitute.
At what temperature is ground beef safe to eat?
Ground beef should be cooked to a minimum internal temperature of 160°F. Read more on foodsafety.gov.
Instant Pot FAQ
What model should I use?
I like the 6-quart Instant Pot Duo. I've had this model for years and I've never wished for another.
The 6-quart size is excellent for cooking for a small family.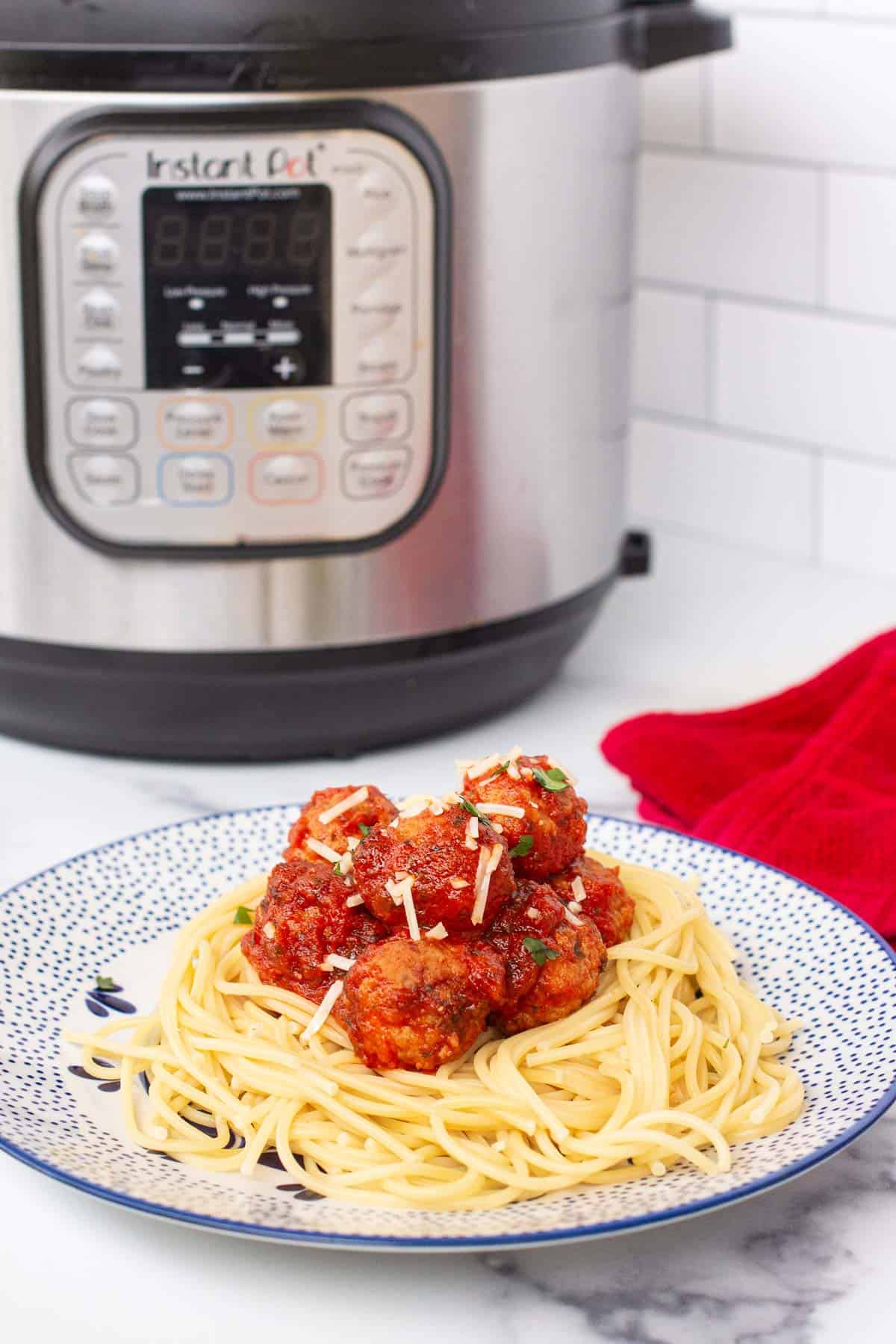 Is cooking in the Instant Pot fast?
For many dishes, the Instant Pot is faster than cooking things stove-top or in the oven. It's a great way to make a one-pot meal with little cleanup.
If you have more questions, comment below and I will update the post with more!
Classic Dinners
The Instant Pot is incredibly versatile and can make anything from Instant Pot stuffed peppers to Instant Pot meatloaf.
Pasta Dishes
Talk about a one-pot meal. Pasta dishes are so easy in the Instant Pot and are easy to clean up.
Rice Recipes
Similar to pasta recipes, many rice pressure cooker recipes are one-pot meals. The flavor combinations are endless.
Soup Recipes
Soup can be made on the stove or in the pressure cooker, but what I love about the pressure cooker is the way it boosts the flavor of any soup recipe.
Chili Recipes
Chili is the ultimate fall and winter comfort food. While stovetop chili can take ages to simmer and meld flavors, the pressure cooker can get the same flavor profile much faster.
Vegan Dishes
Go meatless with these vegan beef recipes. Plant-based ground beef options include Impossible, Beyond Meat, and Raised & Rooted.
Do you see your new favorite ground beef recipe?
Comment below and tell me which recipe you're making.