In under 24 hours of visiting my parents, I've made buffalo chicken macaroni and cheese, an ah-mazing breakfast scramble with my dad and this wonderful pumpkin pound cake with maple pecan glaze with my mama! Even I'm impressed with myself.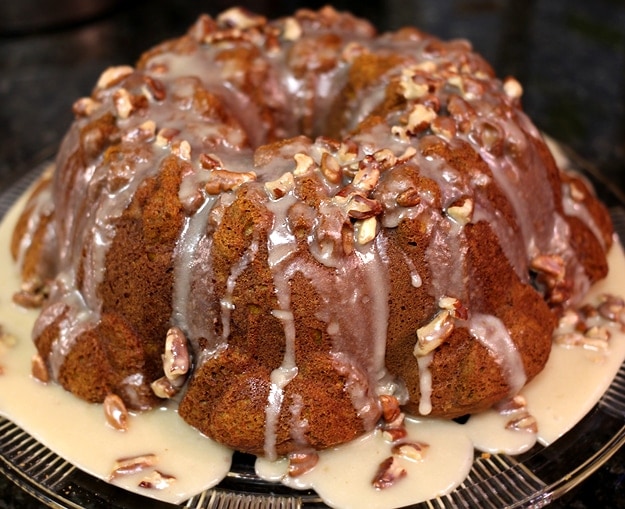 Originally I wasn't going to post about this recipe, but I got such a great response to my Instagram photo on, I knew I had to spill.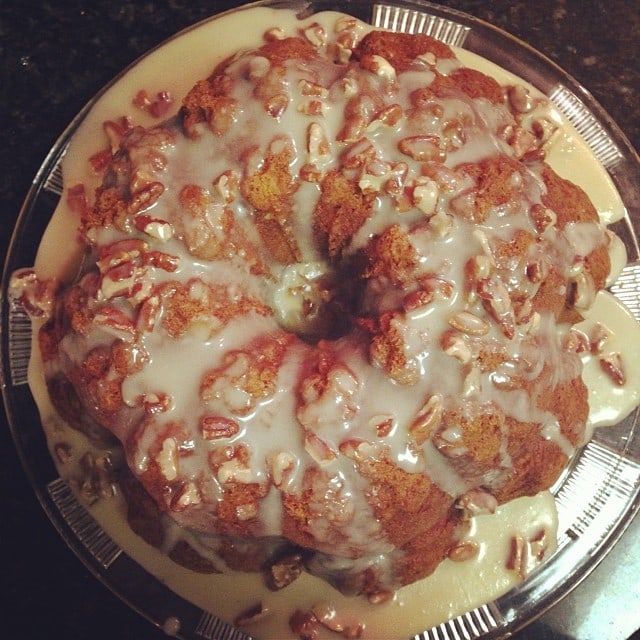 My mom found this recipe while exploring pumpkin dishes in an attempt to use up that last can of pumpkin. I know what that's like!
She's recovering from surgery, so she's not up for doing much, but she says, "If you get bored, we can bake a cake..." And by we she meant ME. But I have no problems with that!
Mom was my sous chef, pulling all of the ingredients for me because I can't seem to find anything in my parent's kitchen (I'm sure many of you can relate).
We had to play with the spice blend, but we certainly made it work. It's delicately flavored and incredibly moist.
I will warn you, the glaze makes MORE than necessary. When faced with the decision to use it all or toss the extra, I say let the cake swim!
Original recipe by Diana Rattray at The Spruce Eats.
Pumpkin Pound Cake With Maple Pecan Glaze
Pumpkin Pound Cake made with cinnamon, pumpkin pie spice, and cloves topped with a sweet maple pecan glaze.
Total time:
1
hour
15
minutes
Ingredients
Pumpkin Pound Cake
3

cups

all-purpose flour

2

teaspoon

baking powder

1

teaspoon

baking soda

½

teaspoon

salt

2

teaspoon

ground cinnamon

½

teaspoon

pumpkin pie spice

¼

teaspoon

ground cloves

8

oz

unsalted butter

softened

1

cup

granulated sugar

¾

cup

packed brown sugar

5

large eggs

15

oz

pumpkin puree

1 ½

teaspoons

vanilla extract
Maple Pecan Glaze
4

tablespoon

unsalted butter

3

tablespoon

maple syrup

3

tablespoon

milk

1

cup

confectioner sugar

3

tablespoon

chopped pecans
Instructions
Pumpkin Pound Cake
Heat oven to 325°. Spray your Bundt cake pan with cooking spray.

In a medium bowl, combine flour, baking powder, baking soda, salt, and spices.

In a large bowl, cream the butter, white sugar and brown sugar until light and fluffy. Beat in eggs, one at a time, beating well after each addition. Beat in pumpkin and vanilla.

Slowly beat dry ingredients into wet ingredients. Continue beating on medium speed until smooth and well blended. Pour into the Bundt pan and bake for 55 to 60 minutes, or until a wooden toothpick comes out clean when inserted in center.

Cool for 15 minutes in the pan on a rack; invert onto a serving plate to cool completely. Glaze with the Maple Pecan Glaze (see below).
Maple Pecan Glaze
In a small saucepan, heat the butter, maple syrup and milk over medium heat and bring to a boil.

Remove from heat and whisk in the powdered sugar. Let cool for about 15 to 20 minutes, until slightly thickened. Stir in the finely chopped pecans

Drizzle over the cooled cake.
Tried this recipe?
Rate it to let me know how it was!