These easy buffalo turkey meatballs are a tasty appetizer with tons of flavor. They are oven-baked and coated in homemade buffalo sauce.
Baked turkey meatballs are a great hors d'oeuvre when entertaining, especially for a Super Bowl party or football Sundays. Serve with blue cheese crumbles and a side of ranch.
These meatballs can be served with blue cheese or ranch dressing for dipping. For a delicious homemade ranch, try avocado lime ranch dressing.
If you're looking for more buffalo recipes, try these buffalo chicken thighs or this Instant Pot buffalo chicken dip.
This post contains affiliate links. As an Amazon Associate, I earn from qualifying purchases.
They are relatively low carb at 3 grams per meatball, making it an excellent keto appetizer idea. Make them even lower in carbs by reducing the breadcrumbs or replacing the breadcrumbs with pork rinds.
Jump to:
Ingredients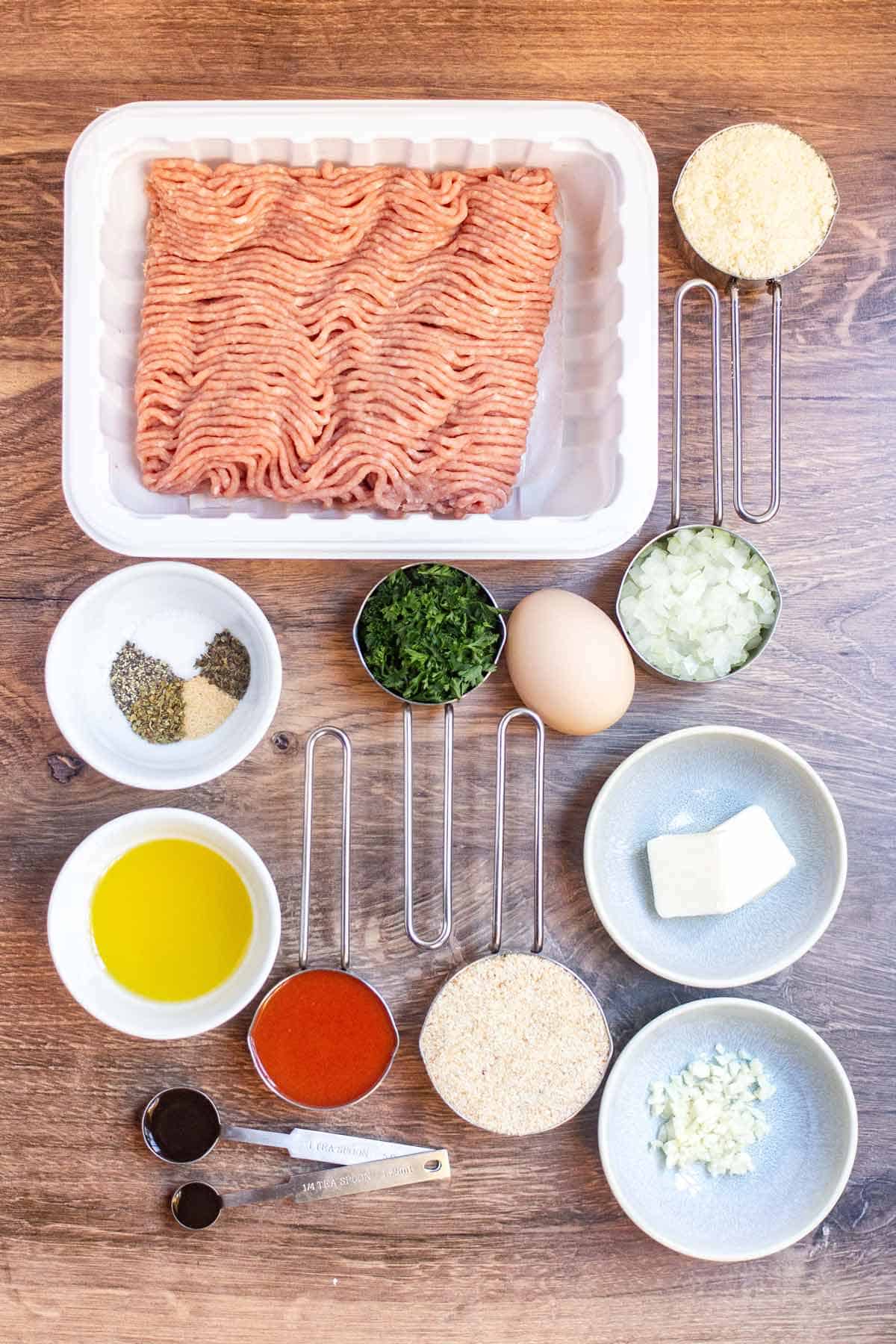 Hot Sauce Recommendations
Frank's RedHot Original and Louisiana Hot Sauce are my top picks for any buffalo recipe. They have the same Scoville rating (450 SHUs) and are relatively mild compared to other sauces.
For an even more mild buffalo sauce, see my "Mild Version" tips below.
For a spicier buffalo sauce, try Texas Pete's Original Hot Sauce (740 SHUs) and/or add cayenne pepper to the meat mixture.
Instructions
Preheat the oven to 400°F. Spray a wire rack with nonstick cooking spray and set it onto a rimmed baking sheet. Line the baking sheet with foil for easy cleanup.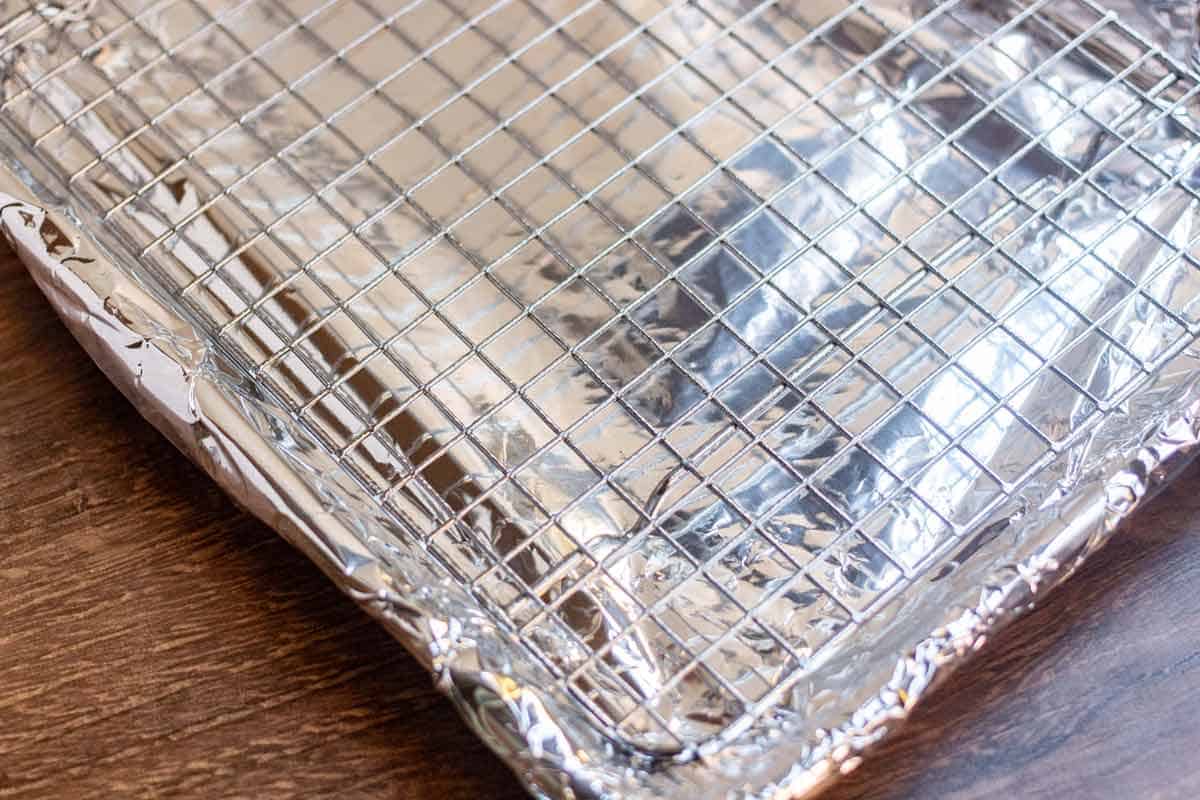 In a large bowl, combine all of the meatball ingredients except the olive oil to create your meatball mixture.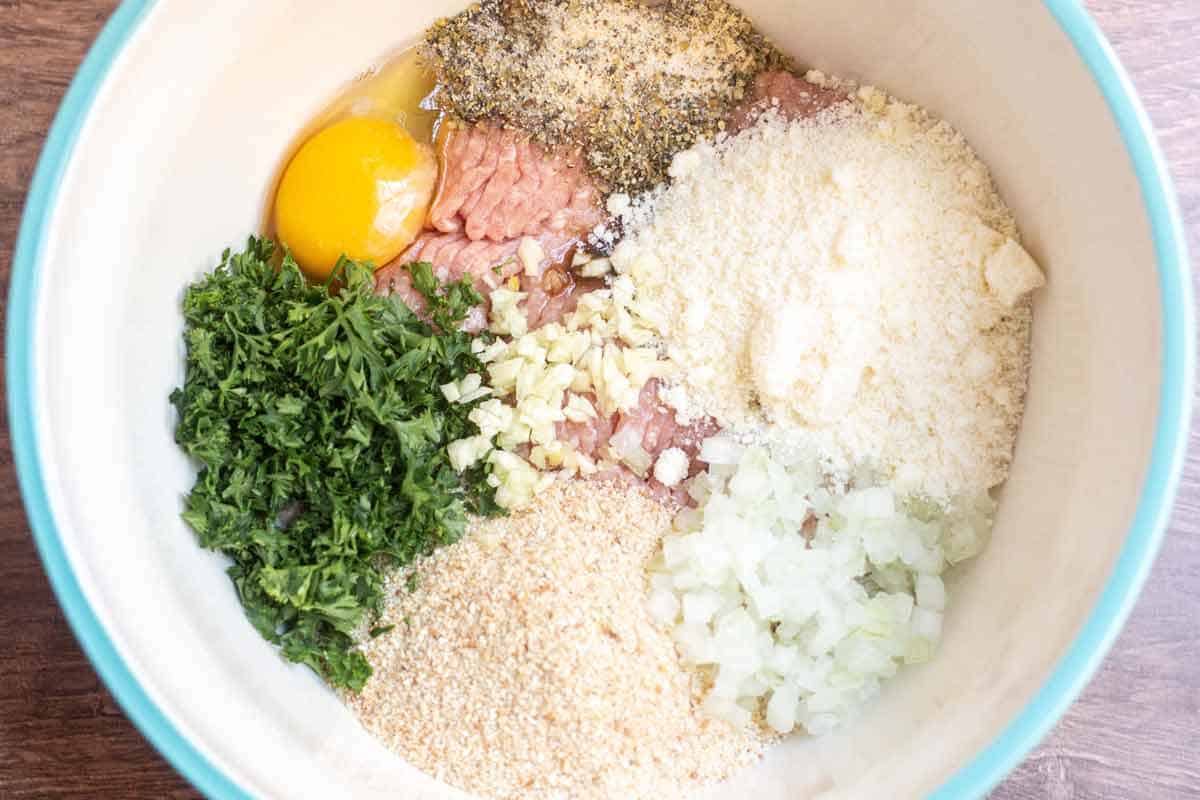 Using your hands, mix until fully combined. Shape the meat mixture into 1-½ inch balls, rolling the raw meat between your palms to create the meatballs. There will be about 20 meatballs.
Arrange meatballs on the wire rack and brush with olive oil.
Tip: If you don't have a basting brush, you can use paper towels or your fingers for even coating.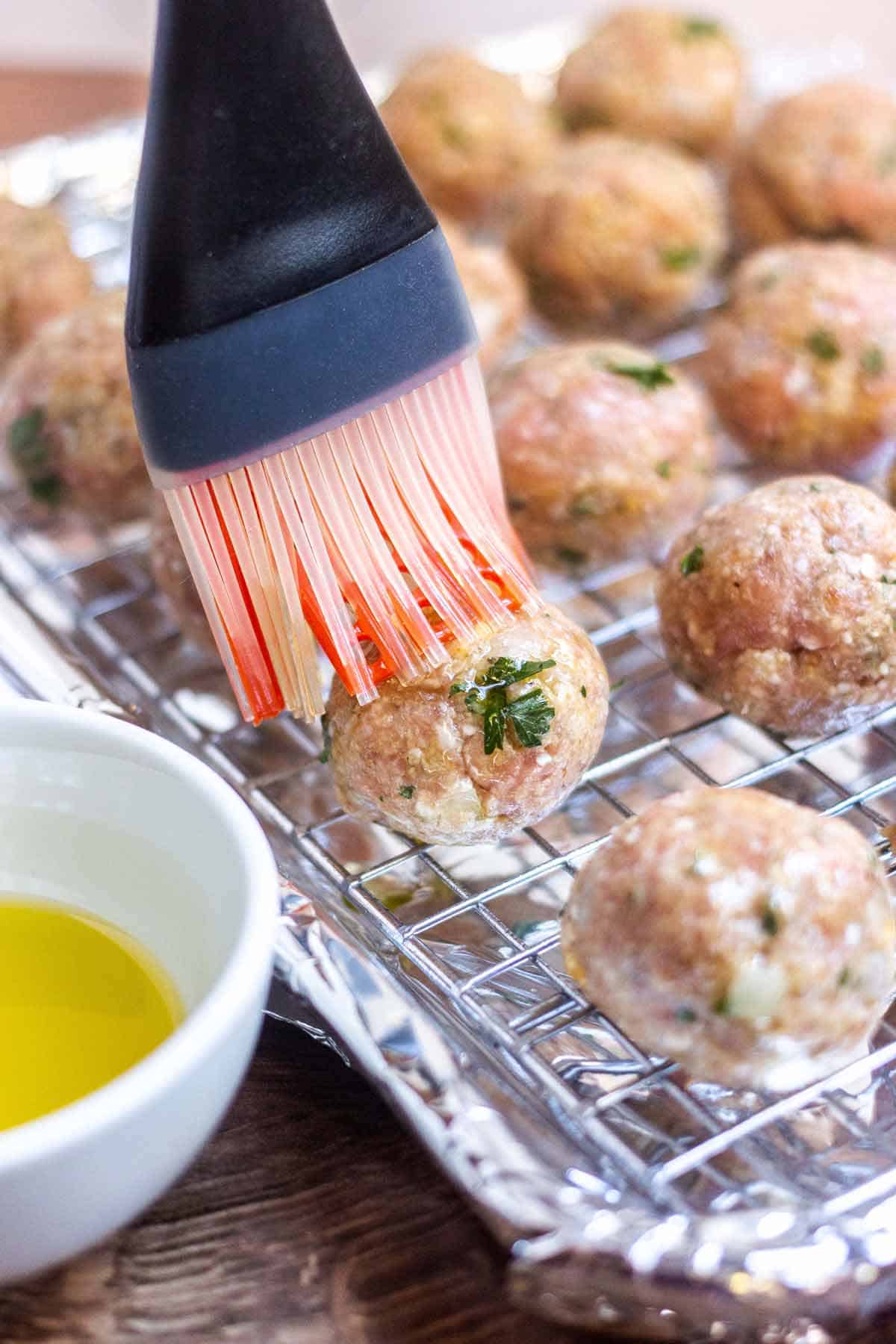 Bake for 15-20 minutes or until the meatballs reach a minimum internal temperature of 165°F.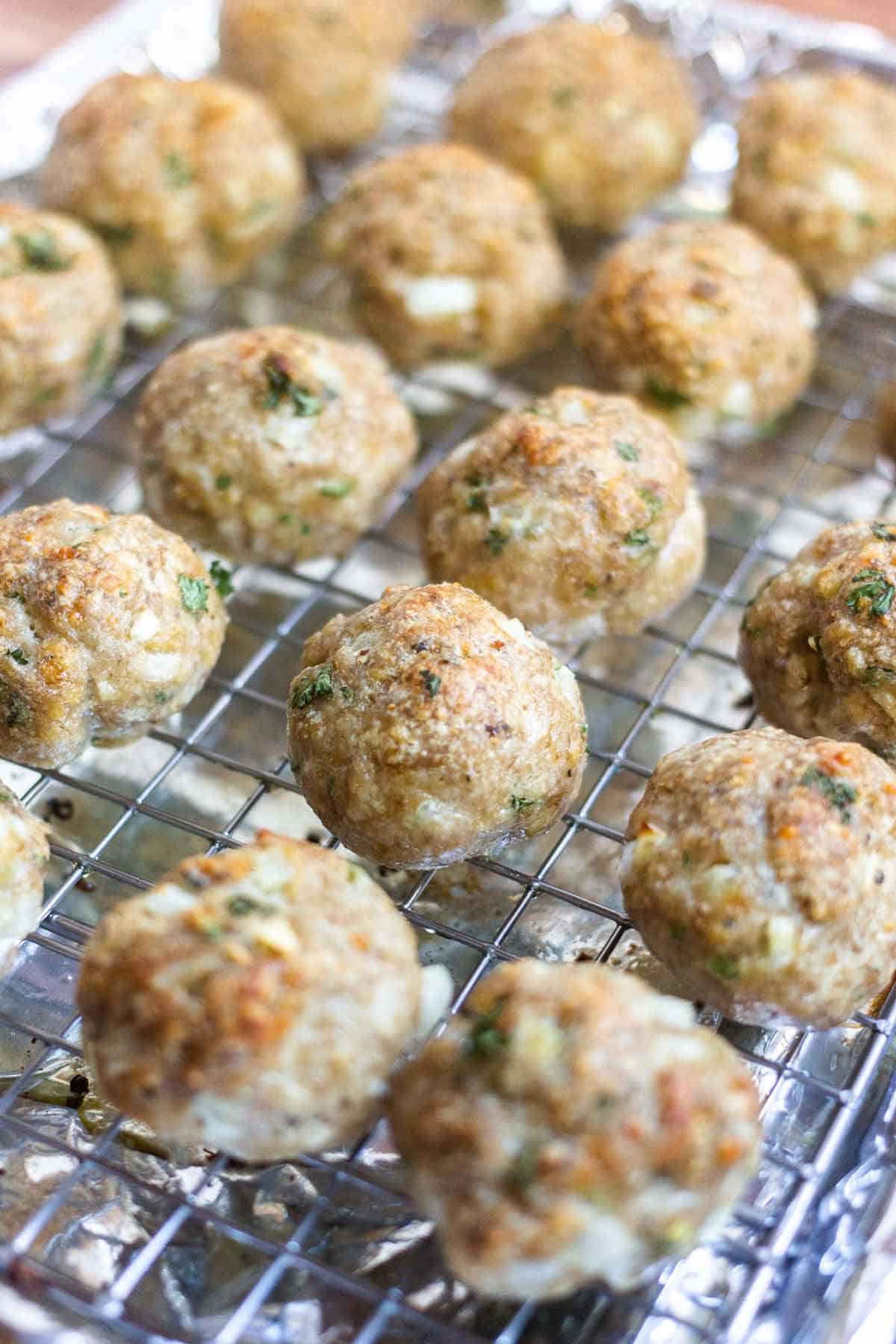 Meanwhile, in a small saucepan, melt the butter on medium-low heat. Once melted, whisk in the hot sauce, Worcestershire sauce, and garlic powder, until combined. Keep warm on low heat until the meatballs are ready.
Tip: Do not heat the buffalo sauce mixture on high heat. This can cause the butter in the sauce to split from the hot sauce.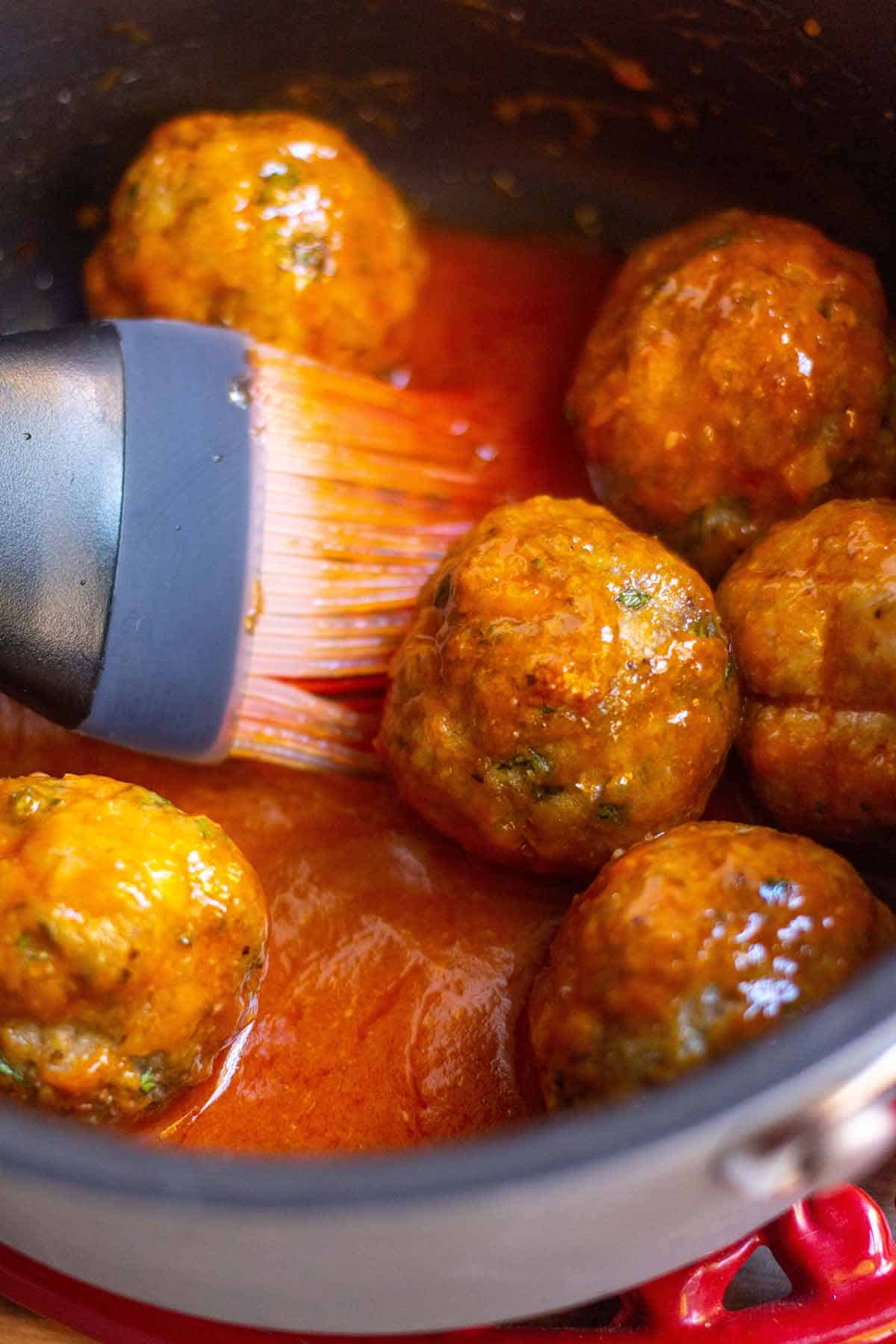 When the meatballs are done, coat the meatballs in sauce either in the saucepan or using a basting brush to brush the sauce over top, rotating the meatballs until they are evenly coated.
Food safety tip: If you reuse your basting brush, wash it after it comes into contact with raw meat before using it on the cooked meatballs.
Garnish with parsley or green onions and serve with blue cheese dressing or ranch dressing alongside carrot sticks and celery sticks.
Mild Version
To make the sauce mild:
Use half the amount of hot sauce
Add 2 tablespoons of tomato sauce from a can
Canned tomato sauce can be found on the same aisle as diced tomatoes and crushed tomatoes.
Equipment
Storage
Store leftover meatballs in the refrigerator in an airtight container for 3 to 4 days. You can freeze meatballs that are raw or fully cooked. If following the recipe for meal prep or making it ahead of time for the big game, I recommend freezing the meatballs without the sauce and making the sauce fresh when ready to serve.
📖 Recipe
Food safety
Food safety is always important, especially when working with raw meat.
Cook the meatballs to a minimum internal temperature of 165°F (74°C)
Do not use the same utensils on cooked food, that previously touched raw meat
Wash hands after touching raw meat
Don't leave food sitting out at room temperature for extended periods