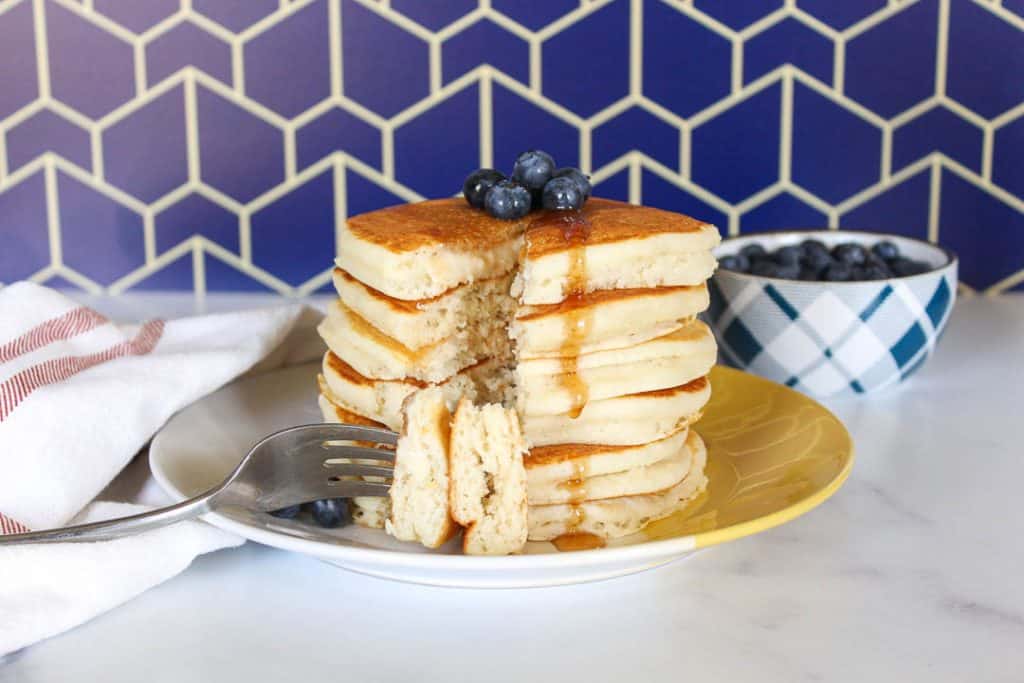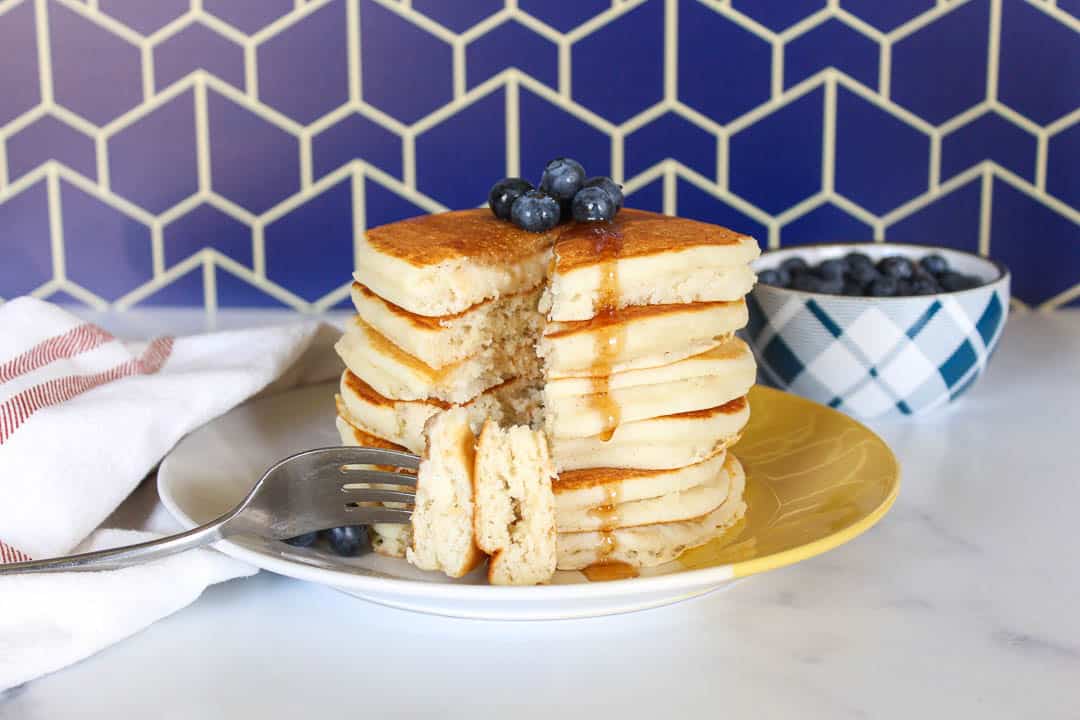 I've been making Bisquick vegan pancakes for quite some time. I mean, if it's better than "from scratch," then why would I go through any extra effort?
I started making these when my husband and I first started living together and we were ballin' on a budget. Our first summer in Colorado, we lived off of my savings and his salary.
We lived in a 500-square-foot garden-level apartment with a three-month lease. We pinched our pennies, hoping we could stay in Denver for good once the summer ended.
Making budget-friendly meals and dutifully shopping the sales at Kroger paid off.
This post contains affiliate links As an Amazon affiliate, I may earn a commission.
Wait. Bisquick is vegan?
Bisquick Original is vegan by nature, but the pancake recipe calls for milk and eggs. Hmm.
I nixed the egg and just used my non-dairy milk. I added the "melt in your mouth" ingredients on the back of the box, and voila!
However, it's important to note that there are several versions of Bisquick, and not all are vegan. Bisquick Original in the United States contains no milk ingredients, though someone on Reddit pointed out that the "Betty Crocker Bisquick Multi-Purpose Baking Mix" in the UK does contain milk ingredients.
Read labels!
Other vegan-friendly pancake mixes include Pearl Milling Company Original (NOT the "complete" version) and Krusteaz Original.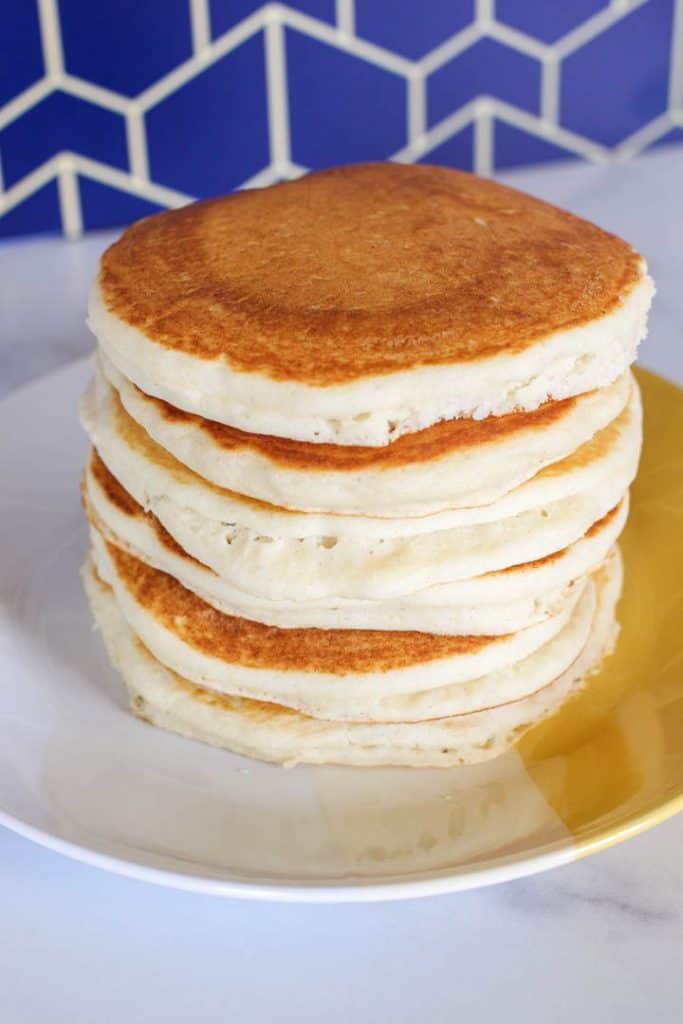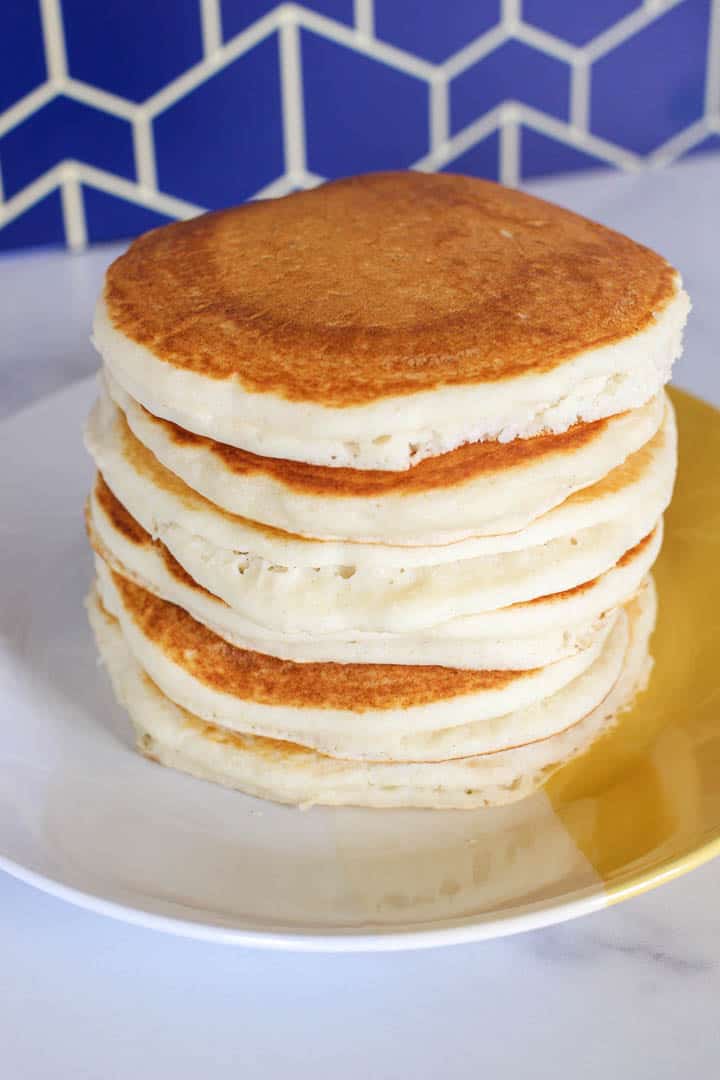 So I don't need egg?
Nope! I'm convinced the egg step is just to make you feel more chef-y.
Kidding. Kind of.
The egg does help bind the batter just a smidge but trust me, you won't really miss it when you leave it out.
Because it's missing that binding agent, I just wouldn't make your pancakes too, too large because you might have trouble flipping them.
What vegan milk should I use?
Use any vegan milk!
I've tried this week coconut (carton, not canned), vanilla almond, and unsweetened almond, and they're all great.
This recipe already contains vanilla and sugar, so any vanilla milks (vanilla almond, vanilla soy) may make your pancakes on the sweeter side.
Can I make this recipe non-vegan?
Absolutely! Make this recipe with whatever milk you have on hand. The egg is still optional in my book.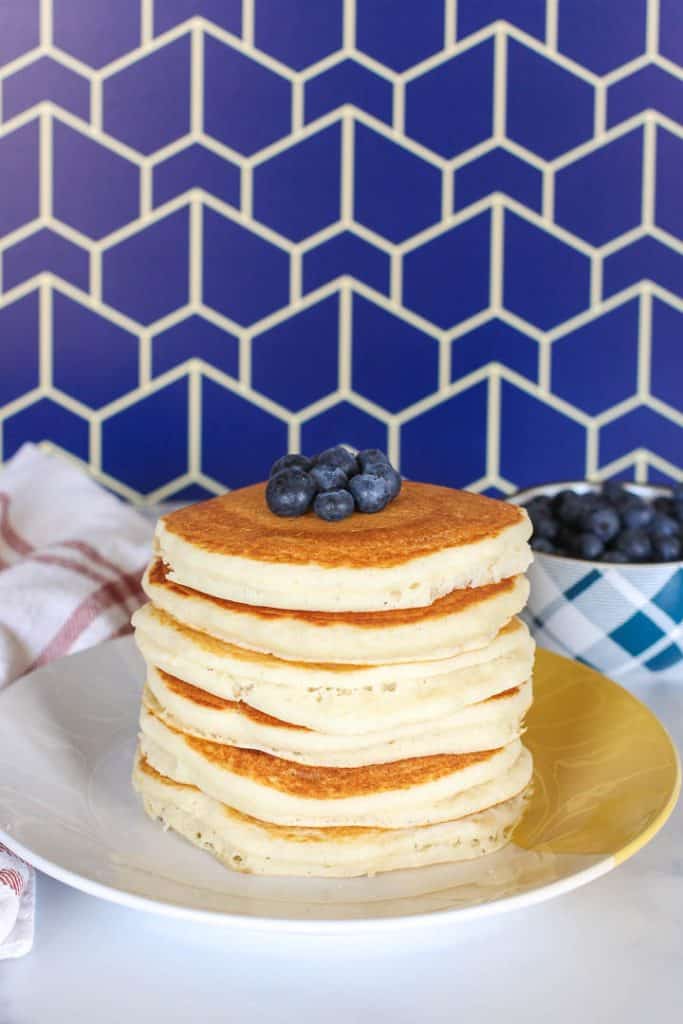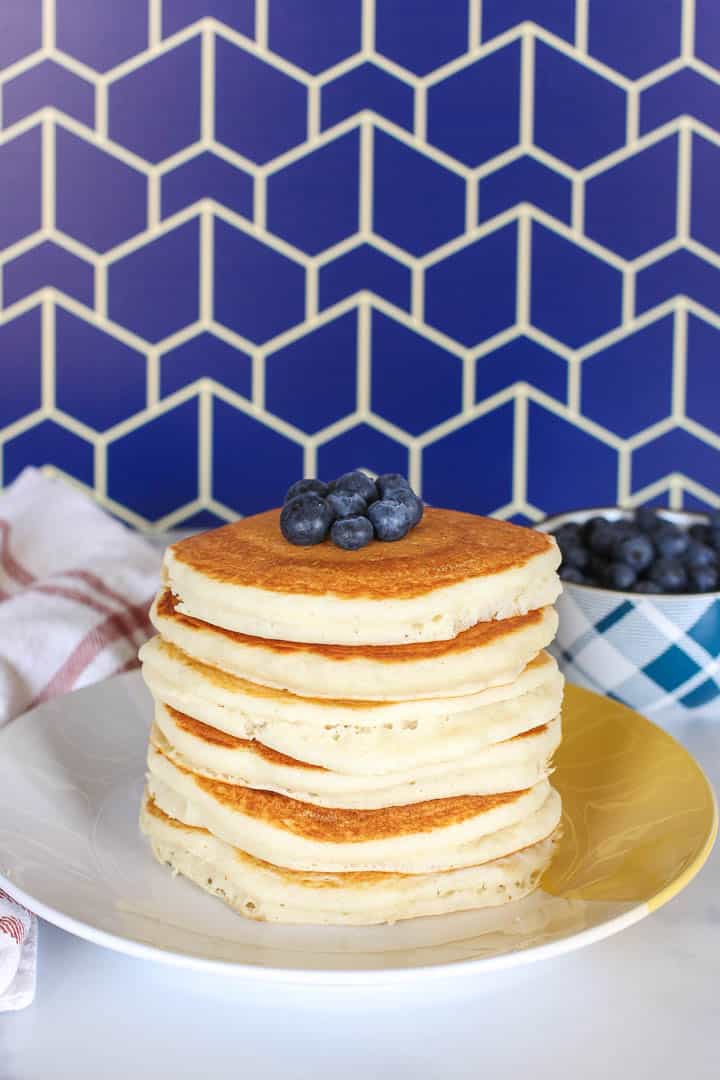 How many pancakes does this make?
This recipe makes 8 large fluffy pancakes.
But if you make your pancakes smaller (pour less batter) or if you make your batter slightly thinner (add more milk), you can make it go further.
Can I get fancy?
Please do! Add a few blueberry or a small handful of chocolate chips.
I recommend adding your extras after you first pour the batter so you can control the distribution of your fruit or chocolate. Otherwise, blueberries are known to sink to the bottom of the mixing bowl.
If you're feeling EXTRA fancy, scroll to the bottom of this post for more Bisquick pancake recipes.
Can I be less fancy?
I feel like such a yes-man, but yes!
If you want to skip the sugar, baking powder, and vanilla, you absolutely can.
The original, basic pancake recipe on the box doesn't call for them. Just note, the fluffiness will be affected (because of the baking powder), but that's not a game changer for me.
Plus, if you're using vanilla soy milk or vanilla almond milk, you may want to skip the added vanilla and sugar anyway since these vegan milks are sweetened.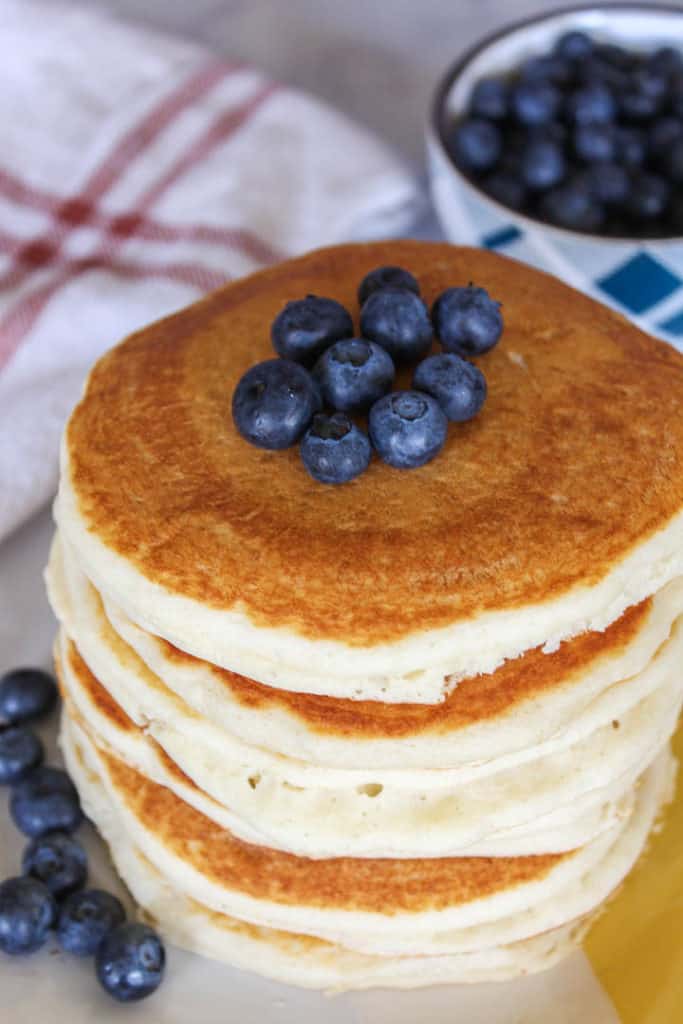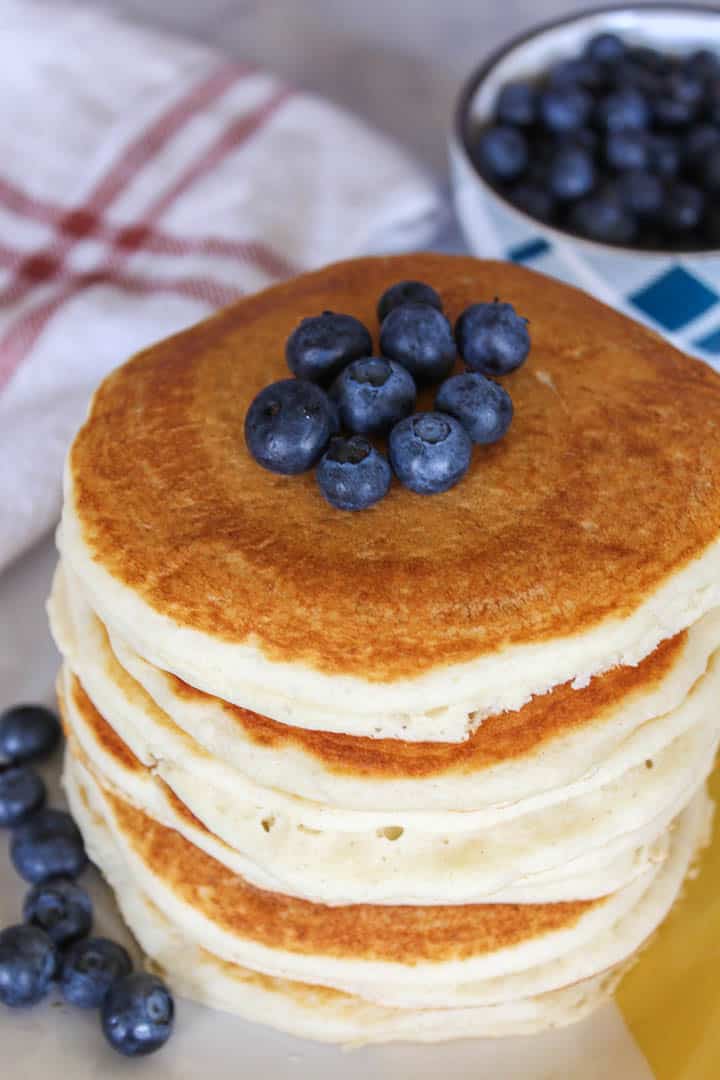 What do I do with leftovers?
I can't lie...
I rarely have leftover pancakes when I make this recipe. Even though eight pancakes is more than plenty for two, my husband and I are pancake fiends.
But, if you do have leftovers, I have a plan.
Store your leftover pancakes in a gallon size Ziploc bag, separating each pancake with a small square of parchment paper. This makes them easy to separate.
When you want to pull a leftover frozen pancake down, you can either pop them in the toaster or zap them in the microwave for 30 to 60 seconds.
Read more about how to store leftover pancakes.
📖 Recipe
Easy Bisquick Vegan Pancakes
These easy-to-make Bisquick pancakes are accidentally vegan. No egg and dairy-free.
Ingredients
2

cups

Bisquick

2

tablespoon

sugar

2

teaspoon

baking powder

1

teaspoon

vanilla extract

1½

cups

non-dairy milk

I use coconut milk or unsweetened vanilla almond milk
Instructions
Mix the first four ingredients in a large mixing bowl.

Add one cup of milk and stir. Slowly add remaining half cup, until the consistency is to your liking. For fluffier pancakes, let the batter sit for a few minutes before cooking.

Heat pan to medium heat and spray with cooking spray or coat with butter. When hot, pour ¼ cup or less of batter on to the pan, depending on how big you want your pancakes. Cook both sides until golden.
Notes
Nutrition was estimated per pancake using MyFitnessPal. Fat: 6g; Carbs 24g; Protein 2g
Nutrition
Tried this recipe?
Rate it to let me know how it was!
Love this vegan pancakes recipe? Check out my other Bisquick vegan pancake recipes.
Banana Bisquick Vegan Pancakes with Peanut Butter Syrup
Peanut butter and banana combine for a super sweet, super tasty pancake.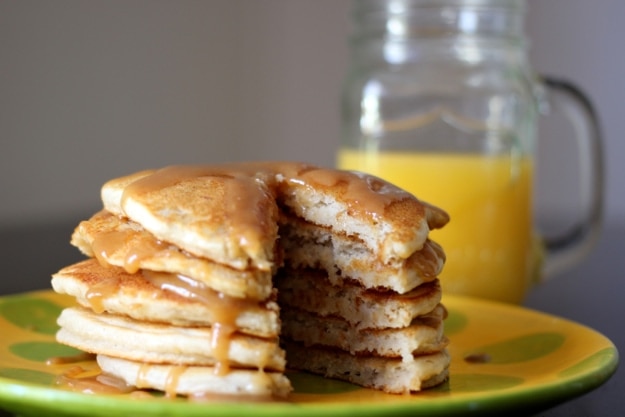 Bisquick Pumpkin Vegan Pancakes
The seasonal favorite you'll be glad you bookmarked.