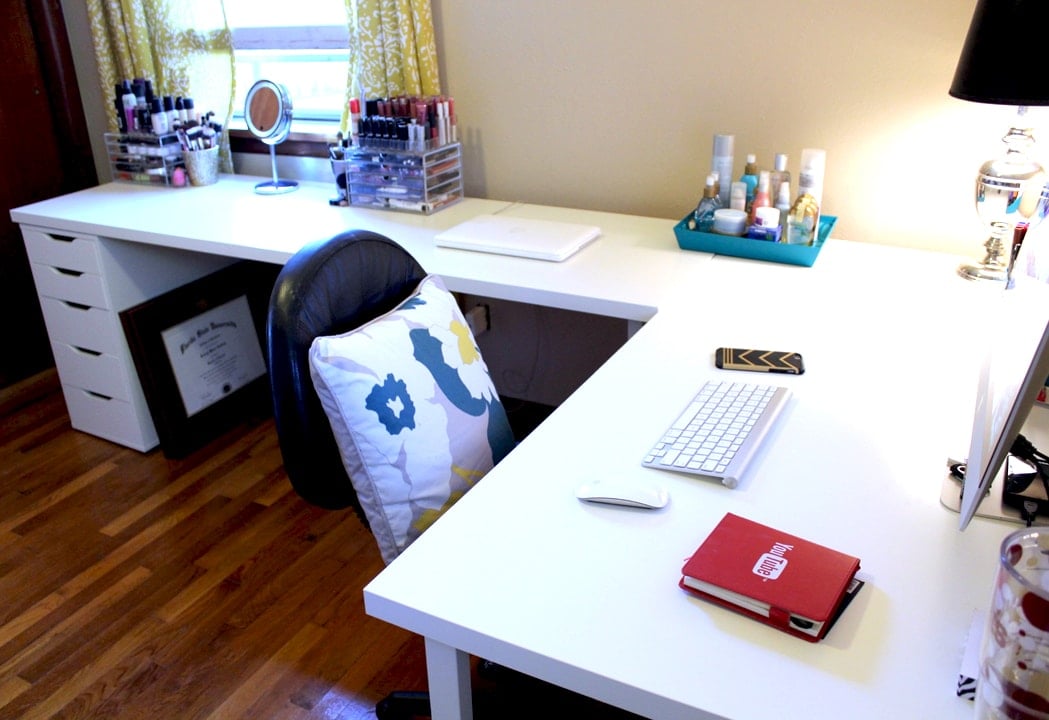 I confidently title this post "IKEA Desks & Office Makeover Part One" because there's so much more I want to do with my new office!
The guest room in our house was a multi-use space, have sleeping space for guests and half my office and vanity. When guests stayed, I had to remove my makeup setup. Fun times.
This post contains affiliate links. As an Amazon affiliate, I earn a commission on qualifying purchases.
Since we really only have guests 2 or 3 times a year, it felt like a wasted space.
My photography set up (two white foam boards next to the window) sat on the foot of the guest bed. The bed itself became a place to throw all of my "to review" items.
A few times when Xavier's best friend stayed the night he couldn't even use the guest bed because it was so overrun!
My desk was pretty small. I purchased in almost four years ago, and I outgrew it quickly. Between my Muji drawers for makeup storage, my desktop and my filming setup, I never had any room.
The idea of reclaiming this space and transforming it into my dream office and vanity is thrilling.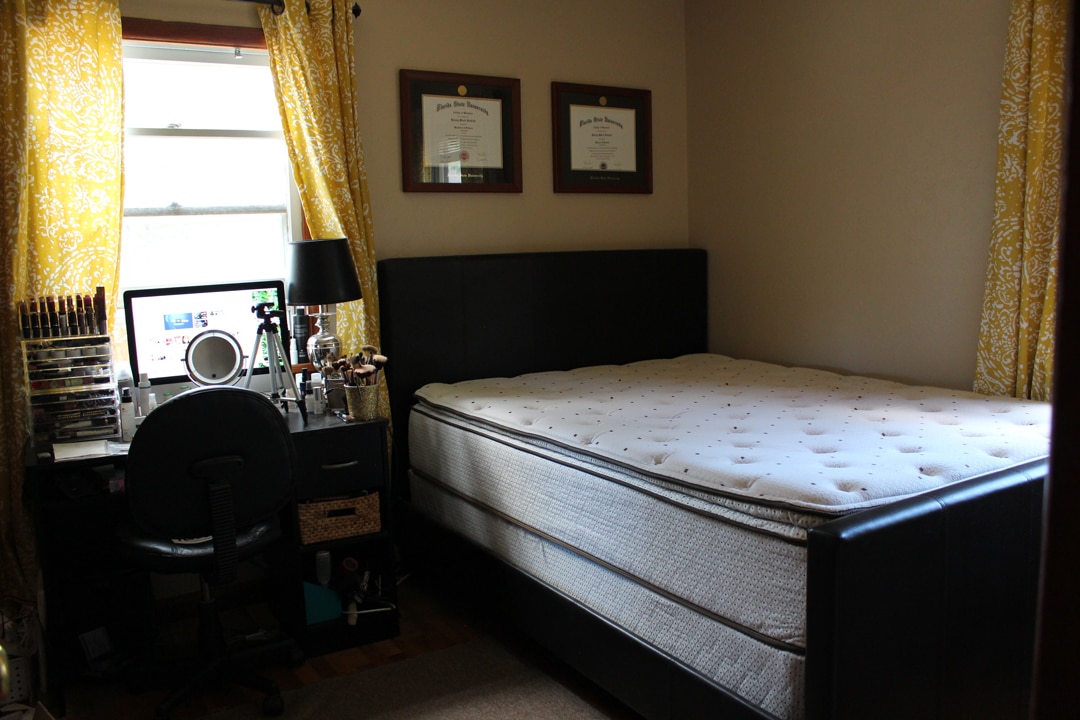 My number one priority was to get a basic desk setup. I turned to IKEA because of the affordability factor as well as the ability to customize exactly what you want.
My dream desk was an l-shaped corner desk.
Unfortunately, there are hard to come by, and what I found online was very expensive. Then I found The L Shape Desk Hack post from Leah Remillet's site, and the pieces started to fall into place.
The IKEA Linnmon desks all have the same thickness, so you can piece together different desk sizes to get the look you want. The table tops can be purchased separately from the legs, so if you want to have part of the desk sit on a short Alex Drawer instead, you can mix and match.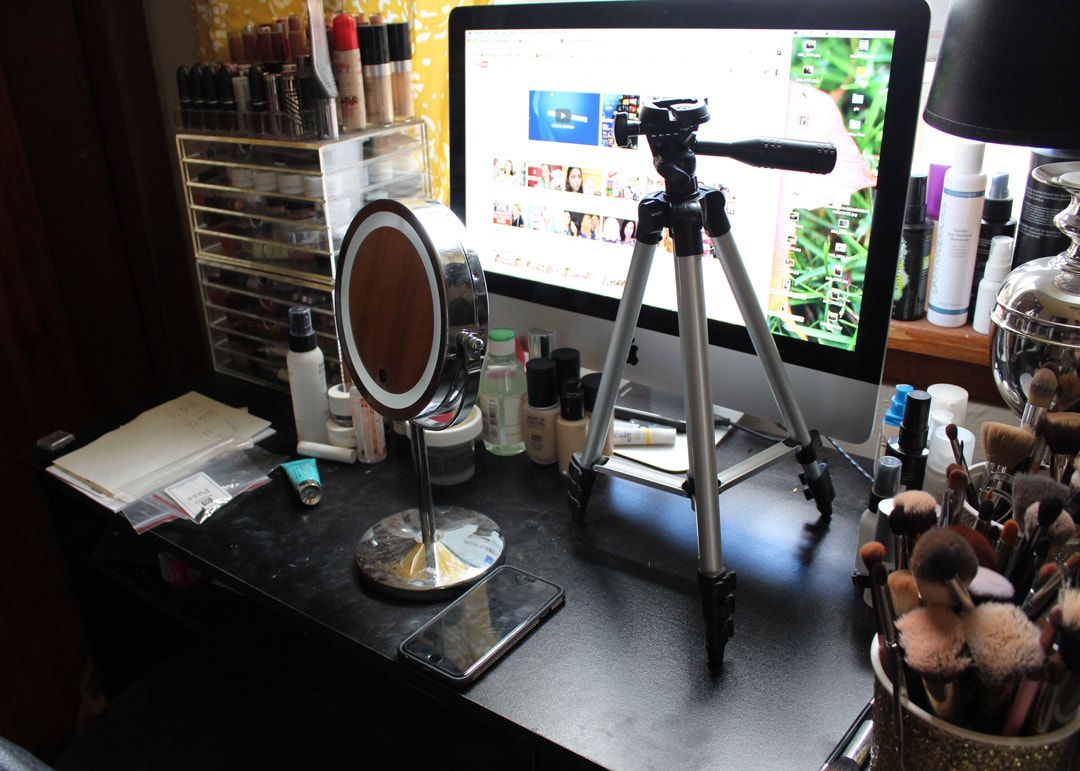 On the IKEA website you can pick out all of the items you need, add them to a list, and email it to yourself for all of the item numbers and locations in your local IKEA warehouse.
My setup totaled about $360 after tax. I sold all of our guest room furniture on Craigslist for $260.
What You Need
LINNMON Table top, white (the one my computer sits on)
Length: 59 "
Width: 29 ½ "
Thickness: 1 ⅜ "
LINNMON Table top, white (the long vanity side) - Note: This Amazon listing comes with legs (different from the legs I used)
Length: 78 ¾ "
Width: 23 ⅝ "
Thickness: 1 ⅜ "
GODVIN Leg, white (I purchased 6 legs - Note: This Amazon listing is a 4-pack)
Width: 1 ⅝ "
Depth: 1 ⅛ "
Height: 27 ½ "
ALEX Drawer unit, white (the short 5 drawer unit)
Width: 14 ⅛ "
Depth: 22 ⅞ "
Height: 27 ½ "
ALEX Drawer unit with 9 drawers, white
Width: 14 ⅛ "
Depth: 18 ⅞ "
Height: 45 ¼ "
How I Put It Together
The long 78 inch Linnmon table has two legs on one end and a short Alex Drawer unit on the other. It butts up against the 59 inch Linnmon desk which has more depth and is on four legs.
If you want the Godvin legs to be squared with the edges, check the alignment before putting in the screws.
I started the assembly with the short Alex drawer. It had a TON of parts, so I was terrified at the prospect of assembling the larger 9 drawer!
Luckily, the time it took me to assemble both units was about the same. I hit my groove and knocked it out.
The Alex drawers were the most time intensive part of the project. If you were just assembling the Linnmon table tops with the Godvin legs, you could finish in 20 minutes.
I haven't attached the two desk corners in anyway because I want to be sure this is the desk setup I want. Drilling holes into things is pretty permanent.
My New Desk Setup
My computer station is on the 59 inch desk. It's nice having a deeper desk with my desktop computer and the keyboard. I plan to get a taller desk chair so my elbows are more at a 90 degree angle.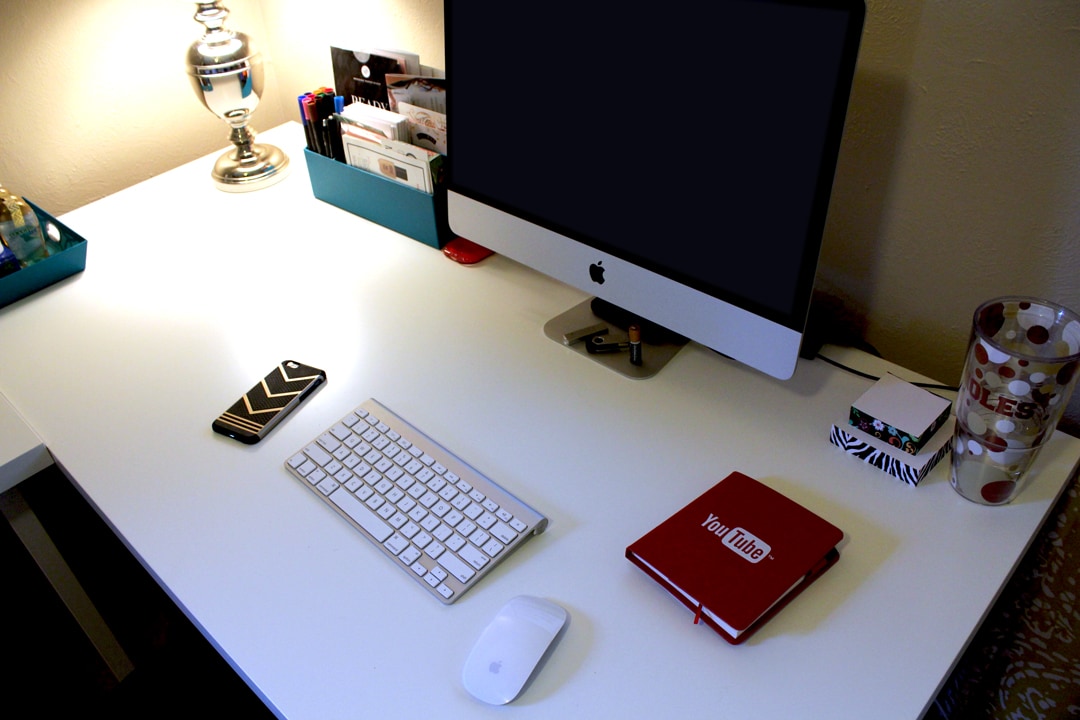 Next, as you slide over to the larger 78 inch table, I have a hair station where I plan to put a large mirror on the wall. For now I have my old laptop setup there as I try to refurbish it and get it back up and running.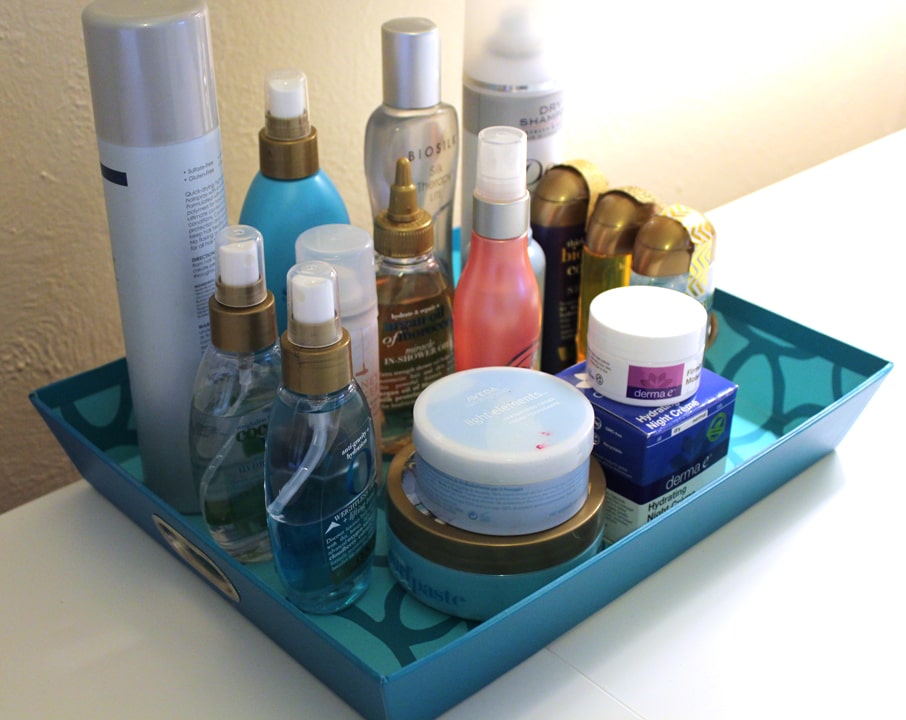 On the far end of the larger desk is my vanity and a small light up mirror in front of the window.
I love having the window and getting ready every morning in the natural light. I know that will change come fall, but it makes for good natural lighting in the afternoons when I film YouTube videos, too.
The vanity end of the desk is where I put the short Alex Drawer unit. It now houses hair tools, makeup, skin care and more.
Across the room I pulled out my cube shelf unit (from Target I think) and set up the larger Alex 9-drawer unit. This drawer is largely empty, but I plan to use this as a library for item I've review or need to review.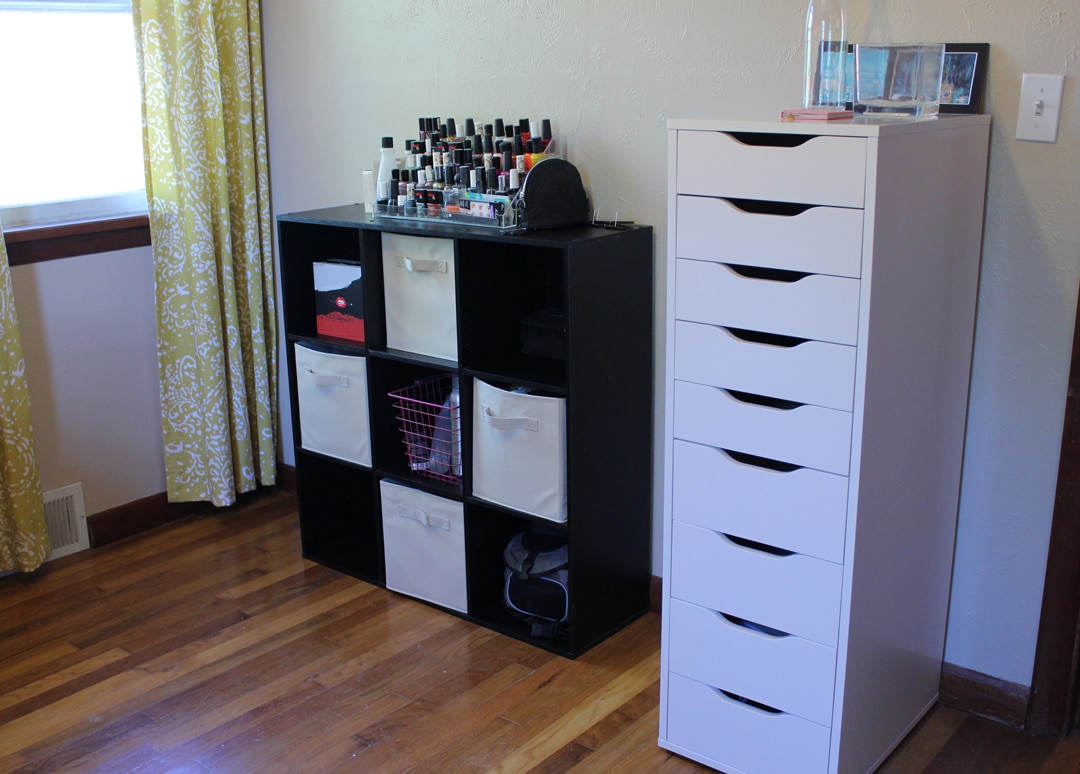 What's Next?
I have my eye on a couple of upholstered desk chairs from Wayfair at the moment, but color scheme is still TBD. I'm not in love with my yellow paisley curtains from Target anymore, so once I decide on a color scheme I'll purchase two new sets.
On the same note, I'd like to purchase a new rug for the space as well. I have an old brown rug from Walmart that's there for now.
I have my eye out for a large mirror for my hair station. Ideally, I will find one on Craigslist or at the thrift store and paint to border with a bright pop of color.
Eventually I may have shelving somewhere, but jury is out.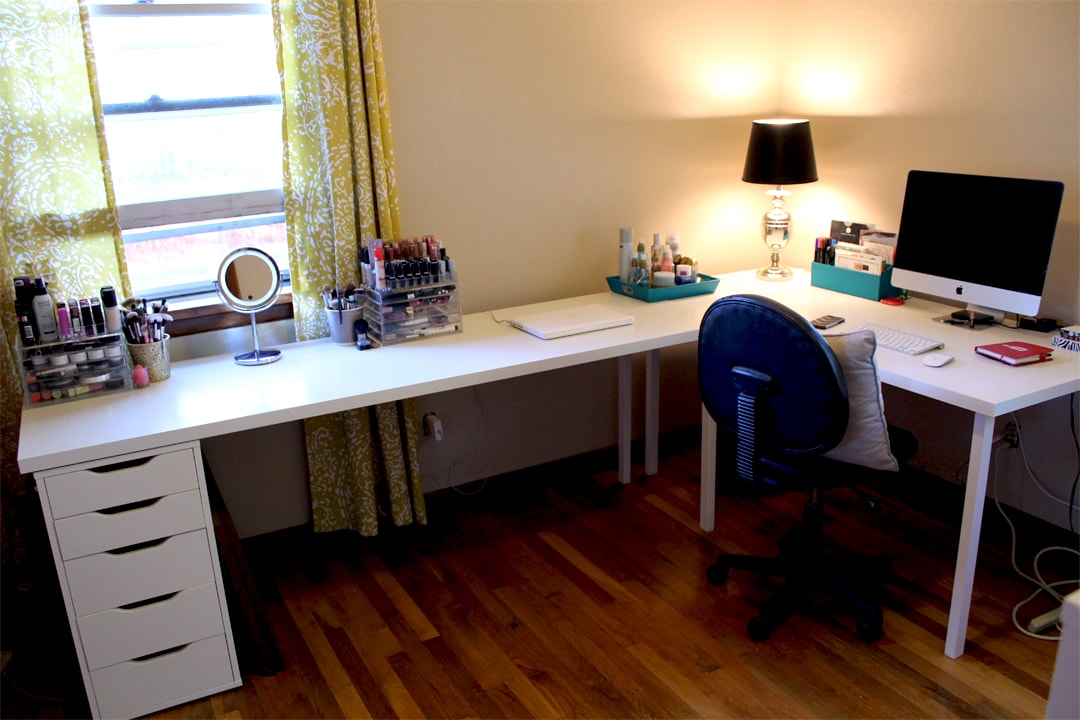 I hope you love this space as much as I do!