Score a touchdown with these Instant Pot and slow cooker game day recipes. The best part about game day is the food. Really, any excuse to bust out chicken wings and queso is my kind of event.
I've rounded up a variety of game-day-winning recipes, from slow cooker corn dip and Hawaiian meatballs to beefy bacon chili and pulled pork sandwiches. You'll find low-carb, keto, vegan, gluten-free options, and more.
This post contains affiliate links. As an Amazon affiliate, I earn from qualifying purchases.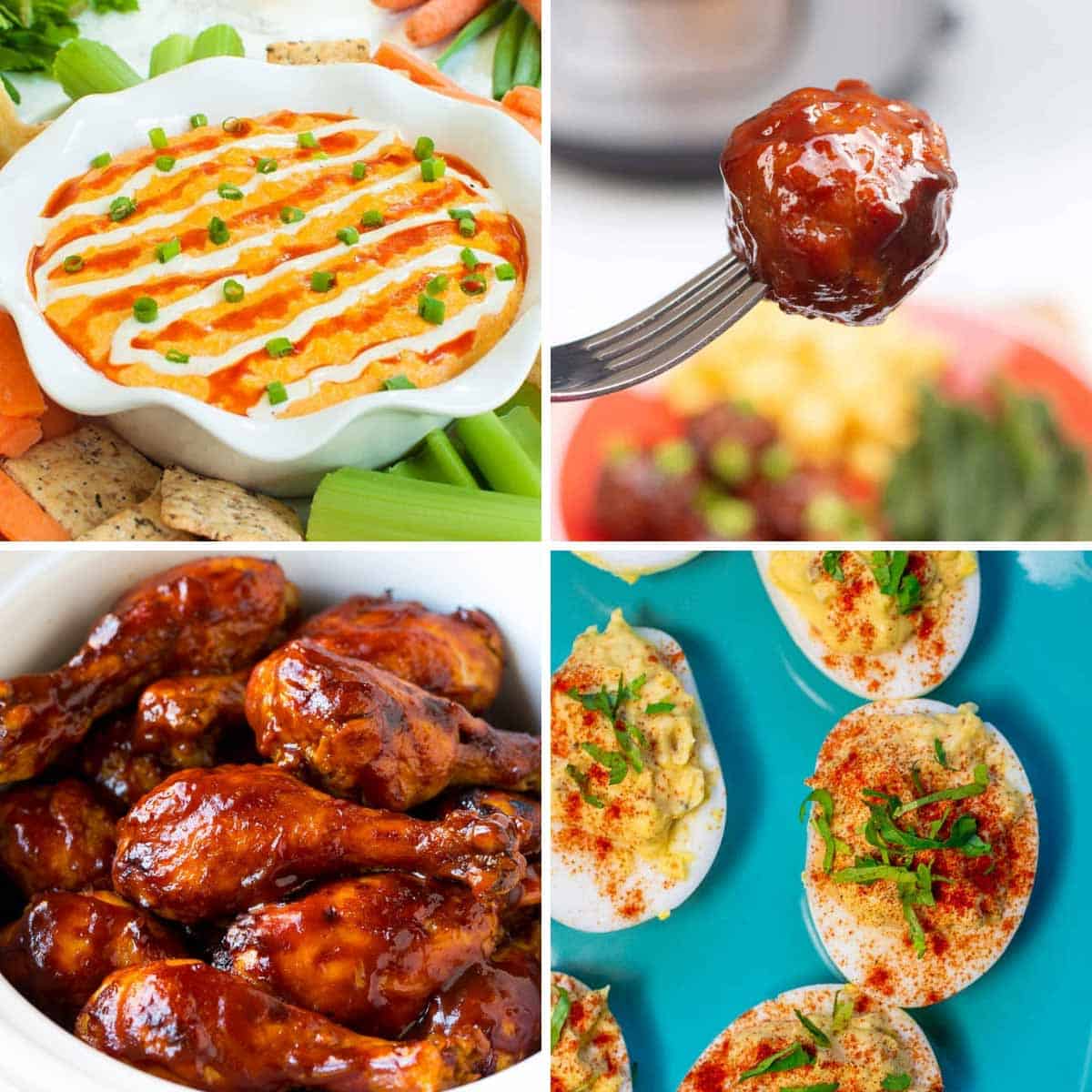 Jump to:
What is a slow cooker?
Slow cookers are cooking appliances that cook food for a long period of time using relatively low temperatures.
You'll often see recipes labeled "Crock-Pot" rather than slow cooker. Crock-Pot is one specific brand of slow cooker, but all slow cookers have two basic settings: high and low. You can cook any "Crock Pot" recipe in any brand slow cooker.
Why use a slow cooker?
Slow cooker recipes are a great option for events and parties because you can make a large quantity of food (I use a 6-quart cook and carry Crock Pot) and keep it warm. Dump-and-go slow cooker recipe will keep you out of the kitchen so you can sit down, relax, and enjoy the game.
What is an Instant Pot?
An Instant Pot is a specific brand and type of pressure cooker. As it sounds, pressure cookers cook food under high steam pressure insight a tightly sealed pot.
There are very basic pressure cookers (the old school large pots with locking lids), and then there are smart, multi-functional, programmable slow cookers like the Instant Pot. Other multi-functional brands of pressure cookers include Comfee and Ninja.
Why use an Instant Pot?
The Instant Pot is great because it pressure cooks, sautés, slow cooks, and more. Plus, like a slow cooker, it will keep your food warm. I use a 6-quart Instant Pot Duo.
More advanced pressure cookers (e.g., Ninja Foodi and Instant Pot Duo Crisp) now have crisping lids to air fry your food.
Many recipes can be made both in a pressure cooker and a slow cooker, but the pressure cooker has one obvious advantage: speed. When you're under a time crunch, pressure cooking in the Instant Pot is often the way to go.
Dips and Spreads
Wings and dip are my essential game-day dishes. Bring on the cream cheese.
Try a classic queso or buffalo chicken dip, or go for a more unique dip recipe like slow cooker corn and pepper cheese dip.
Meatballs and Little Smokies
Frozen meatballs and cocktail weenies lend themselves well to dump-and-go recipes. They're pre-cooked, so really the goal here is to warm them through with a tasty sauce. Just fix it and forget it.
Finger Foods
Finger foods are the first to disappear because they're easy to eat. When you're at a party or a potluck and you've gone through multiple plates, finger foods are the MVP.
Chili
There are millions of ways to make chili. You can go big and beefy, big and beany, or bean-free.
Chicken Wings, Ribs, and Drumsticks
Wings are a game-day classic for a reason. They're easy to make (especially in the Instant Pot), and they're always a crowd favorite. I like to make a classic buffalo wing and then something a little different like a spicy jalapeño sauce.
Shredded Meat Recipes
If you want a more open-ended option, I recommend shredded chicken, pork, or brisket. They're great for sliders, sandwiches, quesadillas, and more. Plus, these recipes will make for leftovers you'll want to keep around.
Did you see your favorite game day recipes? Comment below and share your go-to crowd-pleasing dishes.