These lazy Sunday dinner ideas feed 6 or more people, use common ingredients, are family-friendly, and take 10 minutes or less to prep.
This post contains affiliate links. As an Amazon Associate, I earn from qualifying purchases.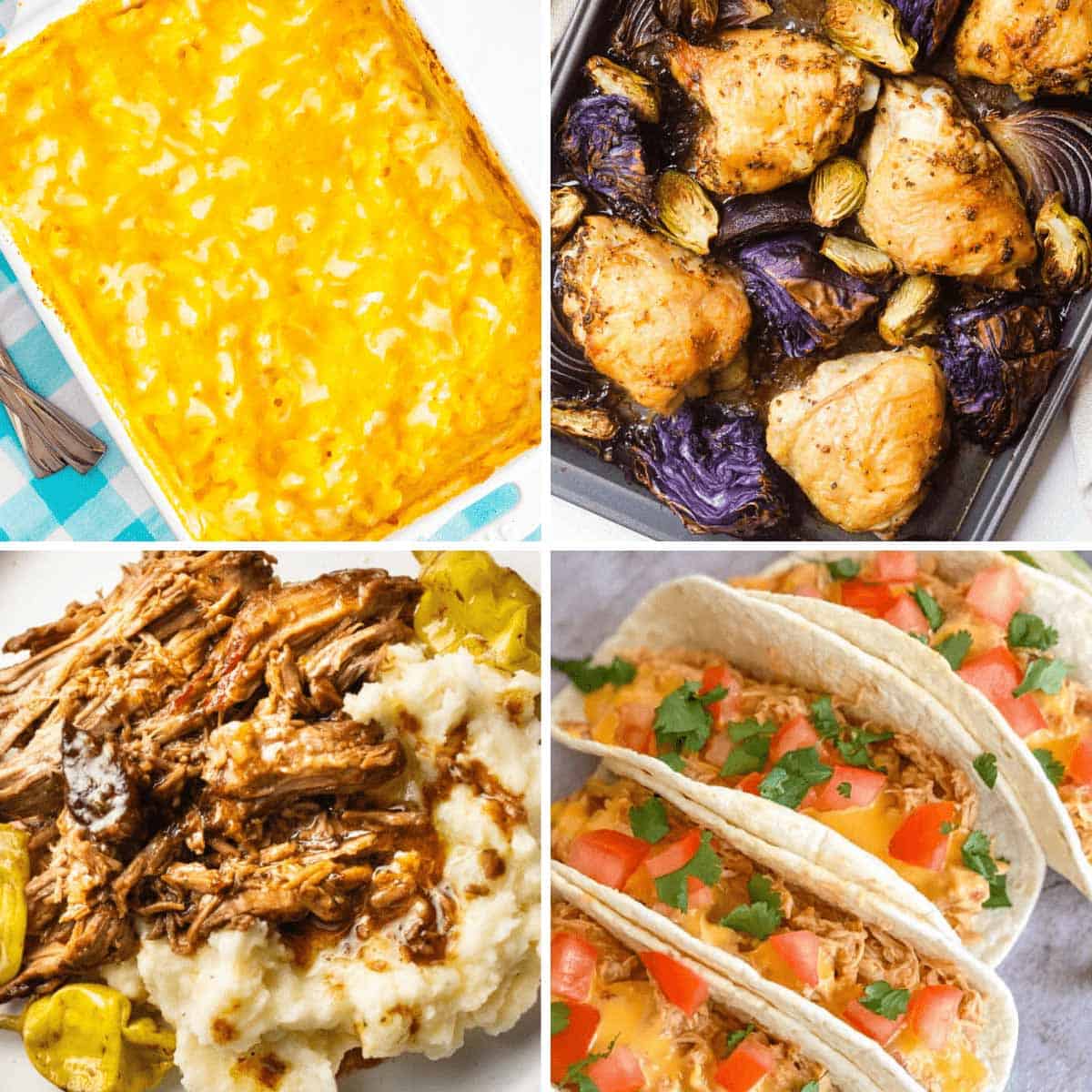 Family dinner calls for an easy recipe with common ingredients that will feed a crowd and please even picky eaters.
All of these recipes feature short ingredient lists and take very little time to prepare. Each recipe has a serving size of 6 or more.
"Lazy" to me means...
Easy-to-find ingredients
Short ingredient list
Few steps
Short prep time (10 minutes or less)
Jump to:
Kitchen equipment
Many of these lazy Sunday dinner ideas are fix-it-and-forget-it or dump-and-go meals. Several recipes call for one of the following kitchen devices:
Instant Pots and slow cookers are great for family dinners because they both have a "warm" function to keep food warm while it's being served or waiting to be served.
Tips for serving picky eaters
Feeding the whole family can be challenging when you have picky eaters at the table. There are plenty of ways to accommodate picky eaters without preparing multiple main courses.
Have at least one "preferred" food on the table. This could be bread rolls, a simple salad, or a favorite vegetable side dish.
Make build-your-own meals. Tacos, burritos, burgers, and rice bowls are just a few meal ideas that allow each person to customize their plate.
Have backup food options on hand. Frozen waffles and chicken nuggets can save the day.
Serve the food family-style on the table. Keeping the food at the table will avoid the up-and-down that often comes with accommodating picky eaters.
Pasta Dishes
Pasta dishes are great for family dinner because they're easy to make, they often have a large number of servings, and they're relatively affordable to make.
One-Pan and One-Pot Recipes
One-pan recipes mean one thing: easy cleanup.
Meat Recipes
Pick your featured meat and let the side dishes fall into place.
Soup Recipes
Soup can be served as a side dish or served as the main meal.
Build-Your-Own Dinner Night
When you want to accommodate a variety of dietary needs and preferences, build-your-own meals are the way to go. Everyone can pick and choose exactly what they want. Try tacos, burritos, sandwiches, and more.
Pin it
See something you like? Pin it for your next family dinner.