These lazy Sunday dinner ideas feed 6 or more people, use common ingredients, are family-friendly, and take 10 minutes or less to prep.
Family dinner calls for an easy recipe with common ingredients that will feed a crowd and please even picky eaters. On Sunday nights, put a good meal on the dinner table that the entire family will love.
The best Sunday dinner ideas are classic comfort food with simple ingredients. All of these recipes feature short ingredient lists and take very little time to prepare.
The best part of a lazy Sunday dinner is having leftovers. Each recipe makes 6 servings.
This post contains affiliate links. As an Amazon Associate, I earn from qualifying purchases.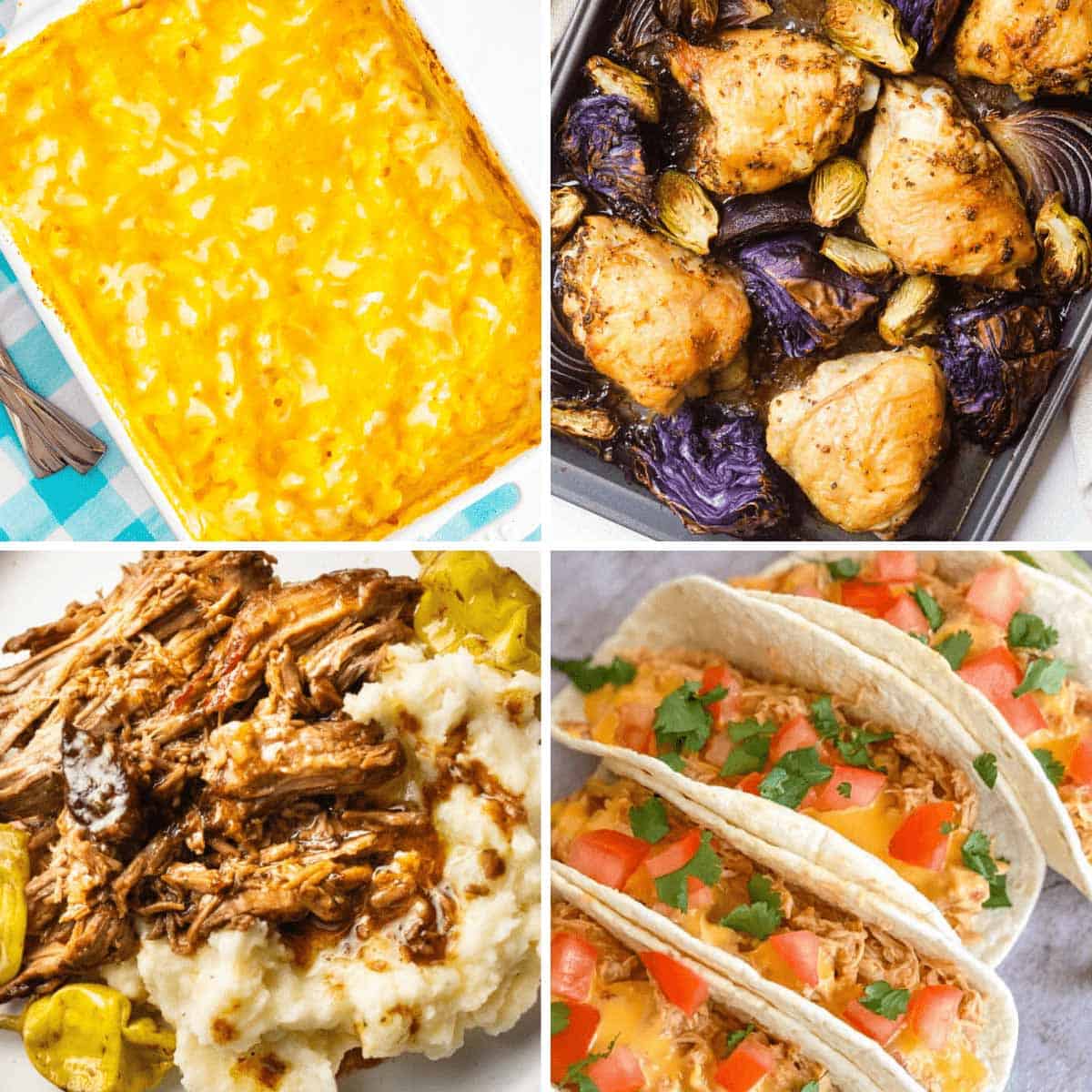 "Lazy" to me means...
Easy-to-find ingredients
Short ingredient list
Few steps
Short prep time (10 minutes or less of prep)
Jump to:
30-Minute Meals
Looking for something fast? Spend less time cooking with one of these lazy Sunday dinner recipes
Pasta
Pasta dishes are great for family dinner because they're easy to make, they often have a large number of servings, and they're relatively affordable to make.
One-Pan and One-Pot Recipes
The perfect meal does exist! One-pan recipes and one-pot meals mean one thing: easy cleanup.
Crockpot Meals
Crockpots cook low and slow so you can set it and forget it. Spend more quality time with the family and less time in the kitchen. Pick your featured meat as the main dish and let the side dishes fall into place.
Soup Recipes
Soup can be served as a side dish or served as the main meal.
Build-Your-Own Dinner Night
When you want to accommodate a variety of dietary needs and preferences, build-your-own meals are the way to go. Everyone can pick and choose exactly what they want. Try tacos, burritos, sandwiches, and more.
Tell me what easy dinner ideas you'd like to see next time.