I switched to Lume deodorant a little over two years ago. You can read a little more about the journey of itchy underarms that led me to that choice.
After I made the switch, I didn't go back to traditional antiperspirants.
This post contains affiliate and referral links, so if you make a purchase I will receive commission.
What is Lume Deodorant?
Lume deodorant is made from naturally-derived ingredients. It is aluminum-free, baking soda-free, and cruelty-free.
Many people with sensitive skin react poorly to baking soda-based deodorants, so this one is a safer option. And, it's clinically proven to control odor for 72 hours.
Lume is intended not just for your underarms but your entire body.
Underboob sweat? Yeah, it's got you.
Feminine odor? Get it, girl.
Foot odor? Yes! Seriously, it's made to be applied to any external part of the body.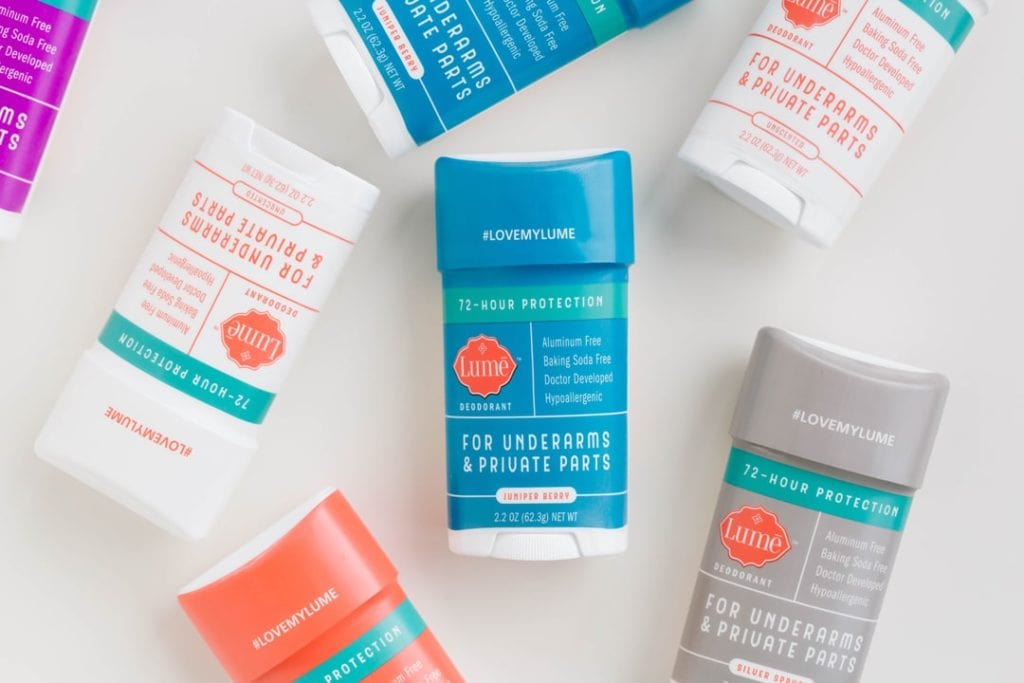 Jump to:
Odor elimination
This deodorant stops odor, and in my experience, it is the best performing odor-stopper in the natural realm. Granted, I have just two years of natural deodorant experience under my belt, but I'm pretty sure this one is a winner on odor.
It claims to control odor for 72 hours.
I can't say I put the claim to the test all that often because I shower regularly and reapply every day. But I can say, I never feel the need to reapply Lume throughout the day the way I have with every single other natural deodorant I've used.
Scent
I cannot lie, the Lavender Sage scent is 100% not my favorite. In fact, I dislike it.
However, I like the deodorant enough intended to purchase it again–in unscented–only to discover Lume released new scents.
Now I use Juniper Berry. While it's still not my favorite scent, I like it much better than Lavender Sage. The other scents on the website (Silver Spruce and Jasmine Rose) don't appeal to me, so I look forward to Lume developing more.
How it works
Most deodorants work by hiding or covering up body odor. Instead, Lume works by stopping the bacteria that cause odor.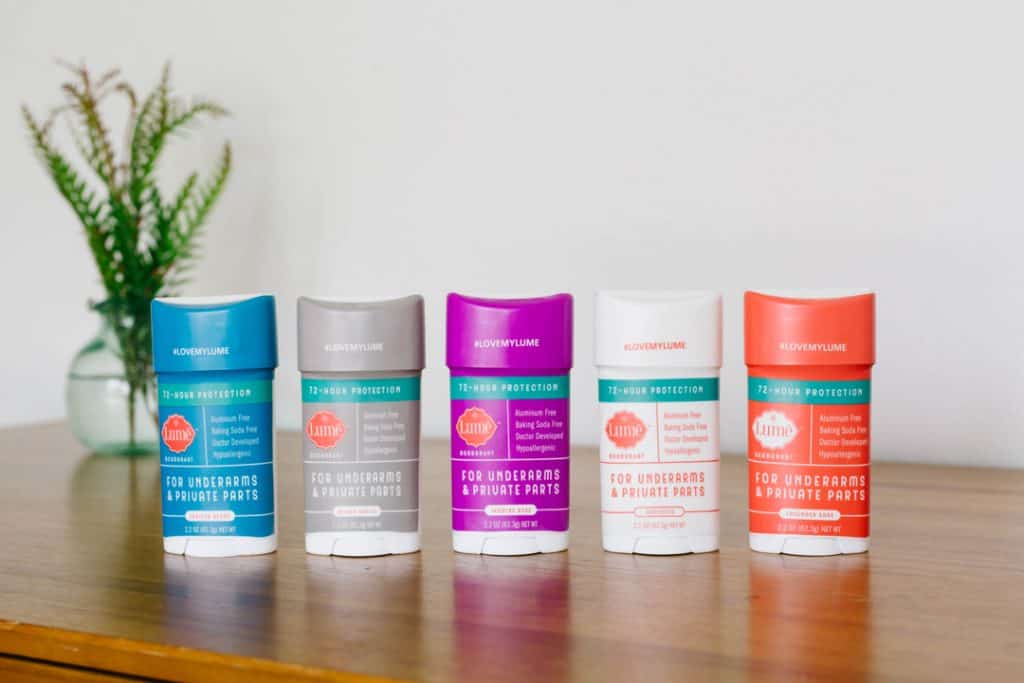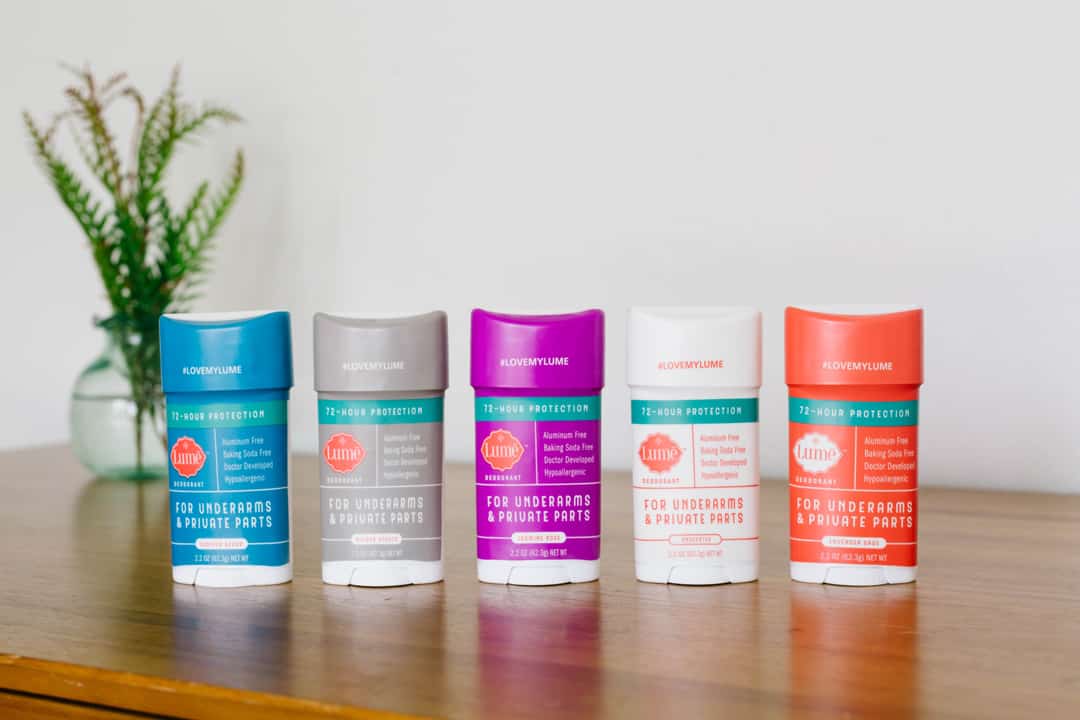 Stained clothing
I didn't experience much staining with my previous deodorants, just a little with Native, but this does seem to be a common issue in the natural deodorant world.
Lume is water-based, so it doesn't stain.
A big bonus here – Lume is clear!
A big drawback for me with Native deodorant was the white crumbly bits that would gather in my pits throughout the day. There is no white buildup with Lume.
Sweat prevention
If you're new to the natural deodorant world, it may come as a surprise that natural deodorants do not prevent sweat, Lume included. This is because they do not contain aluminum.
Sweat is natural, and it's something you get used to after a while.
How to use it
Lume comes in a traditional deodorant twist-up tube and has a gel texture. I do not exaggerate when I say a little goes a long way. I roll up my tube so that the tiniest little bit of product comes out. That is enough for both underarms.
When I accidentally roll up too much product, I apply it to other areas of my body.
Can't hurt!
Lume used to come in a deodorant tube that lead to product leakage when it was laid on its side. If you used Lume and stopped using it for this reason, I encourage you to try again because Lume now has a new cap that prevents leaking.
My first stick was a disaster after frequent travel, but my new stick is great.
Lume also in a squeeze tube. I purchased one before I knew they updated the deodorant tube. This is great if you're using Lume for other bodily applications. They offer bundles of stick and tube combos, so you can always purchase both and decide which you prefer.
Make the switch
If you're new to natural deodorant, understand that it can take weeks to detox from regular deodorant. You may notice swings in sweat production and body odor, so give this a couple of months before you make your verdict.