Frosting for two cupcakes: I have the recipe for you. This single serving (double serving, rather) vanilla buttercream recipe is easy to make.
For a cupcake recipe that only makes two cupcakes, check out this Vanilla Cupcakes for Two from How Sweet Eats (formerly named How Sweet It Is). They are delicious.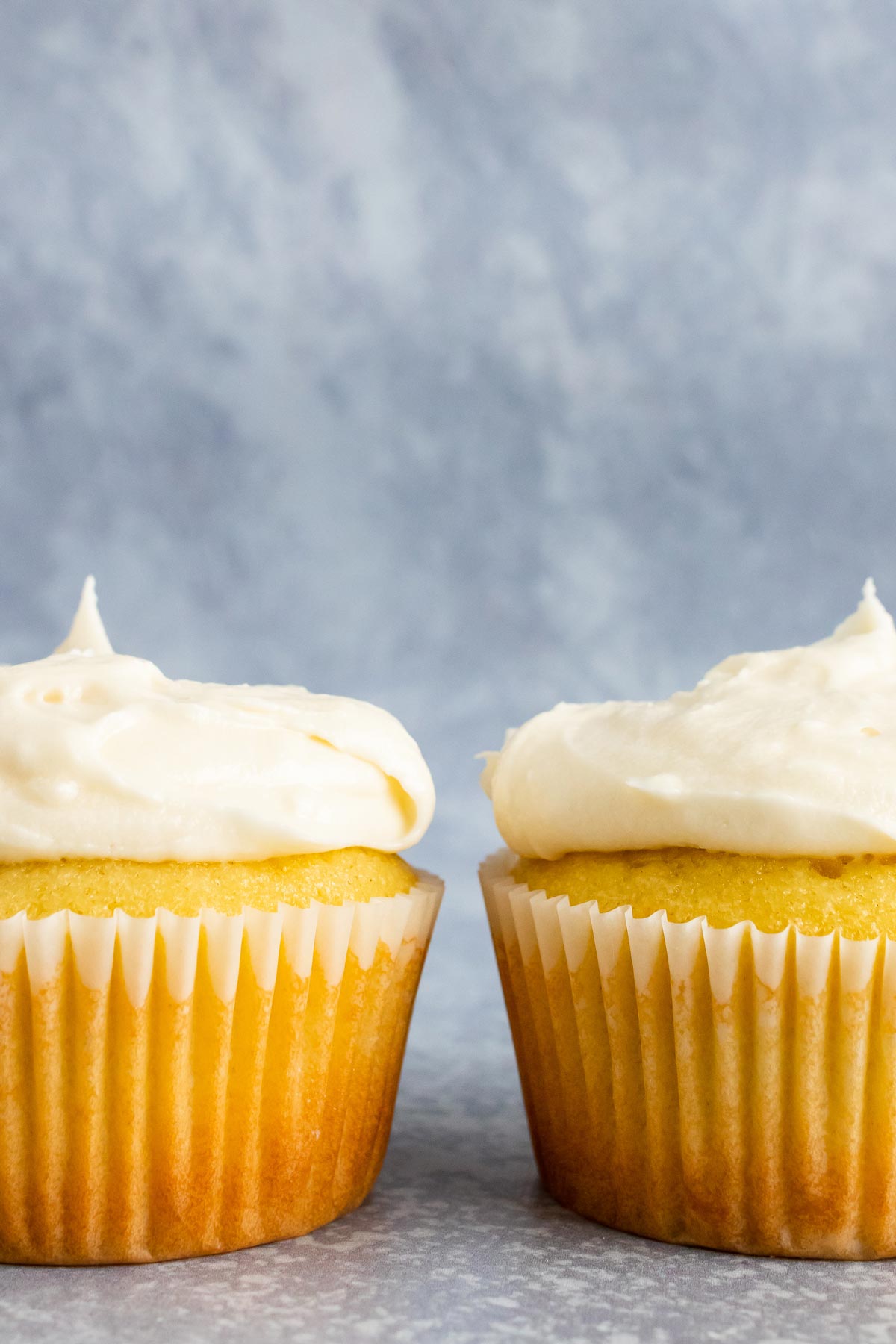 When I tried Jessica's cupcakes for two recipe years ago, I found myself in need of a frosting for two cupcakes recipe to go along with it. This recipe I came up with combines the basic ingredients for American buttercream: unsalted butter, powdered sugar, vanilla extract, and milk.
Frequently Asked Questions
Do you have a standard buttercream frosting recipe?
You know it. Try my homemade buttercream frosting recipe. It's enough for about a dozen cupcakes.
Usually, I'm the type of person who takes shortcuts in the kitchen, but homemade buttercream is 100 percent WORTH IT.
After making this recipe for so many years, I would never go back to pre-made frosting in a jar. I'll use it every now and then for decorative/food-craft type projects, but not when flavor is on the line.
Why would I want just two cupcakes?
Making just two cupcakes is a great solution if you have limited ingredients or you can't be trusted with a full batch of sweets sitting around the kitchen. Trust me, I know how that goes. That's why I'm a fan of single-serving microwave banana bread.
When I was in college, I made A LOT of cupcakes for the blog I co-wrote with my roommate. My favorite was probably Fluffernutter Cupcakes.
But at a certain point I was tired of all the sweets. For a while, I was able to offload them at work, but even my coworkers grew tired of all of the cupcakes. Cupcakes for two are the way to go when you just want a taste.
Why isn't the buttercream fluffy?
Normally when I make buttercream frosting, I use a hand mixer or a stand mixer which whips it up with air. Mixing it by hand, you'll never achieve quite the same consistency.
Plus, normally I'd pipe on frosting which gives it a nice appearance, but with this small quantity, spooning/spreading is really the only viable option.
But it's equally delicious. I promise.
Just make sure everything is well-mixed and don't add too much milk.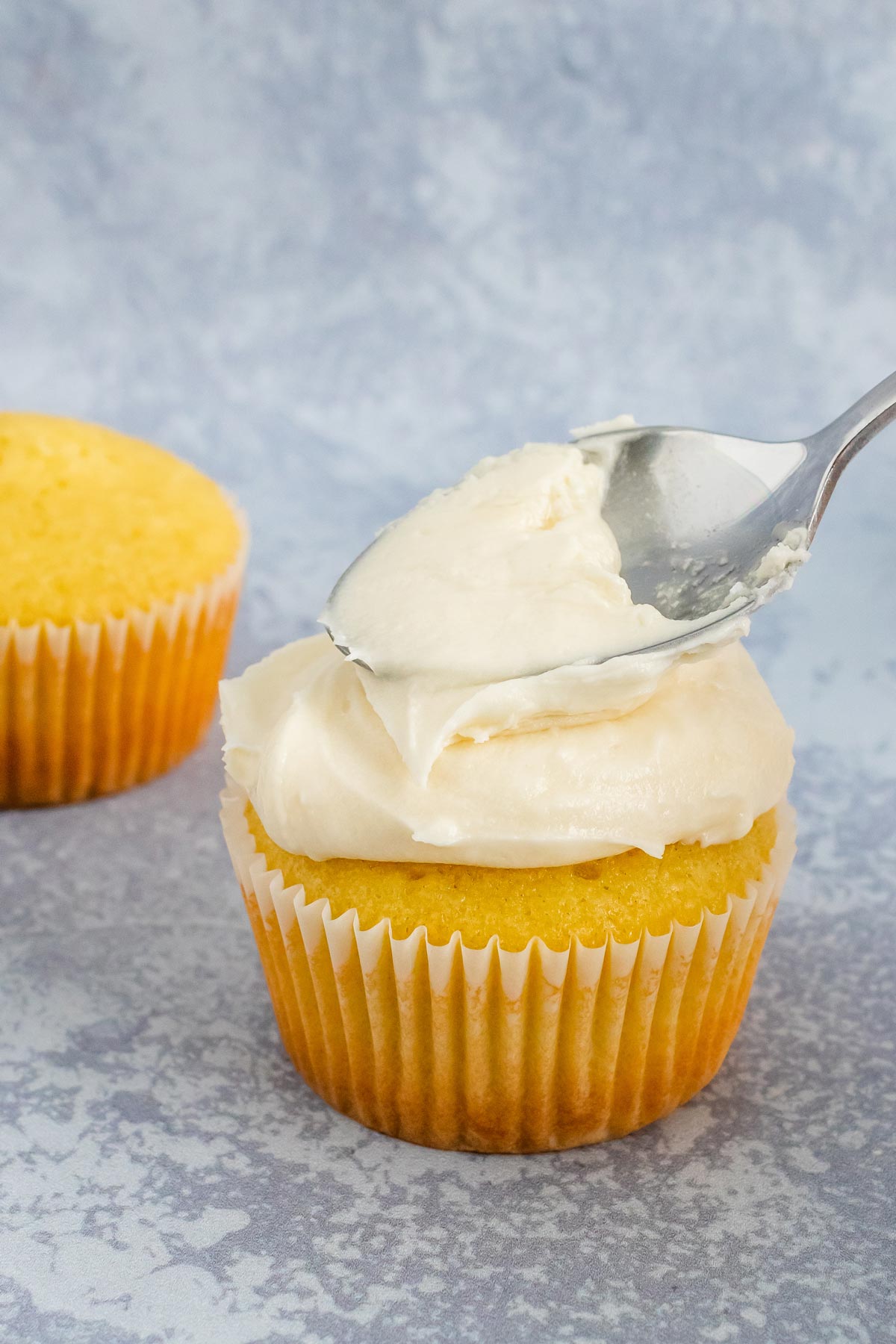 Isn't it wasteful to heat the oven for only two cupcakes?
Not really. A while back I researched this, and it seemed safe enough. Try this electricity calculator to put your mind at ease. The amount of electricity mostly depends on how long you're using the oven, so it's more or less the same if you're making two cupcakes or 12 cupcakes.
You could also try this in the microwave, but I would recommend searching for a mug cake recipe that's been tailored to the microwave rather than making this recipe. Again, proceed with caution.
What can I use instead of vanilla extract?
If you don't have vanilla extract, a commenter on my YouTube video recommended maple syrup. I've never tried this, but I'd guess you can use the same amount as you would have with the vanilla.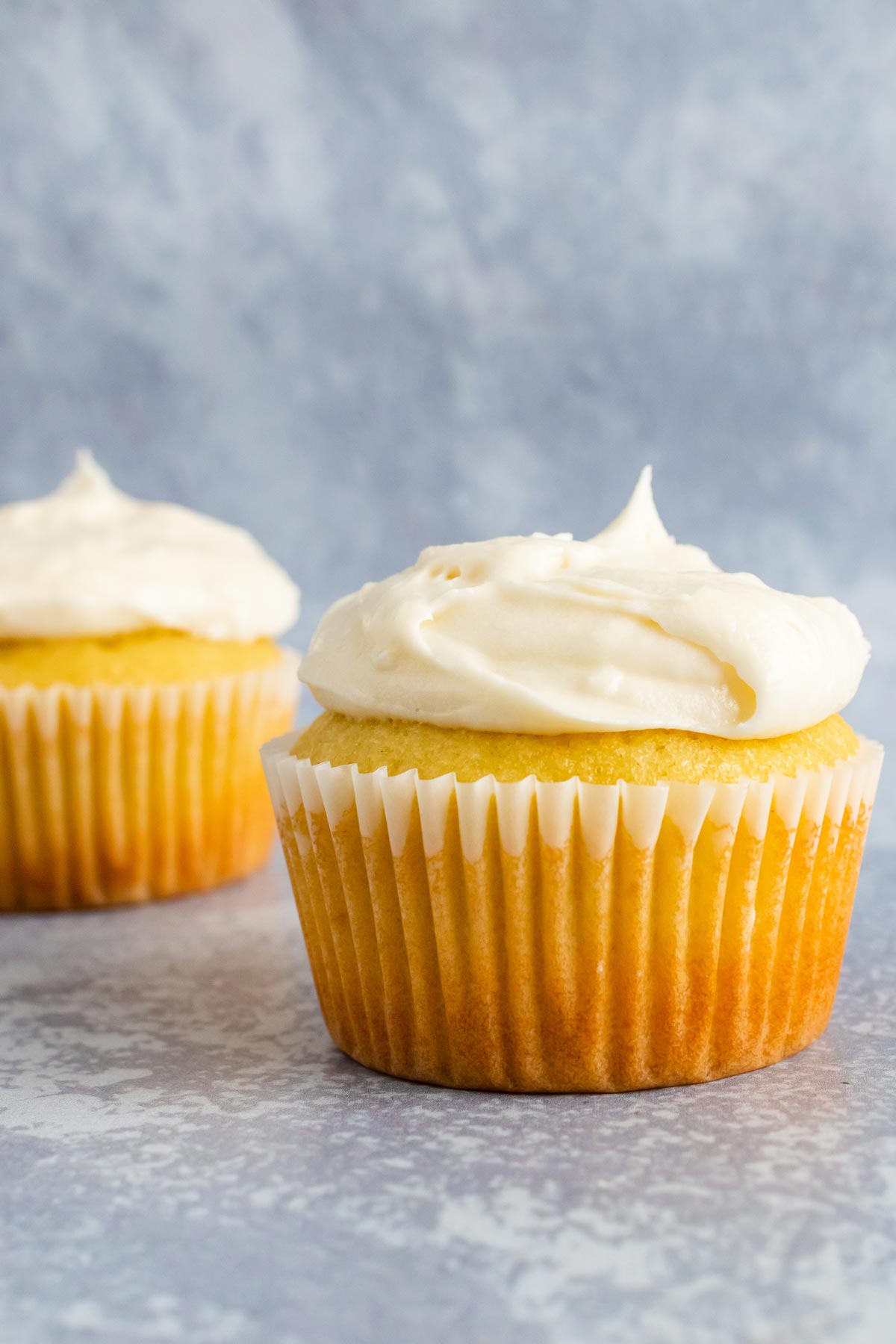 Get the recipe.
Head over to How Sweet Eats for the vanilla cupcake recipe, and see my Buttercream Frosting for Two recipe below!
📖 Recipe
Buttercream Frosting for Two Cupcakes
The perfect amount of vanilla buttercream frosting for two cupcakes. And maybe a little extra if you want to lick the spoon.
Ingredients
2

tablespoon

unsalted butter

softened

⅓

cup

powdered sugar

¼

teaspoon

vanilla extract

¼

teaspoon

milk
Instructions
Mix softened butter in a small bowl with a fork until smooth

Incorporate powdered sugar until the mixture forms together (see video)

Mix in vanilla extract and milk

Frost cupcakes using the back of a spoon to evenly spread frosting
Notes
Powdered sugar is also called icing sugar or confectioners' sugar.
Nutrition
Calories:
180
kcal
Carbohydrates:
20
g
Protein:
1
g
Fat:
11
g
Saturated Fat:
7
g
Polyunsaturated Fat:
1
g
Monounsaturated Fat:
3
g
Trans Fat:
1
g
Cholesterol:
30
mg
Sodium:
2
mg
Potassium:
5
mg
Sugar:
20
g
Vitamin A:
351
IU
Calcium:
4
mg
Iron:
1
mg
Tried this recipe?
Rate it to let me know how it was!