Avocado toast with honey is an absolute dream, and it's easy to make for breakfast (or any time, really).
Avocado Toast, two words. Life-changing, two words.
Coincidence? I think not!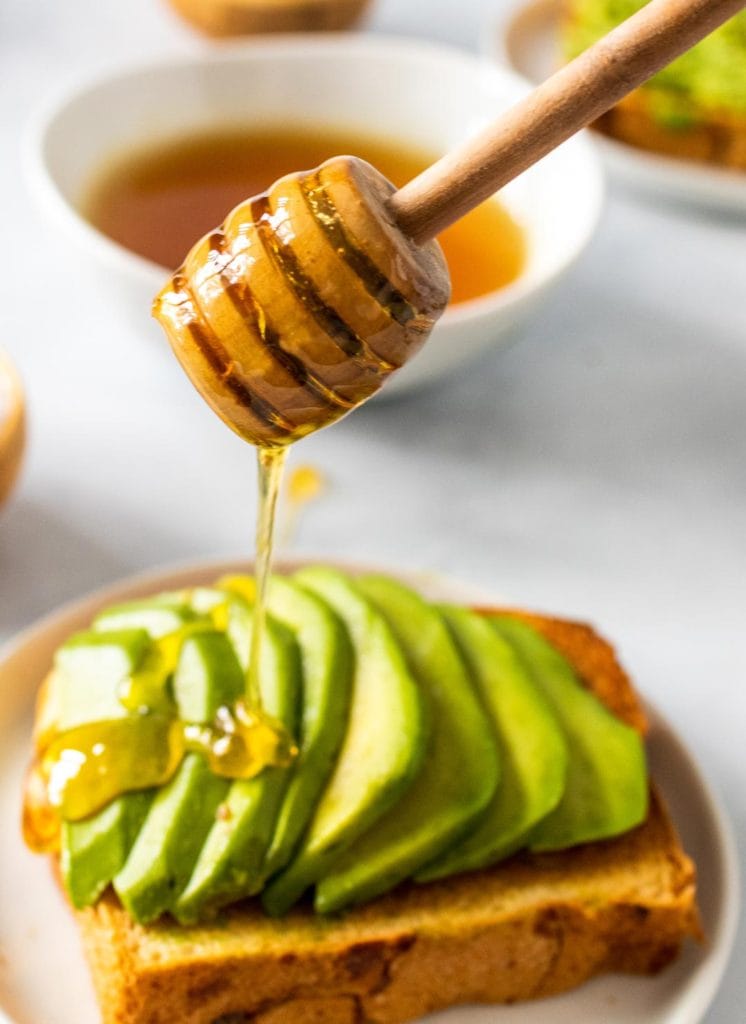 I feel kind of silly posting this as a recipe, but I guess this is one of those "oh, I never thought of that" or best-kept-secret type deals because nearly every time I tell someone about this, they act like I've changed their life.
The best way I can possibly describe this is "nom nom nom" with a side of "Mmmm." Sweet, savory, salty. Up your breakfast toast game.
This is my go-to breakfast when I have a nice, ripe avocado left in the fruit bowl at the end of the week. It used to be my backup plan for using up overripe avocados, but now I plan for avocado toast.
This is my go-to combo for avocado toast:
Two slices of bread (usually whole wheat for me)
An avocado (half or whole, depending on how much avo you like)
Pepper and sea salt (table salt will do, too)
Honey
Do I need fancy bread?
You can definitely use a nice, bakery-quality bread if you want to feel like a food blogger, but nine times out of ten, I use Kroger store brand wheat bread or Nature's Own 100% Whole Grain, which are my usual go-tos. I recommend Sara Lee's artisan bread if you want something thick.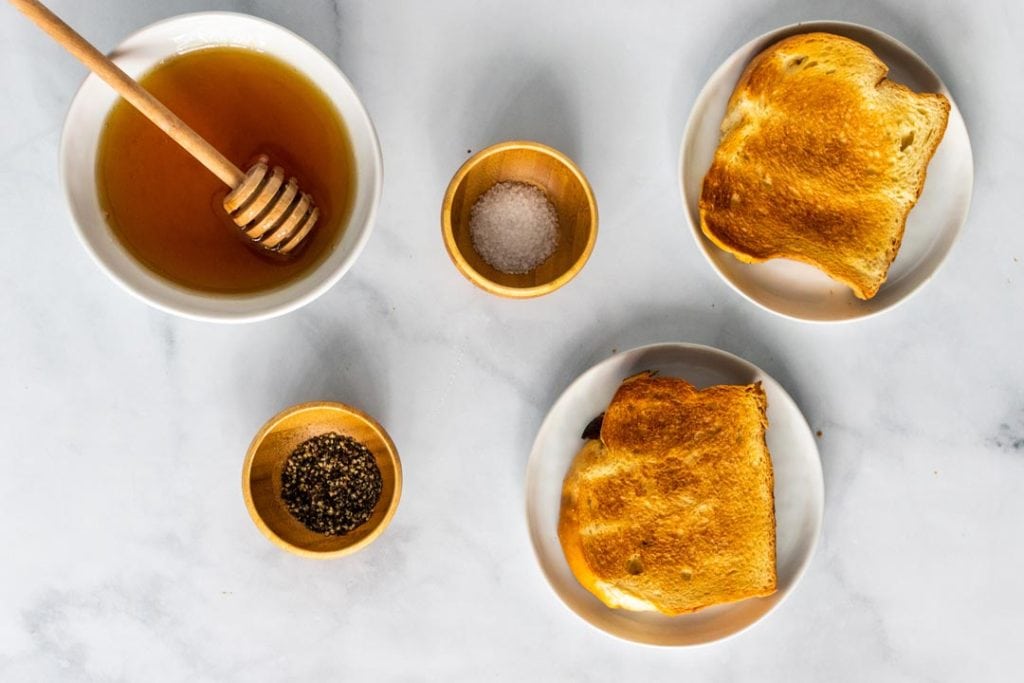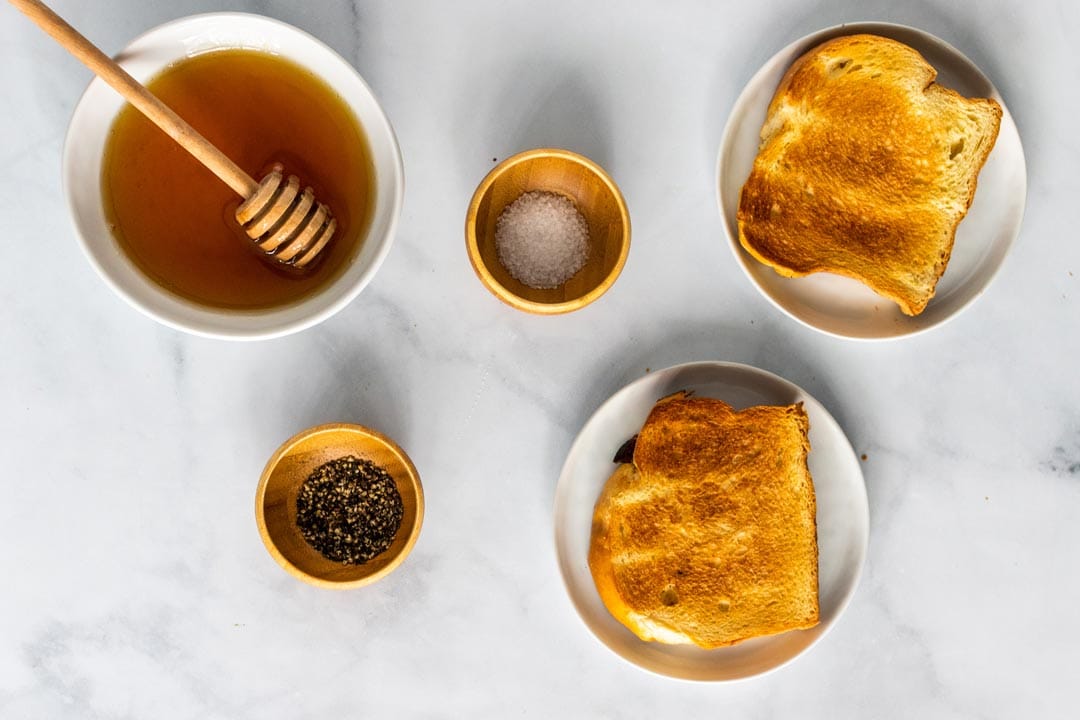 If you're going for bakery bread, I'm a fan of sourdough, brioche, and Izzio Artisan Bakery's Italian Wheat bread. Izzio is based in Colorado, but I've been able to find them at Kroger across the country in Tennessee, too. Try their store locator.
Larger slices of bread generally call for a little more avo. I use half of an avocado for two slices of basic sandwich bread or an entire avocado if the slices are larger.
How to make Avocado Toast with Honey
Make the delicious breakfast toast in a few quick steps:
All you have to do is toast your bread and top with sliced or diced avocado.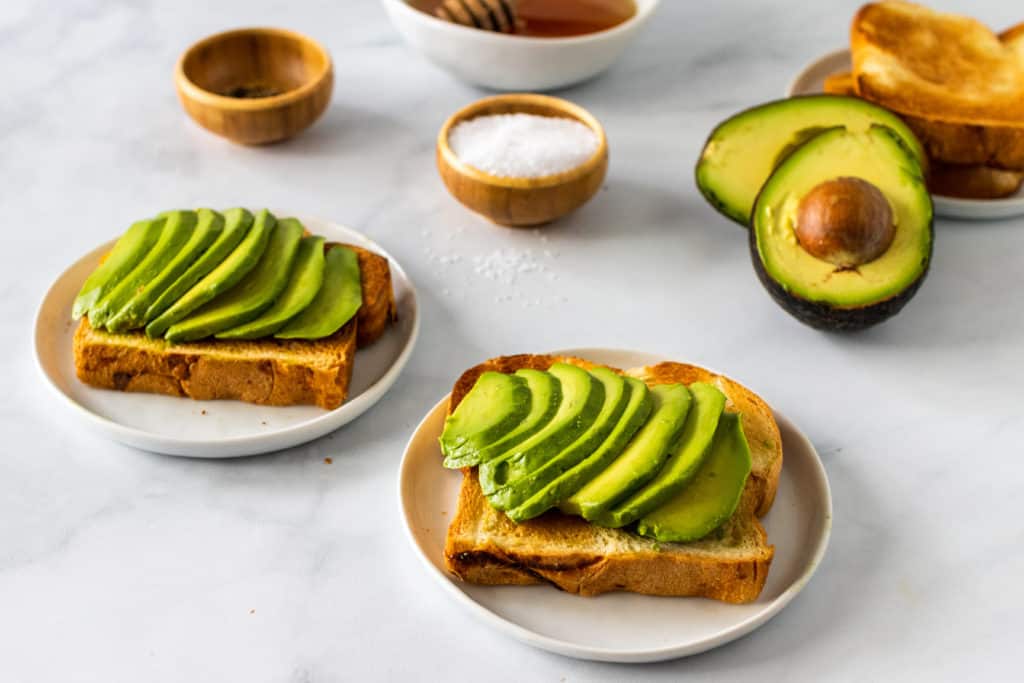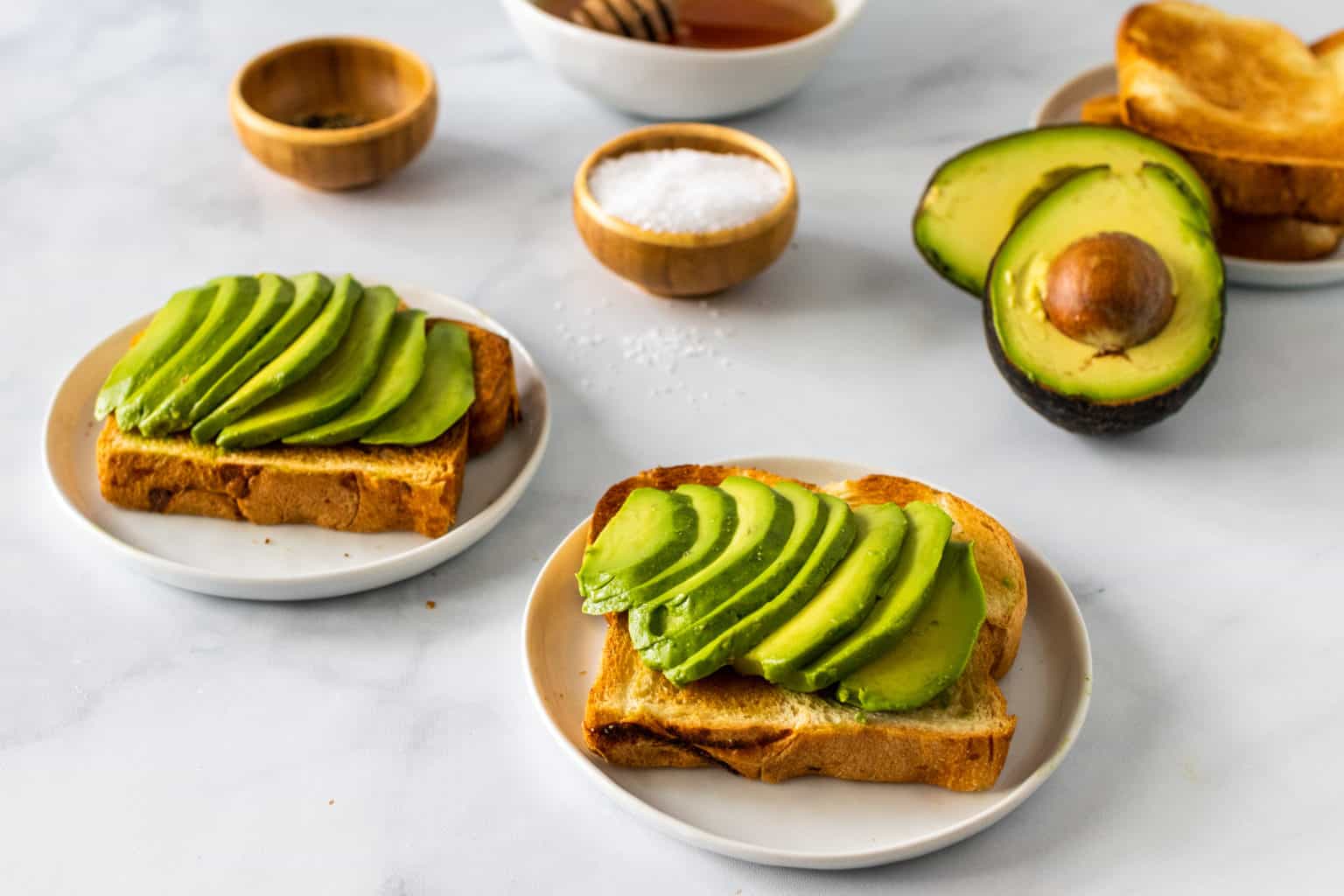 Next, smash the avocado on top of the bread with a fork.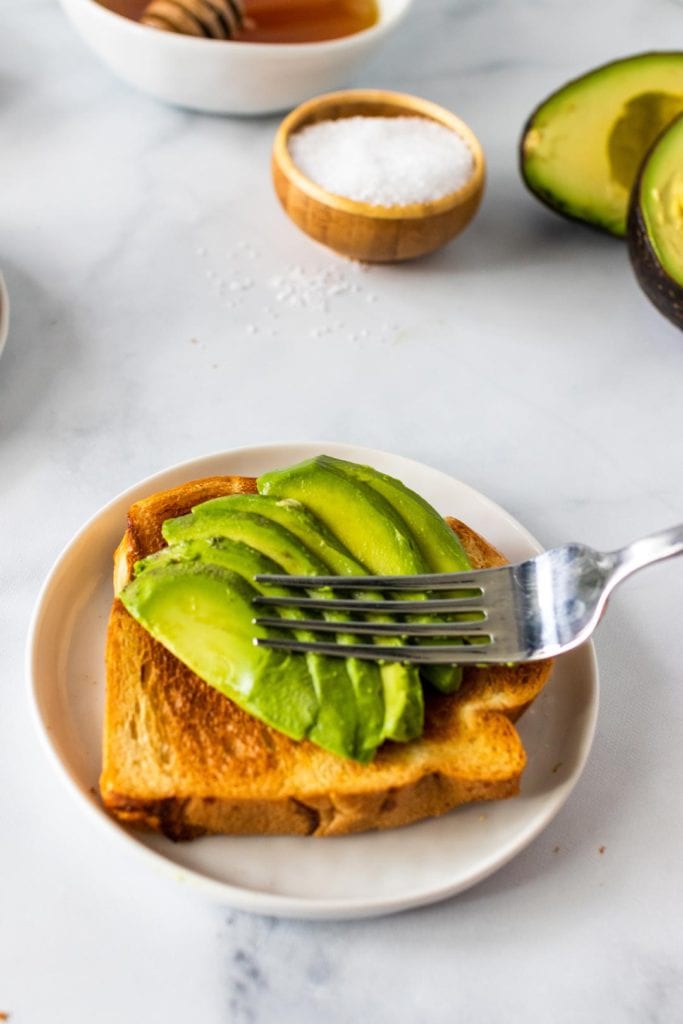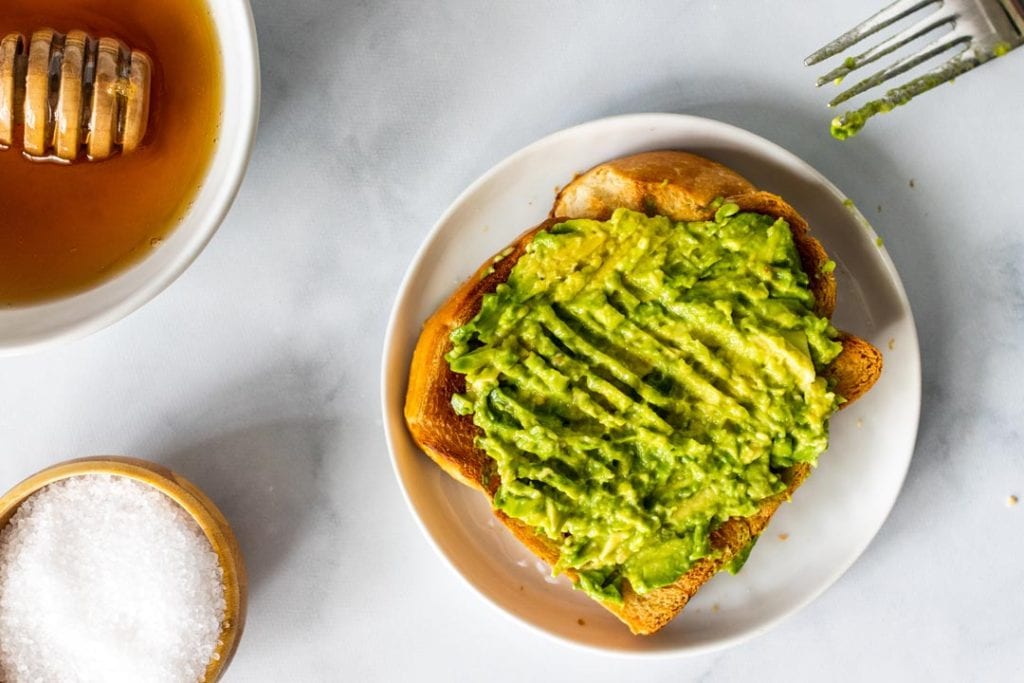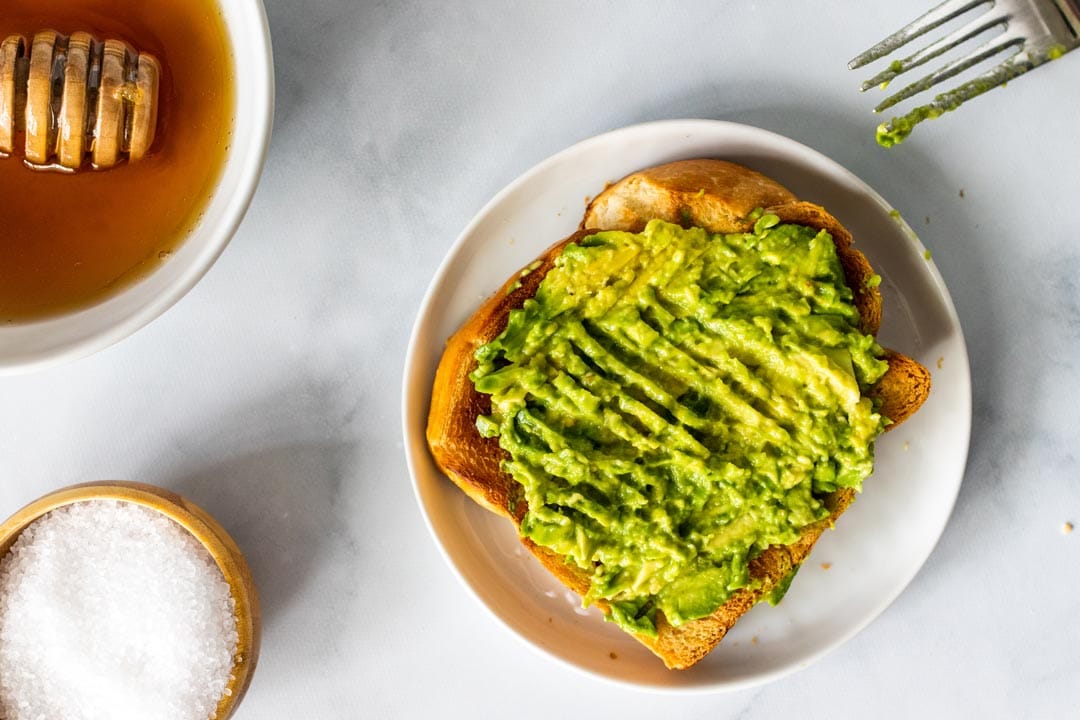 If you like thick slices of avocado, you can skip the mashing step entirely!
Finally, top with salt, pepper, and honey. If you have a wedge of lime, you could add that as well for more of a guacamole vibe.
Here is a quick, easy video to teach you how to cut an avocado if you need some pointers. They use a really massive knife, but I usually use a steak knife.
To remove the avocado seed with a steak knife, I etch a small X-shape across the pit and then twist my knife into the center until the seed breaks free.
Feeling fancy? Top it with a poached egg or a fried egg.
Feeling really fancy?
This is a seasonal treat, but try my pumpkin avocado toast when you're feeling a little extra.
This recipe combined pumpkin puree, peanut butter (trust me), maple syrup, and cinnamon for a beautiful pumpkin spread that serves as the base for freshly sliced avocado. The combination is to die for.
You could even try your hand at an avocado rose.
Okay, maybe not that fancy...
These are a few of my favorite avocado toast ideas:
Hummus, avocado, and heirloom baby tomatoes
Avocado mixed with white beans and topped with a fried egg
Avocado and tomato (sliced or baby tomatoes cut in half)
Avocado and smoke salmon with red onions
Avocado and goat cheese
They key for a good avocado toast is seasoning. Without some salt and pepper, your avocado will be creamy and bland. You might even experiment with your seasoning.
Try it with everything bagel seasoning (a la Trader Joe's), onion powder, or garlic powder. If you don't have everything bagel seasoning, you might have some of the ingredients at home: sesame seeds, sea salt flakes, dried minced garlic, dried minced onion, black sesame seeds, poppy seeds.
What do you put on your avocado toast? Tell me in the comments.
📖 Recipe
Avocado Toast with Honey
Toast topped with smashed avocado, sprinkled with sea salt and pepper, and drizzled with honey
Ingredients
2

slices

bread

1

medium

avocado

black pepper

to taste

sea salt

to taste

2

teaspoons

honey
Instructions
While bread is toasting, cut the avocado into cubes or ¼-inch slices. Divide across two slices of toast.

Mash the avocado into the toast using a fork.

Sprinkle with salt and pepper to taste.
Nutrition
Calories:
518
kcal
Carbohydrates:
55
g
Protein:
10
g
Fat:
32
g
Saturated Fat:
5
g
Polyunsaturated Fat:
5
g
Monounsaturated Fat:
20
g
Trans Fat:
0.02
g
Sodium:
280
mg
Potassium:
1061
mg
Fiber:
16
g
Sugar:
16
g
Vitamin A:
295
IU
Vitamin C:
20
mg
Calcium:
95
mg
Iron:
3
mg
Tried this recipe?
Rate it to let me know how it was!
Tips for Storing Avocado
The important thing here is to limit the amount of air touching your avocado. I've seen people dunking their avocado face down in water, but this is NOT what I recommend.
What I do is I put the cut avocado in a sandwich bag and I close the zipper almost all of the way. I leave a tiny little gap and then, using my mouth, I suck out as much air as possible, and then zip the baggie such.
You could achieve a much better seal with vacuum sealing, but pulling out my heavy vacuum sealing contraption for a single avocado is rarely worth it.
Feel free to leave your avocado storage tips below.