Meet the new love of your life: Banana Bisquick pancakes.
I am in love with banana bread. It's kind of funny because growing up I really didn't care for it, but I guess with age my taste buds have finally figured out what's up.
Every now and then I pick up a bunch of bananas, and they just don't get eaten. What better use for overripe bananas than banana bread? Well, I'm glad you asked. The answer, my friends, is banana Bisquick pancakes.
Some links may be affiliate links. As an Amazon Associate, I earn from qualifying purchases.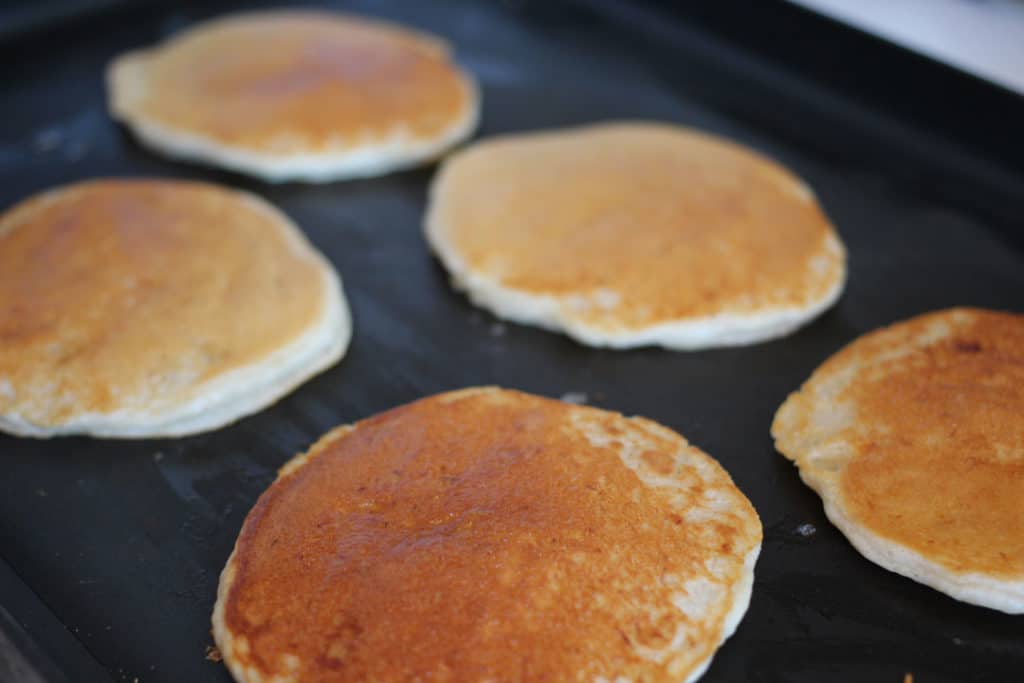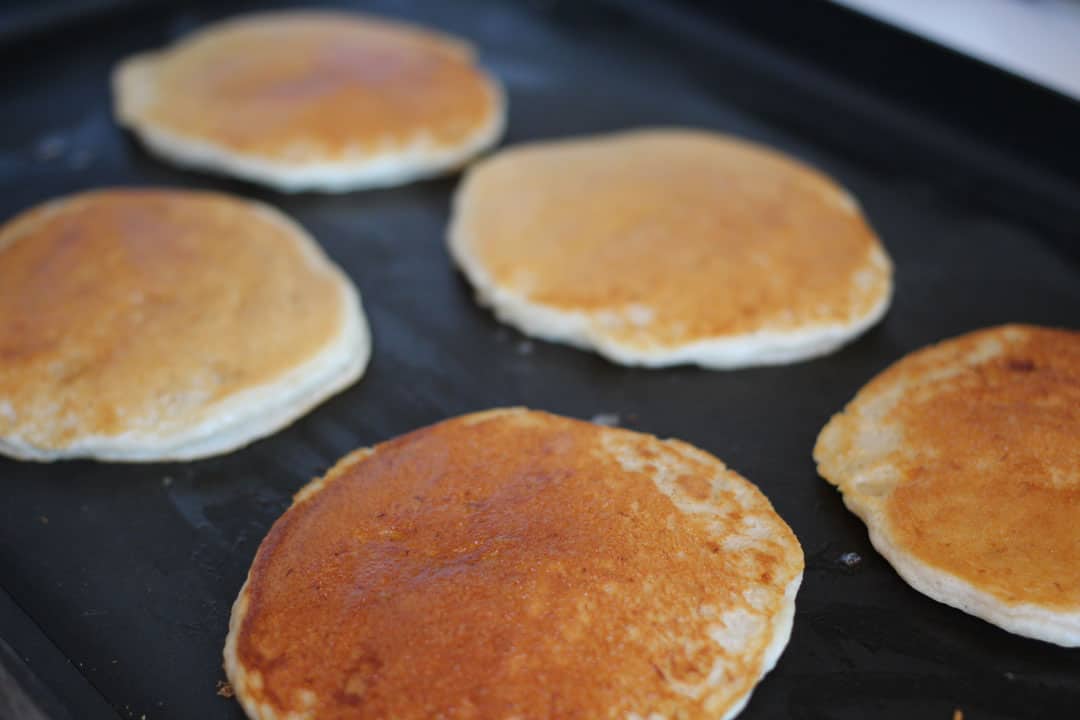 So, how many pancakes are we talking?
Vegan Bisquick pancakes are so easy to make.
Every time I make this, the quantity of pancakes the recipe yields is slightly different. One time it made 10, one time 12, and this time 15. It all depends on how much milk you add to the batter and how big you make your pancakes.
In general, this recipe makes about a dozen pancakes, more than Xavier and I can (or should) eat. Though we've certainly attempted it...
What about leftover pancakes?
I take the leftovers and put them in a freezer baggie with a piece of parchment (or wax paper) between each pancake and store them in the freezer. Then, on weekday mornings I pop them into the toaster and voila!
Banana pancakes on a Tuesday.
If you're in the same boat as I usually am with an entire bunch of overripe bananas, you have a few options. You can double this recipe and store your extra pancakes, or you can freeze your bananas (peeled) for future use.
Read how to store leftover pancakes.
Bisquick banana pancakes with no egg?
You heard me right.
Now, you can use regular milk (mind-blowing, I know). Really, any milk or milk alternative is great here (though buttermilk has not been tested).
You can even throw an egg in there. Go crazy.
But I assure you, either way, the egg is entirely unnecessary. I've made these eggless pancakes so many times, and they are always great.
What non-dairy milk do you recommend?
I generally have different vegan milks on hand for different reasons.
Unsweetened almond is my favorite for smoothies. Vanilla almond is my favorite for cereal. Coconut (from a carton, not a can) is my favorite for baking.
For pancakes, I use whatever milk I have on hand! I've never noticed a major different using one over the other.
Banana is one of those foods that pairs well with dozens of other flavors. Top your banana pancakes with fresh strawberries, blueberries, whipped cream.. or, if you're feeling sinful, a lot of peanut butter syrup. YUM!
Peanut butter syrup is one of those things that takes very little effort but will definitely WOW people. You have to mix and mix quite a bit to get the consistency just right (peanut butter can be hard to mix!), but with only two ingredients, you can't really argue with that.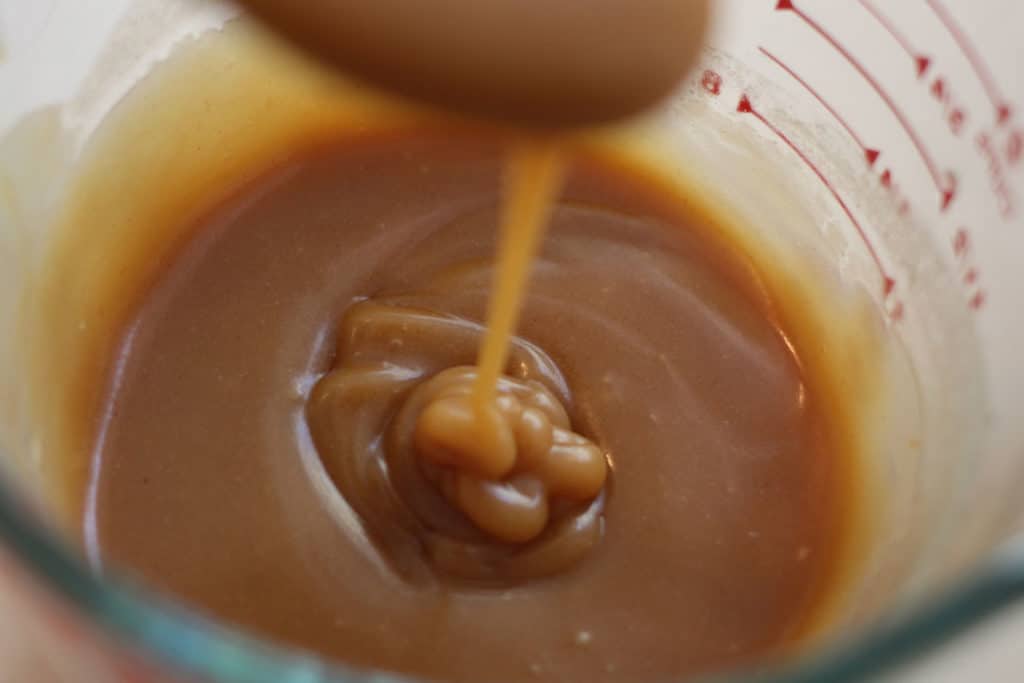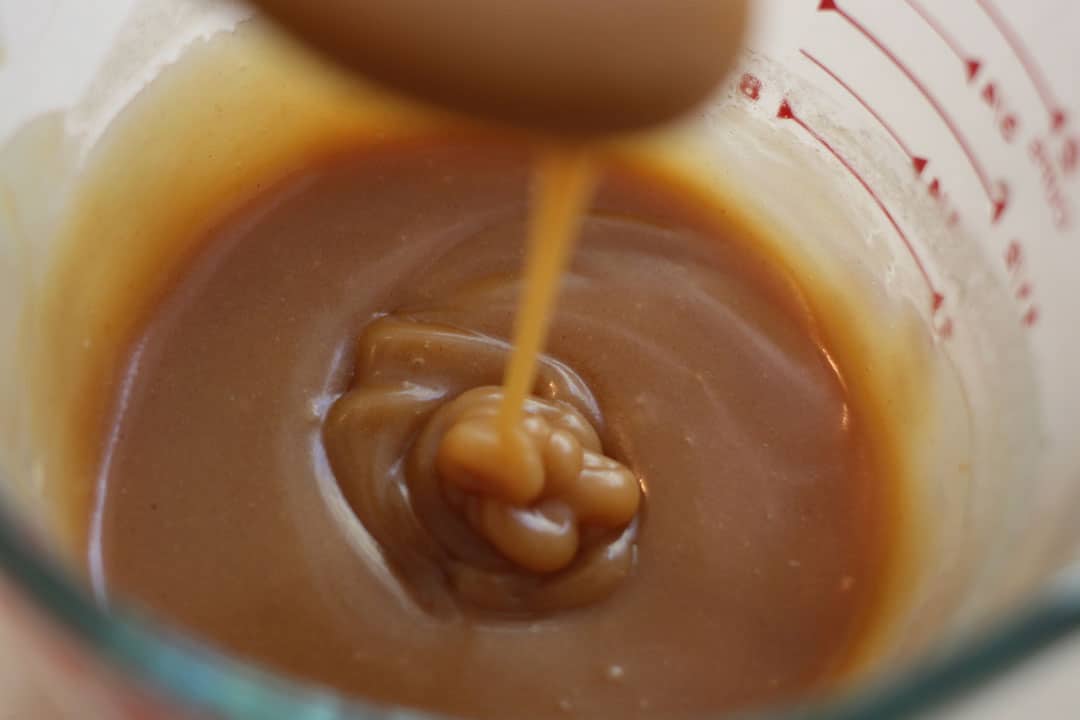 If peanut butter isn't your thing, a blueberry lemon pancake syrup would be divine. That'll take quite a bit more effort, but blueberry and banana? Worth it.
Lastly, please note that there are several versions of Bisquick and not all are vegan. Bisquick Original contains no milk ingredients.
When I shared this recipe on Reddit, a commenter pointed out that the "Betty Crocker Bisquick Multi-Purpose Baking Mix" in the UK does contain milk ingredients. Read labels!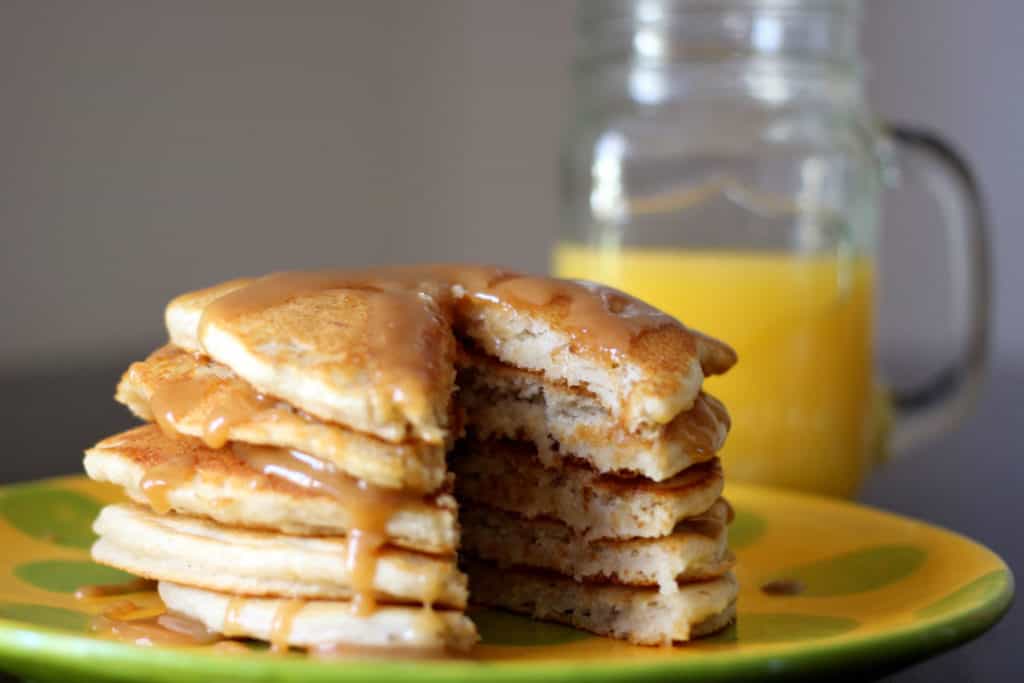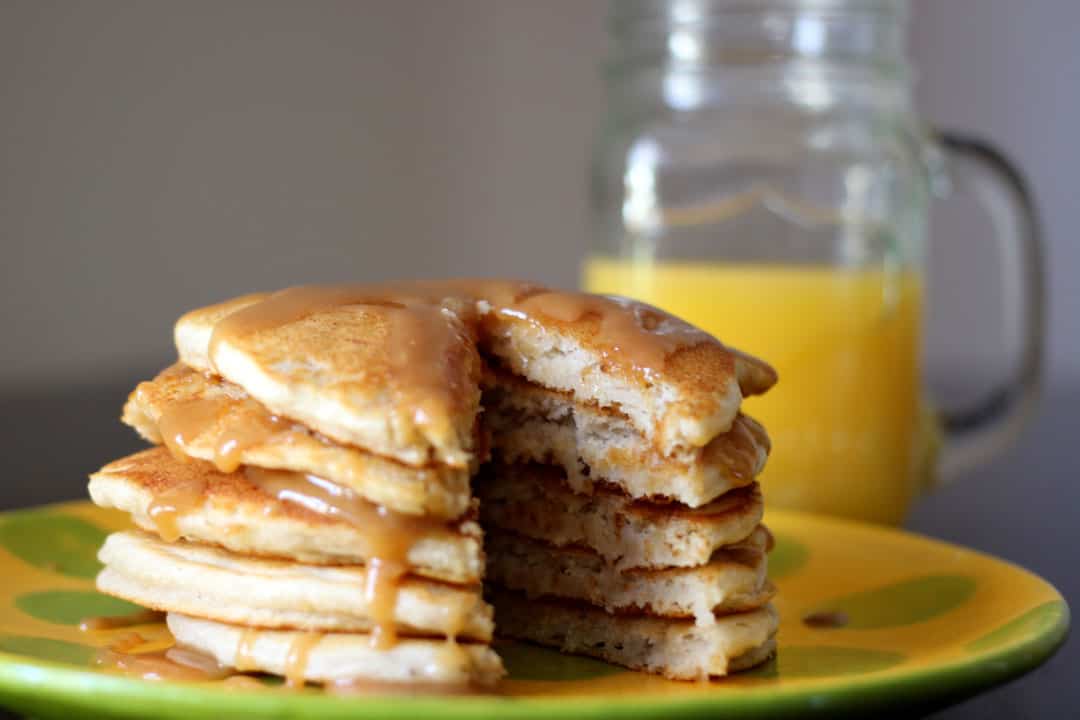 Are other pancake mixes vegan, too?
You may also be wondering if Aunt Jemima Original Pancake and Waffle Mix is vegan. The answer? Sometimes... Pearl Milling Company Original is vegan, but the "complete" version is NOT.
Similarly, Krusteaz Original Pancake mix is vegan, but its other varieties are not.
My parents are a big fan of Pioneer Pancake and Waffle Mix, however, their mixes all contain buttermilk. Same goes for Stonewall Kitchen.
However, this recipe has not been tested with Aunt Jemima or any other pancake mixes. If you try this recipe with any mix other than Bisquick Original, comment below and share your experience.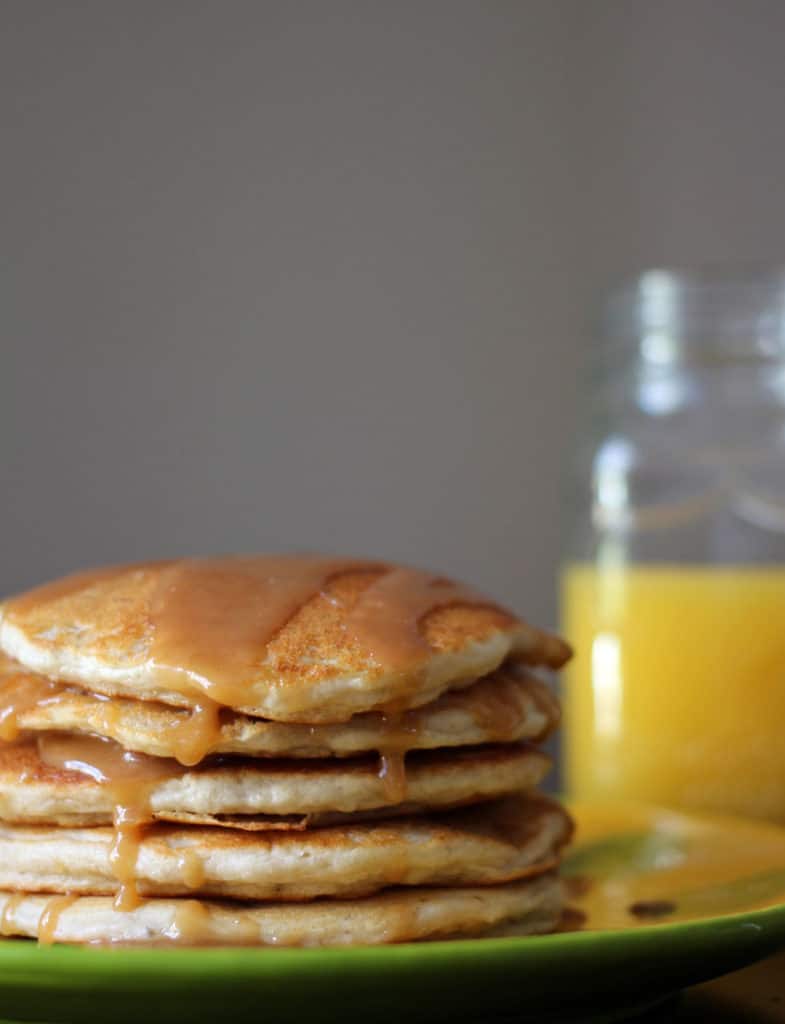 📖 Recipe
Bisquick Banana Pancakes with Peanut Butter Syrup
These bisquick banana pankcakes are easy to make and accidentally vegan (no egg and dairy free). Don't forget to top it with this delicious peanut butter syrup.
Ingredients
Banana Pancakes
2

cups

Bisquick Original

2

tablespoon

sugar

2

teaspoon

baking powder

1

teaspoon

vanilla

1-½

cup

milk

I use Almond unsweetened vanilla

2

bananas

very ripe
Peanut Butter Syrup
½

cup

pancake syrup

¼

cup

peanut butter
Instructions
Mix the Bisquick, sugar, baking powder and vanilla in a large mixing bowl.

Add milk and stir. Add mashed bananas and stir. Add more or less milk depending on desired pancake thickness. Let the batter sit for a few minutes before cooking.

Meanwhile, heat pan to medium heat and spray with cooking spray or coat with butter or oil. When hot, pour ¼ cup of batter on to the pan, depending on how big you want your pancakes. Cook both sides until a deep golden.

For the syrup, mix syrup and peanut butter together until smooth. I like to thin mine out with 1 tablespoon of milk to get the not-too-thick, not-too-thin consistency I love.
Nutrition
Calories:
224
kcal
Carbohydrates:
36
g
Protein:
4
g
Fat:
8
g
Saturated Fat:
2
g
Polyunsaturated Fat:
2
g
Monounsaturated Fat:
4
g
Cholesterol:
1
mg
Sodium:
485
mg
Potassium:
167
mg
Fiber:
2
g
Sugar:
9
g
Vitamin A:
26
IU
Vitamin C:
2
mg
Calcium:
139
mg
Iron:
1
mg
Tried this recipe?
Rate it to let me know how it was!
Love this recipe? Check out my other Bisquick pancake recipes.
Pumpkin pancakes are a seasonal treat that I look forward to every fall. The moment I see a can of Libby's pumpkin puree, it somehow finds a home in my shopping cart.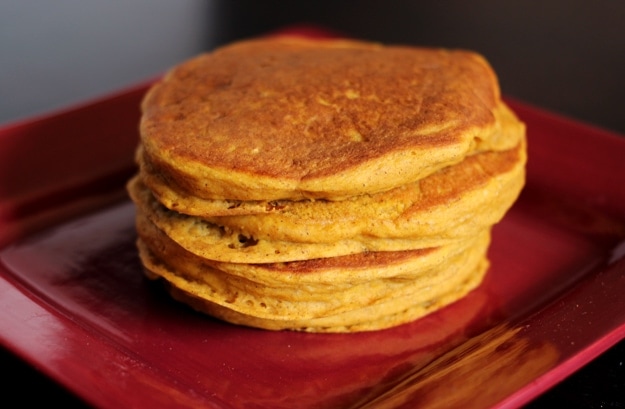 This is the recipe that started it all! A basic vegan bisquick pancake recipe that never goes out of style.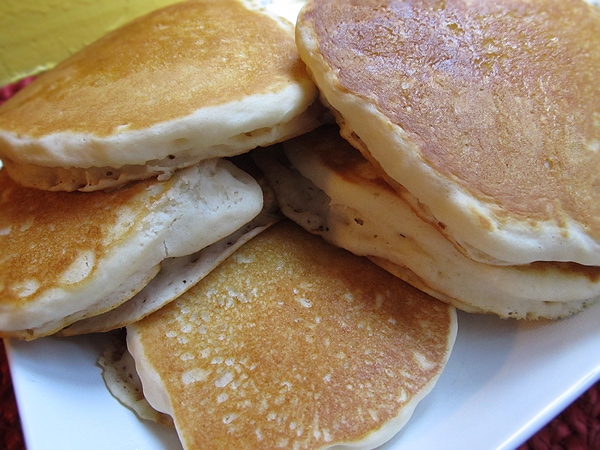 If you love this vegan pancake recipe, give it a share.