These s'mores macarons are made with a graham cracker macaron, homemade marshmallow fluff, and chocolate ganache. Each bite is a perfect sweet treat, and this makes for one of those desserts that will really WOW your friends.
This recipe is from Liv for Cake. Liv is a Vancouver-based recipe developer. My sister made these macarons, and I photographed them.
For more macaron recipes, explore these fall macaron flavors or these winter macaron recipes.
This post contains affiliate links. As an Amazon affiliate, I make a commission on qualifying purchases.
Jump to: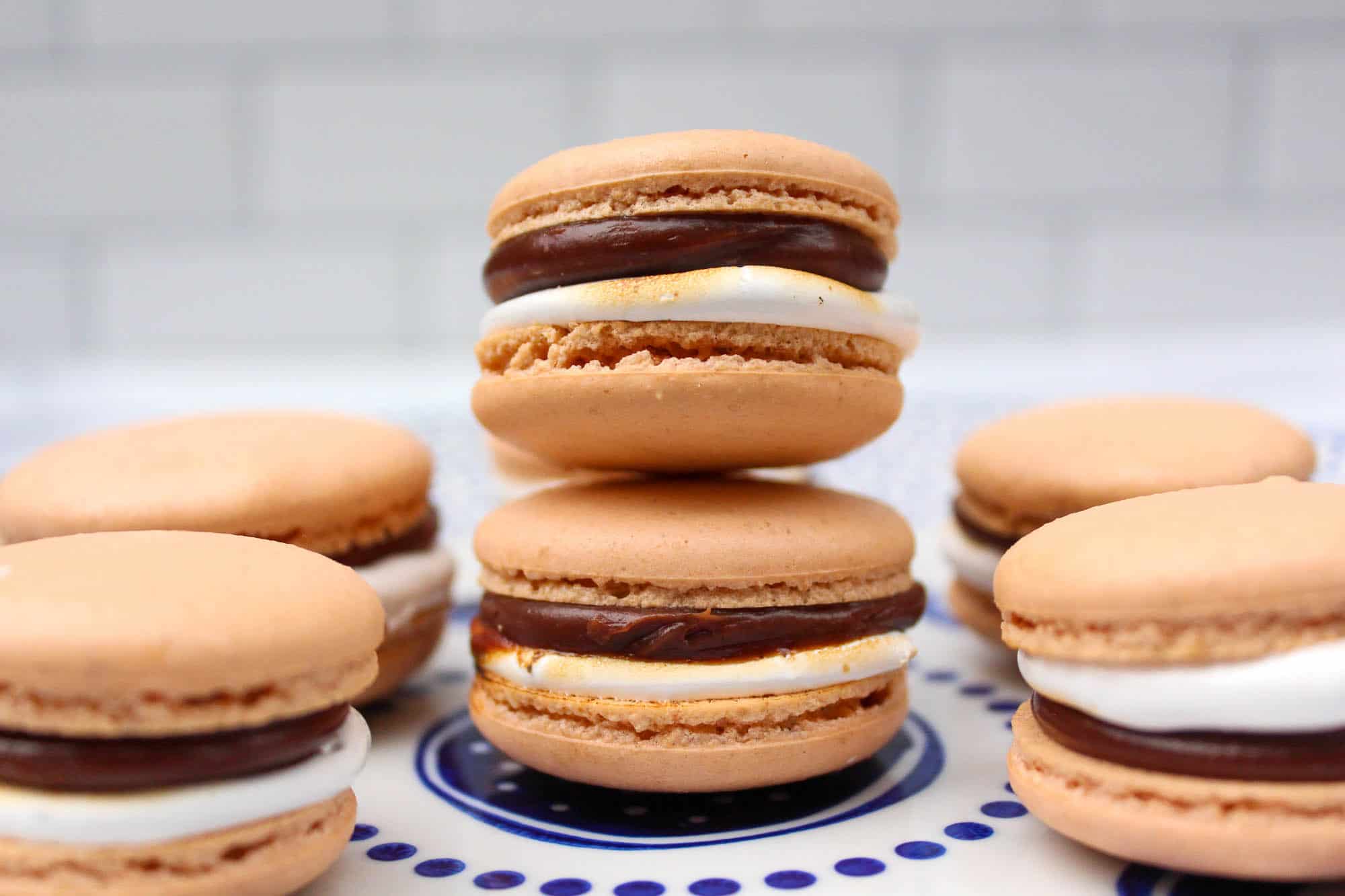 Helpful tips for beginners
Below is a note from my sister, Becca who made this recipe
The most helpful thing for me today was my mindset. I wasn't worried.

The first time I made macarons, I read post after post about how difficult and tricky they are. How one misstep can ruin them. How even if you do it all right, the humidity outside may mess everything up.

The first time I made them, I ended up under-mixing because I was so worried about when to stop. Today, I decided not to worry because I knew the S'mores macarons would be great regardless.

In fact, I may have over mixed just a hair, but that's okay. They are still great.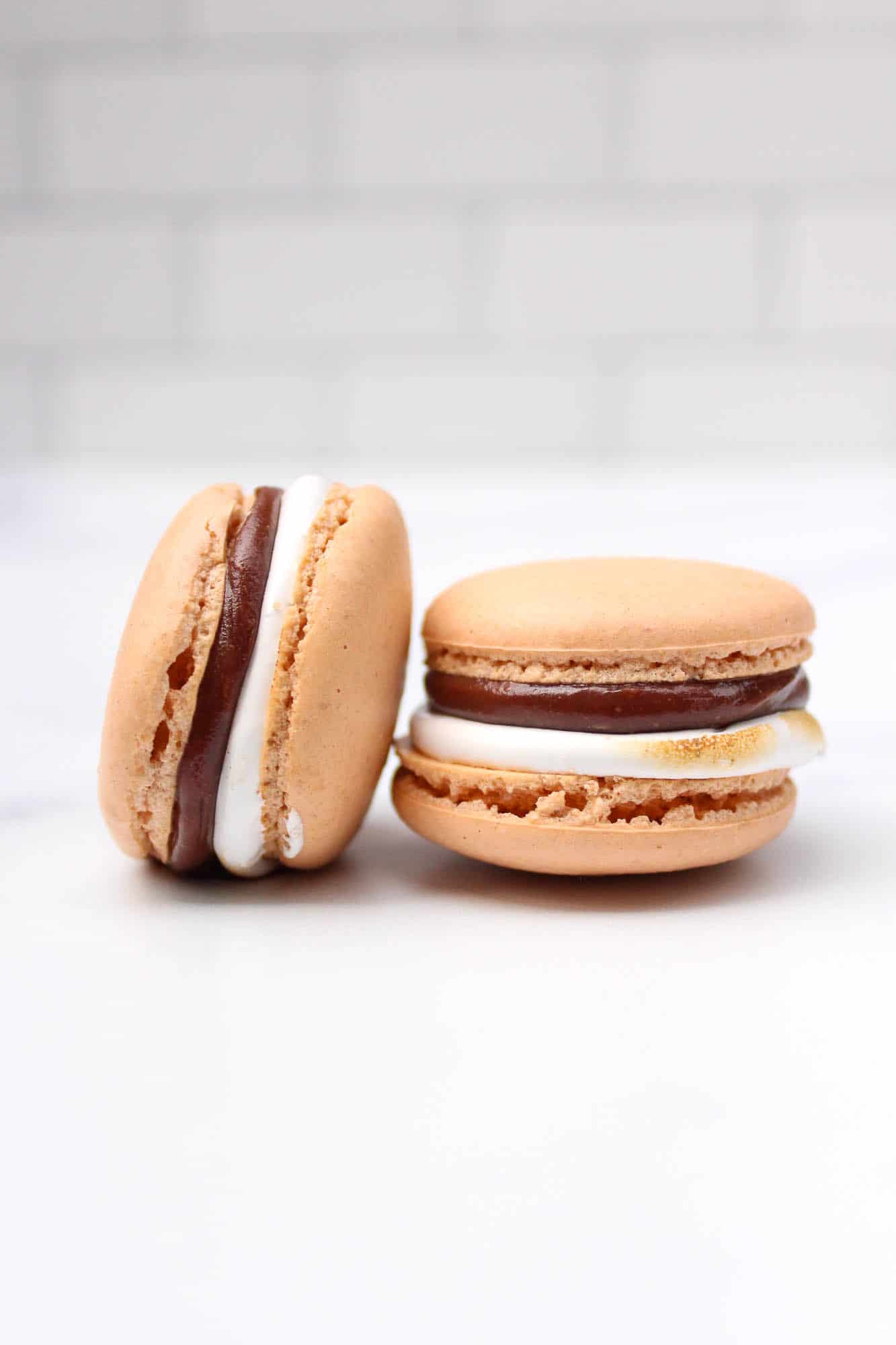 Recipe directions with notes
The full recipe card is below (and you can also visit Liv for Cake for her recipe notes), but here are a few comments from Becca.
Separate the egg whites and put them in a glass bowl to age. Cover with plastic wrap and poke a few holes in the plastic wrap. Some posts say you can do it for days but I did it overnight. It's not necessary, but it's supposed to help. Then put it on the counter to get to room temp when ready to use.
I put the dry ingredients in the food processor then sifted them. Then I put large bits back in the food processor because I didn't want to miss any of the graham cracker flavor. Sifted one more time.
I watched a ton of videos on stiff meringue. The tip that helped the most was to look for a "birds beak" when you lift the whisk. Stiff but very slightly curved at the end. Added ivory and warm brown gel food color.
Folded a third of the dry mixture into the meringue, then folded in remaining of the dry. What helped me was looking for a lava/honey-like consistency. When you lift a spatula it falls off in a honey-like river and the stream continues long enough to make a figure 8. The batter doesn't immediately sink into itself. Takes about 20 seconds for it to sink in.
Silpat mat made for prettier shells than using parchment paper because it made for better feet. Amazon also makes an Amazon brand version. I did some on a tray with parchment paper and used some extra batter to stick the paper to the tray. A small blob in each corner. It helped, but it wasn't perfect.
I whacked my tray on the counter twice. Rotated 90 degrees. Whacked it again. Another 90. Whack. 90. Whack. Poked any remaining air bubbles with a toothpick.
Sat for an hour until the shells weren't sticky when lightly touched. No longer shiny.
Baked my first tray for 15 minutes. The second tray had more shells so I baked it for 17. Don't bake multiple trays at once.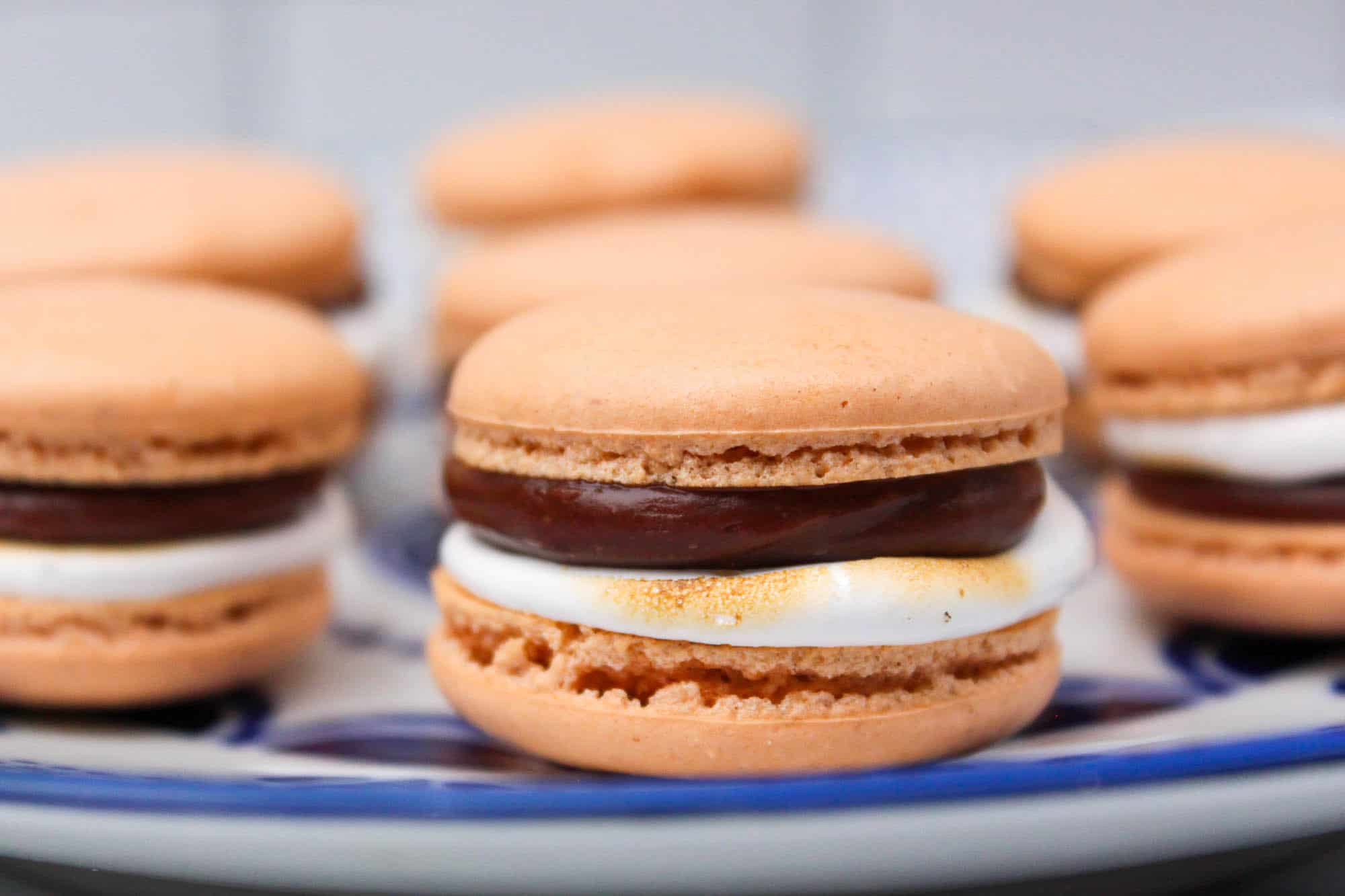 📖 Recipe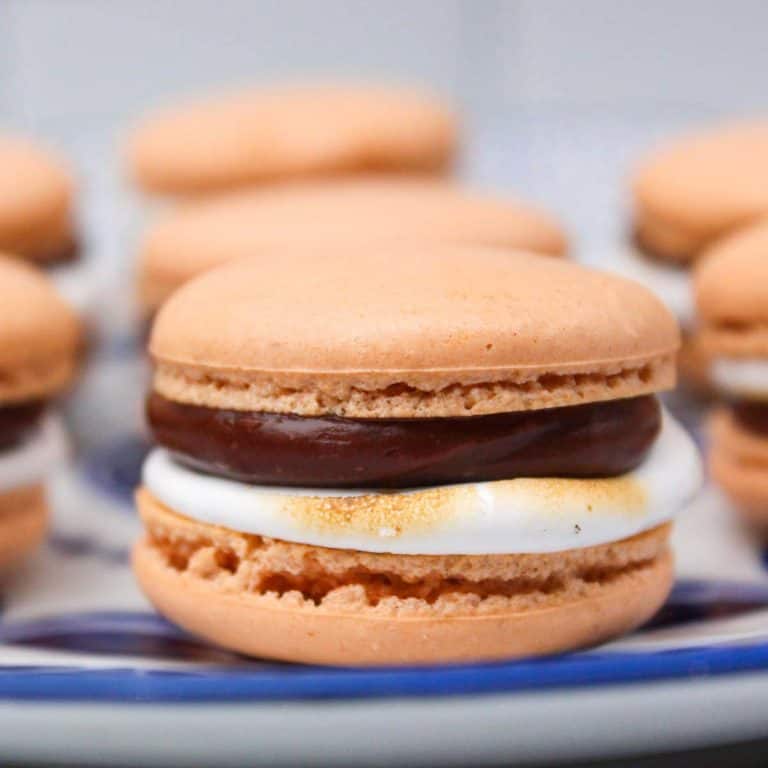 S'mores Macarons Recipe
S'mores macarons are made with a graham cracker macaron, homemade marshmallow fluff, and chocolate ganache. Each French macaron is a perfect sweet treat.
Servings:
finished macarons
Ingredients
S'mores Macaron Cookies
120

g

egg whites

room temperature

130

g

granulated sugar

115

g

almond flour

40

g

graham cracker crumbs

finely sifted

110

g

powdered sugar

brown gel food color

optional
Chocolate Ganache
200

g

milk chocolate

100

g

heavy whipping cream
Marshmallow Fluff
Instructions
S'mores Macaron Cookies
Line baking sheet with a silicone baking mat.

Process almond flour, powdered sugar, and graham cracker crumbs in a food processor until it begins to clump. Sift and re-process any bits that won't pass through the sifter.

Whip the egg whites until the consistency is a loose foam. Continue to beat the egg whites slowly while adding the granulated sugar and whip to a stiff meringue. Add a small amount of brown color gel (optional) and blend to incorporate.

Fold the dry mixture into the meringue until you reach a smooth, shiny consistency.

Pour the batter into a piping bag (or gallon size zipper baggie) with a 1A piping tip. Pipe the macarons onto your baking sheet creating 1-½ inch circles.

Whack the baking sheet on the counter to eliminate air bubbles (see notes in the post).

Let the macarons dry at room temperature until dry to the touch (about one hour). While the macarons dry, make the ganache and marshmallow fluff.

Heat oven to 300°F. Bake macarons for 15-17 minutes. Let cookies cool completely before removing from the pan.
Chocolate Ganache
Chop the chocolate finely and place in a bowl.

Heat the cream until boiling and pour over the finely chopped chocolate (do NOT stir just yet).

Cover bowl with plastic wrap for 2 minutes.

Stir to combine and store in the fridge to set.
To Assemble the Macarons
Pipe a thin layer of ganache followed by a thin layer of marshmallow fluff into the center of one cookie.

Top with a second cookie to create a sandwich and twist together.
Nutrition
Note: Nutrition was estimated using WP Recipe Maker.