This Crock-Pot Tex-Mex chicken recipe is one of the first recipes I ever made in the slow cooker. At the time, I was all about dump-and-go recipes. How beautiful is it when you can just chuck a bunch of ingredients in the slow cooker before work and have a delicious dinner awaiting you when you return home?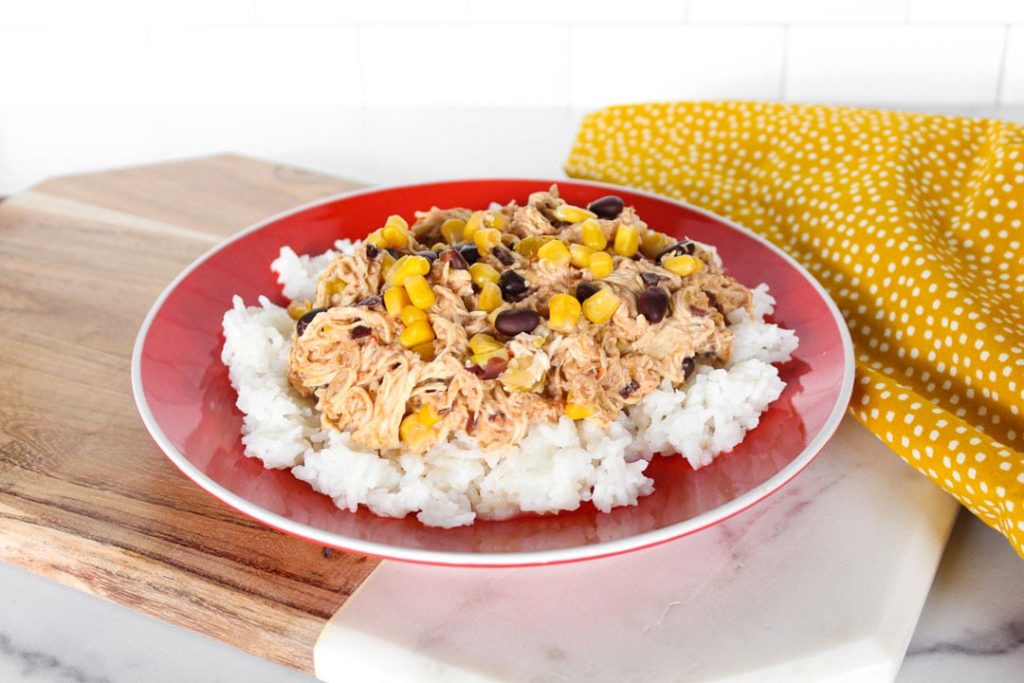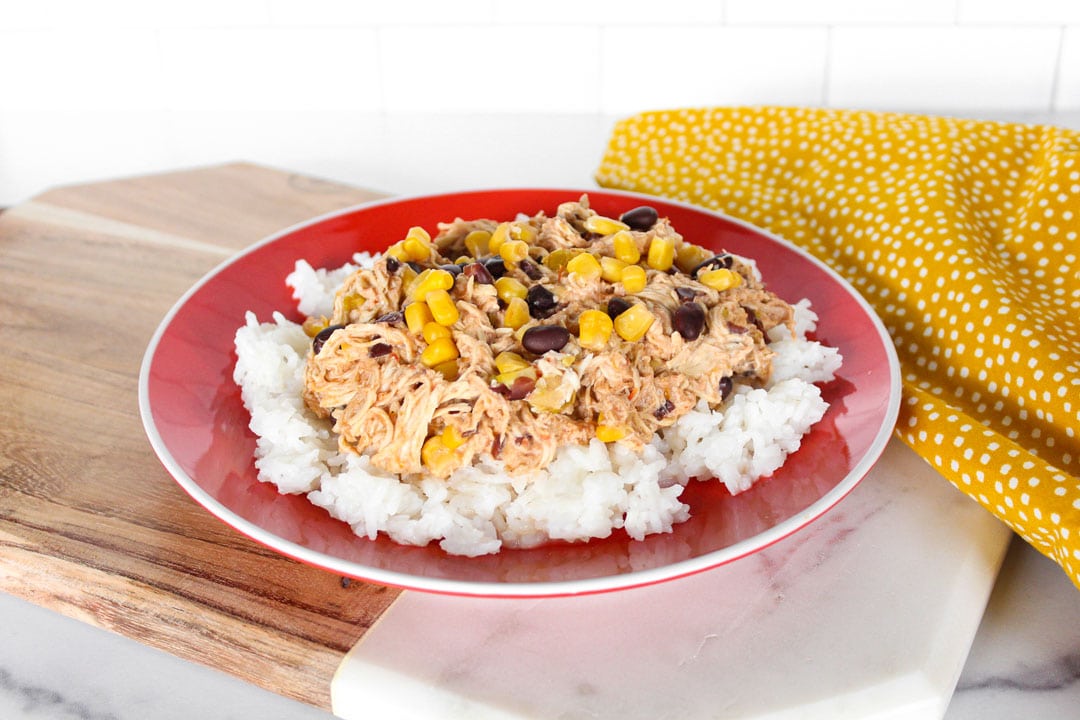 This post contains affiliate links. As an Amazon affiliate, I make a commission on qualifying purchases.
What I like about this recipe is how simple it is and how customizable it is. This recipe is a classic, and it's incredibly versatile.
The first Christmas after college, my parents bought me a Crock-Pot. Nearly 10 years later, that slow cooker is still one of my most used cooking gadgets.
I originally posted this recipe in 2013, but as of this writing, it's 2020. Very strangely, the post itself was empty! I don't know if I published an empty post on purpose or if data got lost in the shuffle... who knows?
I decided to revisit this Tex-Mex chicken recipe and photograph it newly now that I know a thing or two about my DSLR and natural light. I also thought I would share a good bit of advice on this recipe now that my cooking skills and tastes have evolved.
Enjoy!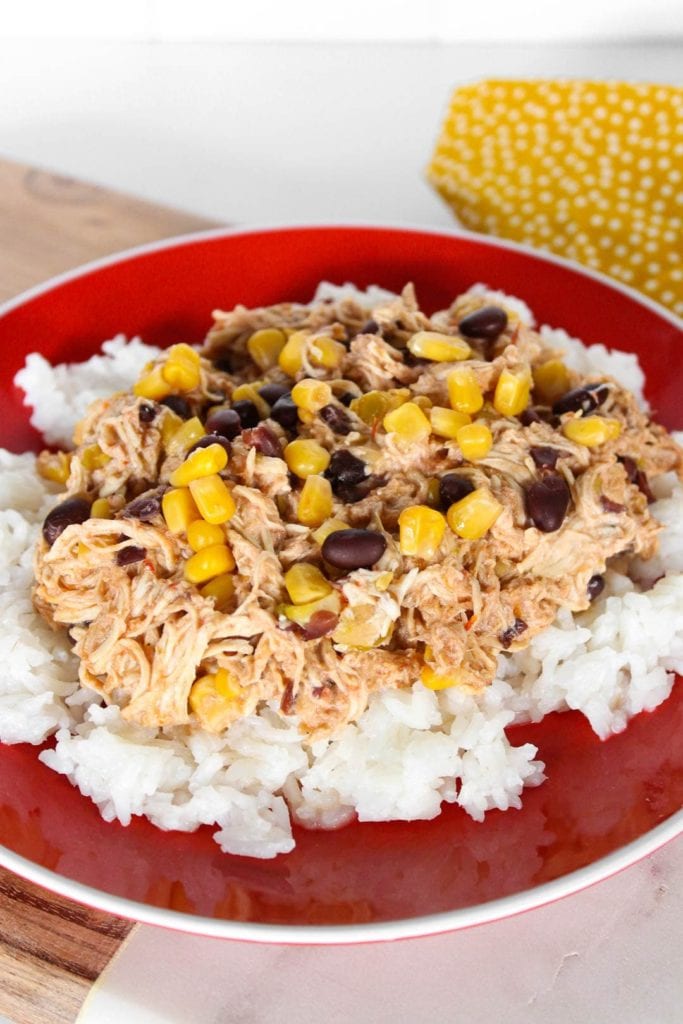 Ingredients
Chicken Breasts
I recommend boneless skinless chicken breasts for this recipe. I have never tried it with boneless skinless chicken thighs, but my guess is it would work just as well.
However, if you're using bone-in chicken thighs, I would pan sear it first to make sure it cooks all the way through.
Corn & Black Beans
This recipe calls for a can of corn and a can of black beans. I think pinto beans (drained) or chili beans (with the liquid) would be tasty as well.
If you use chili beans, you want to keep the liquid because chili beans are seasoned beans. You'll likely end up with a more liquidy chicken mixture in the end, but that might turn out just fine.
If you want a little something extra, add a small can of green chilis!
Salsa
I recommend using chunky salsa. Otherwise, you lose out on some texture.
I also suggest using medium or hot salsa. The cream cheese balances out the spice quite a bit, so I think the bold flavor is needed.
Seasoning
The simplest version of the recipe (what I write in the recipe card) just calls for a teaspoon of cumin and a teaspoon of garlic, but you can give it a bit more zing.
Want something super easy? Add a whole packet of taco seasoning.
Want to create a custom blend? I would recommend testing out any of the following additions: chili powder, onion powder, paprika, red pepper flakes, cayenne.
Cream Cheese
I like the thickness cream cheese provides, but sour cream would work as well.
Additionally, if you prefer more of a tomato base rather than a creamy base, skip the cream cheese altogether. It's more like a chili-type experience, and it will be more on the liquidy side.
You can also nix the cream cheese and serve as-is but top with a dollop or sour cream.
Take it to the next level!
I loved this Tex-Mex chicken recipe when I was fresh out of school (and I probably would have loved it even more when I was a student!), but now I would say my tastes are a little... elevated.
To make a fancier version (and a more veggie-heavy), add diced red onion, red bell pepper, and green bell pepper. Yes, these ingredients are likely already inside the salsa, but even using chunky salsa, nothing beats fresh veggies.
Additionally, there are so many ways to elevate this recipe depending on how you serve it. Check out my serving suggestions below.
To Serve (Optional)
I look at this Slow Cooker Tex-Mex Chicken recipe as a base recipe. There are SO MANY things you can do to jazz it up.
Top with a dollop of sour cream and finish with a squeeze of fresh lime juice
Serve over rice or make DIY burrito bowls with all of the traditional taco toppings (i.e., lettuce, salsa, sour cream, shredded cheddar, avocado, diced fresh tomatoes, cilantro)
Use as enchilada filling. I think enchilada sauce would be an incredibly topping choice as well!
Slow Cooker Tex-Mex Chicken
Shredded chicken made in the slow cooker with salsa, black beans, corn, and cream cheese.
Total time:
6
hours
10
minutes
Ingredients
3

lb

boneless skinless chicken breast

1

can

corn, drained

1

can

black beans, drained and rinsed

15

oz

chunky salsa

medium or hot

1

teaspoon

ground cumin

1

teaspoon

garlic powder

8

oz

cream cheese

rice, cooked

(optional)
Instructions
Place chicken in the bottom of your crock pot.

Layer with corn, black beans, salsa, and spices, giving a small stir to combine.

Set your slow cooker on low for 5 to 6 hours or high for 3 to 4 hours.

When done, shred the chicken with two forks.

Cut cream cheese into cubes and add to slow cooker. Allow to soften for 15 minutes. Stir until combined.

Serve over rice, use as enchilada filling, or make burrito bowls.
Video
Nutrition
Tried this recipe?
Rate it to let me know how it was!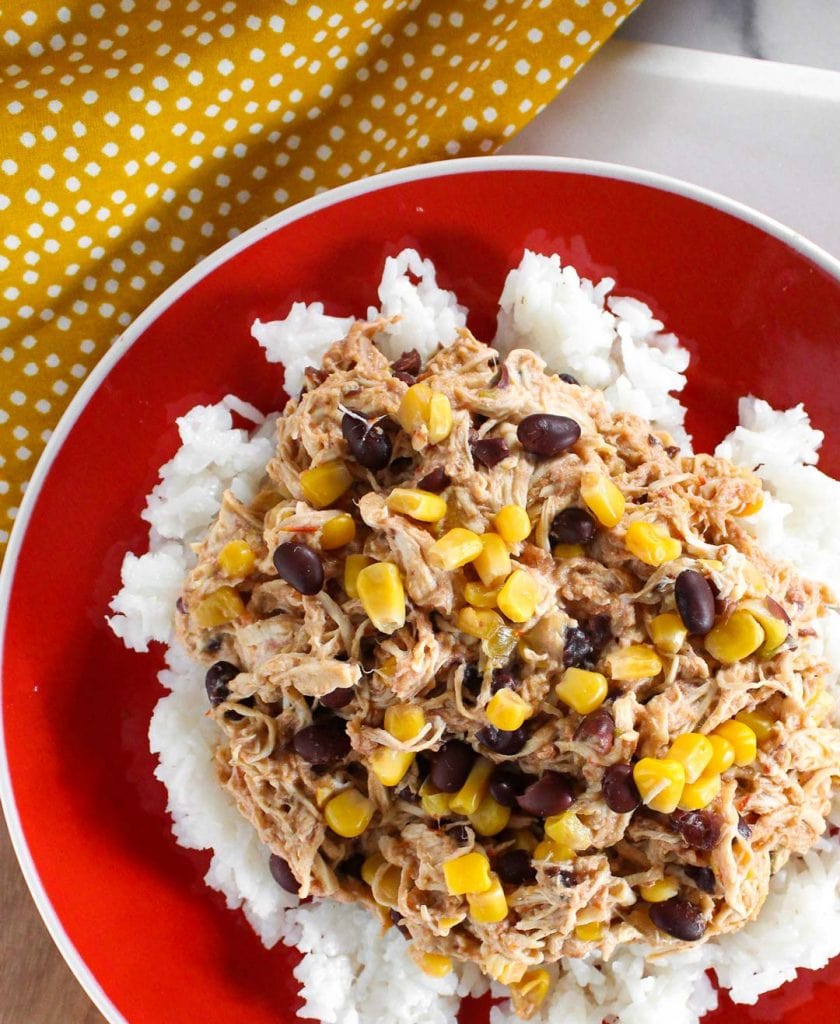 Check out more of my cheap eats recipes for simple, easy to put together recipes.