Learn how to store leftover pancakes. Easily refrigerate, freeze, or reheat pancakes with these simple steps.
A full recipe of homemade pancakes makes more than my husband and I can eat. Or rather, a large batch of pancakes yields more than we should eat.
Instead of making a half batch, we eat as many fresh pancakes as we want, and then I freeze the leftover pancakes for easy breakfast during the week.
Genius? Yes, I certainly think so.
This post contains affiliate links. As an Amazon Associate, I earn from qualifying purchases.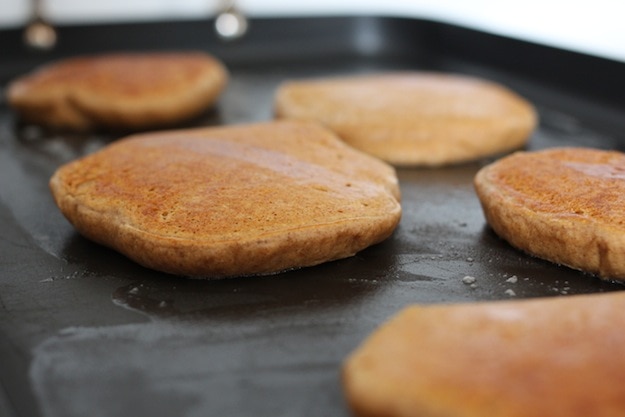 Jump to:
On the weekends, I like to make a full breakfast spread. For us, that usually means scrambled eggs, bacon, and a side of pancakes.
Like I said, this is certainly too much food for us!
The pancakes are easy to whip up though, so I like to take advantage of my productive Sunday morning in the kitchen and make a full batch.
Why?
How to refrigerate
Allow pancakes to cool to room temperature. Pancakes can be stored in an airtight container in the refrigerator for about 2 to 3 days. Store pancakes in a food storage bag or storage container. This is the best method if you plan to eat the pancakes the next day or soon after.
Alternatively, pancakes can be wrapped in foil, but they may dry out faster.
How to freeze leftovers
Pancakes make for a perfect make-ahead breakfast. The freezing part is easy as long as you take an extra minute to pay attention to each of these steps.
Let the pancakes cool. Otherwise, you're going to get steam in the bag that will crystalize into ice. No good.
Layer with parchment paper. Stack in a Ziploc baggie, placing a small square of parchment or wax paper between each pancake. This makes the pancakes easy to separate on the other end of things.
Suck the air out of the Ziploc. Place pancakes in a Ziploc and suck out as much air from the bag as you possibly can (with your mouth) while zipping shut. The less air, the better.
Store in the freezer.
You could also vacuum seal them if you plan to keep them in the freezer long-term. If I think they'll be in the freezer longer than a week or two, I wrap the stacks in plastic wrap and then place them in the baggie to keep them from freezer burn.
Pro tip: write a date on the Ziploc baggie. That way, if you forget about your pancakes (excuse you?), you'll know how long they've been in storage.
Some tutorials will tell you to freeze the pancakes in a single layer on a baking sheet or baking tray before tossing the frozen pancakes an airtight container, but my freezer bag method simplifies the process.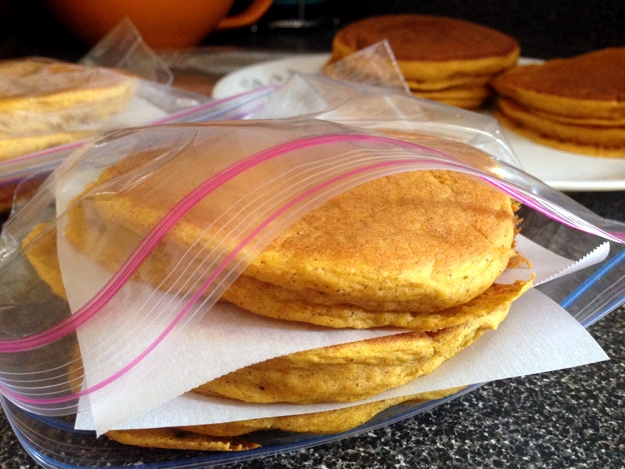 How to reheat
Good news: Pancakes reheat very well. This is great for an easy weekday breakfast on a busy morning. Make-ahead pancakes that take 60 seconds to reheat? Sign me up!
The best way to reheat is up to your preference:
Eat cold: Pancakes can be served cold if desired.
Microwave a short stack for about 60 seconds. This is best for fluffy pancakes. This will make the pancakes soft and maintain a fluffy texture. If you're only heating one or two pancakes, heat in 20-second increments on a microwave-safe plate for best results. The reheating time will vary depending on your microwave wattage.
Pop in the toaster! This will make the outside a little crispy. This is my preferred method for both pancakes and waffles because they're easier to eat on-the-go (hold the syrup). If you keep the heat low, you can probably avoid any crispiness, but I recommend you give it a try.
Room temperature: You can set the frozen pancakes out and let them come to room temperature.
Another reason I love the toaster method? If your pancake is a little crispy, it makes for a great sandwich. Add some bacon (perhaps leftover as well!) in between or a fried egg (probably over-hard to avoid runny egg yolk).
Serving suggestions
Keep it simple with pancake syrup or maple syrup.
You can also top your toasted pancake with chocolate chips, peanut butter, banana slices, or your favorite toppings, depending on the type of pancake. And maybe a drizzle of honey. A swipe of Nutella or cookie butter could also do the trick.
You could even use a toasted pancake as the base of your avocado toast.
Easy Bisquick pancake recipes
I guess you could say I'm a big box mix pancake fan.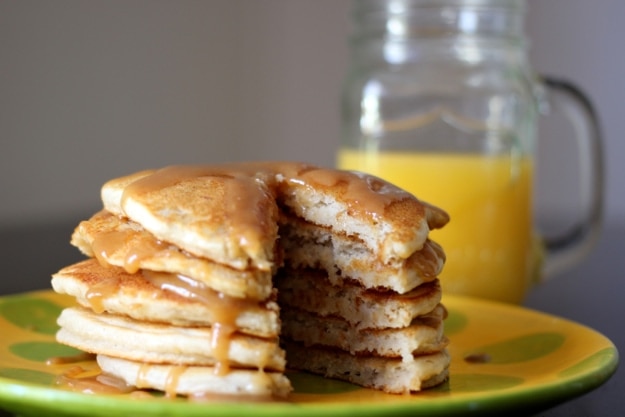 Frequently asked questions
Can you leave pancakes at room temperature?
While many people say that yes, pancakes can be left at room temperature, it is best practice to refrigerate or freeze any leftovers.