Learn how to freeze and reheat pancakes. It's easy!
A full recipe of pancakes makes more than my husband, Xavier, and I can eat. Or rather, a full batch of pancakes yields more than we should eat.
Instead of making a half batch, we eat what we want, and then I freeze the leftover pancakes for easy breakfast during the week.
Genius? Yes, I certainly think so.
Some links may be affiliate links. As an Amazon Associate and a ShopStyle Collective affiliate, I earn from qualifying purchases.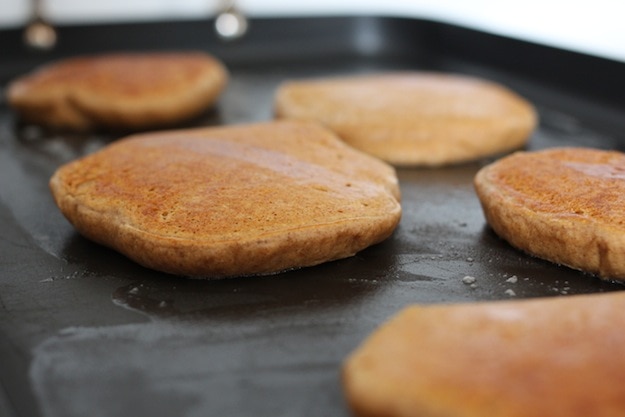 On the weekends, I like to make a full breakfast spread. For us, that usually means scrambled eggs, bacon (or possibly my dad's homemade ground pork breakfast sausage), and a side of pancakes.
Like I said, this is certainly too much food for us!
The pancakes are easy to whip up though, so I like to take advantage of my productive Sunday morning in the kitchen and make a full batch.
Why?
They're easy to store! A little extra effort on the weekend means easy breakfast during the workweek.
My weekday breakfast looks much different than my weekend breakfast. Think whole grain cereal with milk or instant oatmeal. Five minute meals, tops!
I'm sure most people can relate.
How to Freeze Pancakes
Pancakes make for a perfect make-ahead breakfast. The freezing part is easy as long as you take an extra minute to pay attention to each of these steps.
Let the pancakes/waffles cool. Otherwise, you're going to get steam in the bag that will crystalize into ice. No good.
Layer with parchment paper. Stack in a Ziploc baggie, placing a small square of parchment or wax paper between each pancake. This makes the pancakes easy to separate on the other end of things.
Suck the air out of the Ziploc. Place in a Ziploc and suck out as much air from the bag as you possibly can (with your mouth) while zipping shut. The less air, the better.
Store in the freezer.
I follow these steps if I know Xavier and I will eat the pancakes within the week.
You could also vacuum seal them if you plan to keep them in the freezer long-term. Aside from a vacuum sealer, you can also just add more layers.
If I think they'll be in the freezer longer than a week or two, I wrap the stacks in plastic wrap and then place in the baggie to keep them from freezer burn.
Personally, my tastebuds are extra sensitive to freezer burn, so it's best to take precautions.
Pro tip: write a date on the Ziploc baggie. That way, if you forget about your pancakes (excuse you?), you'll know how long they've been in storage.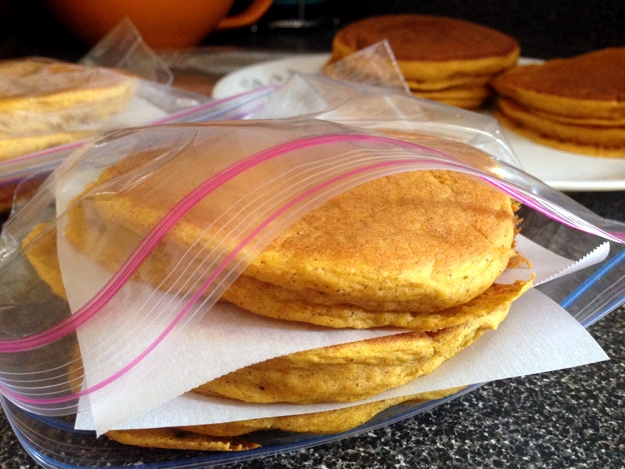 How to Reheat Frozen Pancakes
Good news: Pancakes reheat very well.
I don't have children, but I'm guessing this would be a good kid-pleaser, too. Think about it: school day breakfast that takes 60 seconds? Sign me up!
Microwave a short stack for about 60 seconds. This will make the pancakes soft, but I don't recommend this for waffles. If you're only heating one or two pancakes, heat in 20-second increments.
Pop in the toaster! This will make the outside a little crispy. This is my preferred method for both pancakes and waffles (crispy pancakes, call me strange) because they're easier to eat on-the-go (hold the syrup). If you keep the heat low, you can probably avoid any crispiness, but I recommend you give it a try.
If you're feeling a little creative...
Another reason I love the toaster method? If your pancake is a little crispy, it makes for a great sandwich. Add some bacon (perhaps leftover as well!) in between or a fried egg (probably over-hard to avoid runny egg yolk).
You can also top your toasted pancake with peanut butter and banana slices. And maybe a drizzle of honey. Go crazy!
A swipe of Nutella or cookie butter could also do the trick.
You could even use a toasted pancake as the base of your avocado toast.
Need a good pancake recipe?
I guess you could say I'm a big pancake fan.