You know, I was saving this Bisquick pumpkin pancakes recipe for October, but pumpkin fever seems to hit earlier and earlier every year.
The moment Starbucks releases the Pumpkin Spice Latte, all bets are off!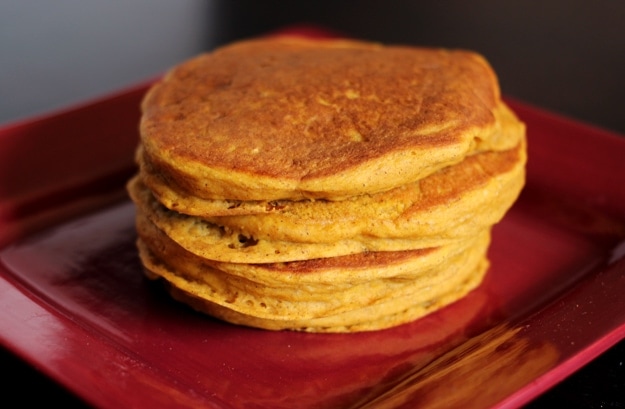 I read this morning on The Morning Fresh that the PSL doesn't even have any pumpkin in it... which is just something I never really thought about. I feel duped.
This post contains affiliate links. As an Amazon affiliate, I could make a commission.
Update from the future: Starbucks now puts pumpkin in the PSL. Their "pumpkin spice sauce" is made from sugar, condensed skim milk, and pumpkin puree.
But no fear, because you don't need to pay $4-something for faux pumpkin (unless you want to, of course).
You can add pumpkin (the real thing!) and cinnamon to so many things you already make, and it's downright scrumptious.
Be creative, I dare you.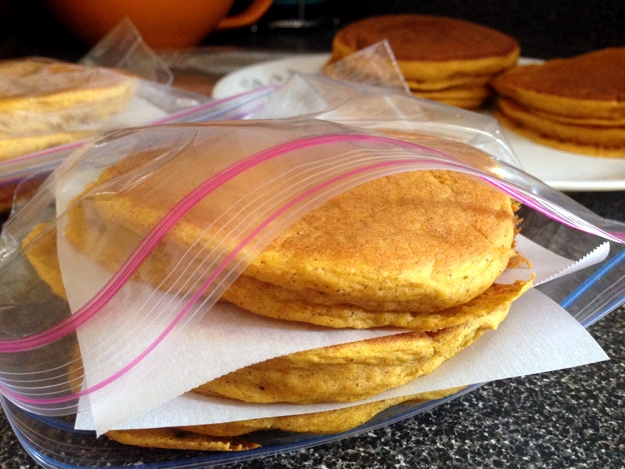 Xavier isn't much of a pumpkin man, but I go on and make a full recipe anyway, bag up the extras, stash them in the freezer, and pull them down during the week for some weekday pumpkin goodness.
You just want to be sure to separate each pancake with a square of parchment paper, otherwise they'll be stuck in a stack together that's difficult to separate.
I do this with pancakes frequently.
Learn how to store pancakes in the freezer.
And then just a little trick I picked up from Lily M on Youtube, you can put your iPhone in a sandwich baggie and still use it like normal. This is a huge help when baking. Because flour.
Pumpkin Spice?
Well, sort of.
This recipe contains pumpkin and cinnamon, but not the ingredient "pumpkin pie spice."
Why not?
Pumpkin pie spice is a mix of cinnamon, ginger, nutmeg, and allspice. I personally just love cinnamon out of that combo!
But, if you're a pumpkin pie spice fiend, GO FOR IT!
You can still use 1 teaspoon to swap out the cinnamon.
Eggless Pancakes?
PS, I assure you, I did not forget the egg in this recipe. Eggs in Bisquick pancakes are kind of unnecessary, especially when there's another ingredient in them like pumpkin puree or banana.
They hold together just fine in this eggless recipe.
What kind of milk should I use?
Use any kind of milk!
I've made these with regular dairy milk as well as almond milk and coconut milk (from a carton, not a can), and I honestly can never tell a difference.
One thing you might consider though is sweetened milk (think vanilla almond milk) could make your pancakes a little sweeter. Which might be good if you like your pancakes sweet!
Bisquick Original is vegan?
Please note that there are several versions of Bisquick and not all are vegan. Bisquick Original in the U.S. contains no milk ingredients, though someone on Reddit pointed out that the "Betty Crocker Bisquick Multi-Purpose Baking Mix" in the UK does contain milk ingredients.
Pearl Milling Company Original pancake and waffle mix is also vegan, but the "complete" mix is not. It's a little confusing because the complete version says "original" on the box as well.
When in doubt, read ingredient labels!
Same goes for Krusteaz. The basic mix is vegan, but the others are not.
How else can these pancakes be customized?
Here are a few of my top tips:
Decrease the baking powder for a more dense, less fluffy pancake. Thanks for the tip, Chris!
Add a little extra milk, one splash at a time, for a thinner batter.
Use sweetened non-dairy milk (e.g., vanilla almond milk) for a sweeter pancake.
Add chocolate chips after you've poured the batter onto the griddle/skillet.
Add a pink of ground clove for a little spicy kick. Thanks for the tip, Alexandra!
Alexandra also commented that this recipe can be used to make waffles as well. I've not tested this myself, so I can't say for sure how the texture is, but I would guess they'd be pretty great waffles, too.
Leave your tip in the comments!
Bisquick Pumpkin Pancakes
This Bisquick pumpkin pancakes recipe is easy to make! It's egg-free and can be made with any type of milk, making it a vegan-friendly breakfast recipe.
Ingredients
2

cups

Bisquick

2

tablespoon

sugar

2

teaspoon

baking powder

1

teaspoon

cinnamon

1

teaspoon

pumpkin pie spice

½

cup

canned pumpkin puree

1

teaspoon

vanilla

1-½

cup

milk

I use Almond milk, unsweetened vanilla
Instructions
Mix all dry ingredients in a large mixing bowl.

Add pumpkin and vanilla and stir. Slowly add milk, until the consistency is to your liking. For fluffier pancakes, let the batter sit for a few minutes before cooking.

Heat pan to medium heat and spray with cooking spray or coat with butter (try Earth Balance) or oil. Pour ¼ cup or less of batter on to the pan, depending on how big you want your pancakes. Cook both sides until golden.
Nutrition
Calories:
151
kcal
|
Carbohydrates:
24
g
|
Protein:
3
g
|
Fat:
5
g
|
Saturated Fat:
1
g
|
Polyunsaturated Fat:
1
g
|
Monounsaturated Fat:
3
g
|
Cholesterol:
1
mg
|
Sodium:
510
mg
|
Potassium:
84
mg
|
Fiber:
1
g
|
Sugar:
7
g
|
Vitamin A:
2386
IU
|
Vitamin C:
1
mg
|
Calcium:
139
mg
|
Iron:
1
mg
Note: Nutrition was estimated using WP Recipe Maker.
Love this recipe? Check out my other Bisquick pancake recipes.
Banana. Peanut butter. Enough said.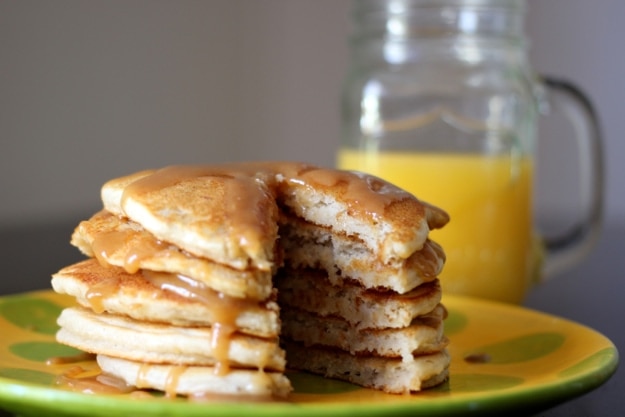 These are the go-to, back-to-basics vegan pancakes you dream about.