Satisfy your sweet tooth with these delicious Ninja Creami protein ice cream recipes that satisfy cravings and pack a protein punch.
Craving ice cream but want a healthy treat? Look no further than the Creami. It's a super cool kitchen appliance that lets you create full-fat ice cream, lite ice cream, sorbet, and more. 
This post contains affiliate links. As an Amazon Associate, I earn from qualifying purchases.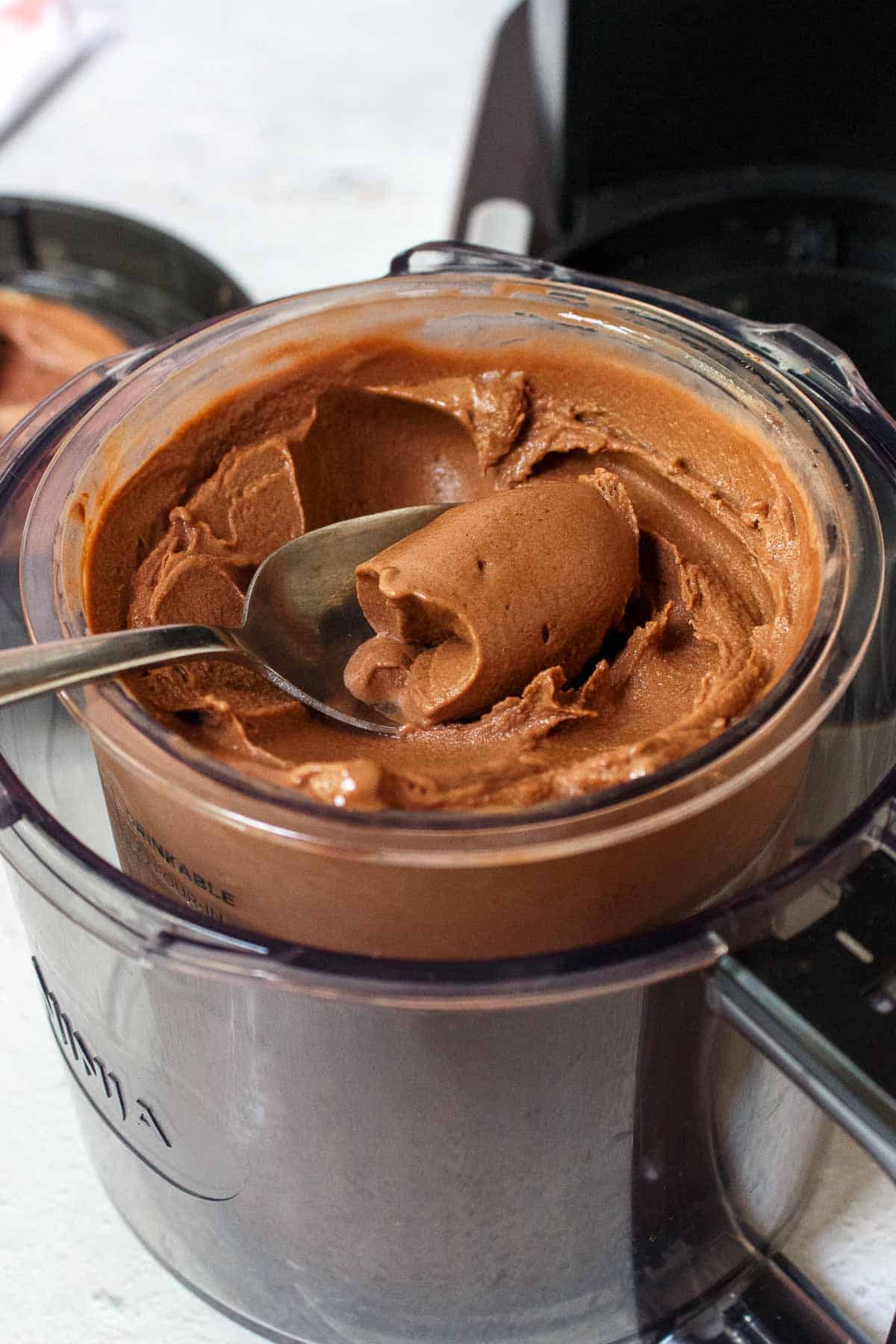 Jump to:
Let's dive into the world of Creami and discover why it's a game changer for all the ice cream lovers out there. With the Ninja Creami machine, you can make creamy, protein-packed ice cream right at home, and it's so easy to use.
The "Lite ice cream" program on the machine is perfect for low-fat recipes. The blade spins faster and runs longer because lower calorie ice cream freezes harder than full-fat recipes.
How it works
First, you whip up your ice cream base using ingredients like ultra-filtered milk, almond milk, or a protein shake for lite ice cream recipes. You also want a binding ingredient like low-fat or fat-free cream cheese, guar gum, or Jell-O instant pudding mix. You can also add a scoop of your favorite protein powder.
Once your base is ready, pour it into the Ninja Creami pint container. It has to freeze on a level surface for at least 12 hours and sometimes a full 24 hours. Be sure to read the recipe in advance.
Now, here comes the fun part! Place the frozen pint into the bowl assembly and pop on the lid assembly. Once everything's in place, hit the lite ice cream button and let the Ninja Creami do its thing.
The powerful motor churns your mixture to perfection, creating a creamy texture that rivals your favorite low-calorie ice cream from the store.
Pro tips
Re-spin: Lite ice cream recipes can look powdery after the first or second spin. Simply respin until you reach a creamy consistency. It can help to add a splash of milk before the re-spin, but don't add much because it will water down the flavor.
Microwave: If your ice cream consistently has a solid ice wall on the inside of the pint that doesn't incorporate after spinning (and re-spinning), your freezer may be too cold. You can microwave your pint in the microwave for 30 seconds before the first spin.
Max fill: Do not exceed the max fill line, you could damage your machine.
Why I love it
The Ninja Creami ice cream maker lets you control what goes into your ice cream. Use ingredients like coconut milk, whey protein powder, or even Fairlife shakes to make a healthy treat that fits your dietary needs. 
There are low-carb and light ice creams at the grocery store, but they can be pretty expensive. If you keep your recipes simple, you can save a bit of money and enjoy homemade high protein ice cream.
Whether counting calories, watching your carbs, or trying to pack in more protein, the Ninja Creami lets you whip up homemade ice cream that's perfect for you.
And the best part? You don't even need to leave your house to get your ice cream fix. No more searching grocery store aisles for limited options of protein ice cream. With the Ninja Creami, you can get creative and try out all sorts of delicious recipes right in your own kitchen.
Breeze versus Deluxe
The main models currently available are the Breeze 7-in-1 (there is also a 5-in-1 version) and the Deluxe 11-in-1. The biggest difference is the pint size. The pint size for the Breeze makes a standard 16-fluid-ounce pint. The Deluxe has a 24-ounce pint.
The Deluxe model also has additional functions: Italian ice, Slushi, Creamiccino, frozen yogurt, and frozen drinks. Each function has a different blade speed and blend time.
Recipes
So, what are you waiting for? Find your favorite protein ice cream recipe.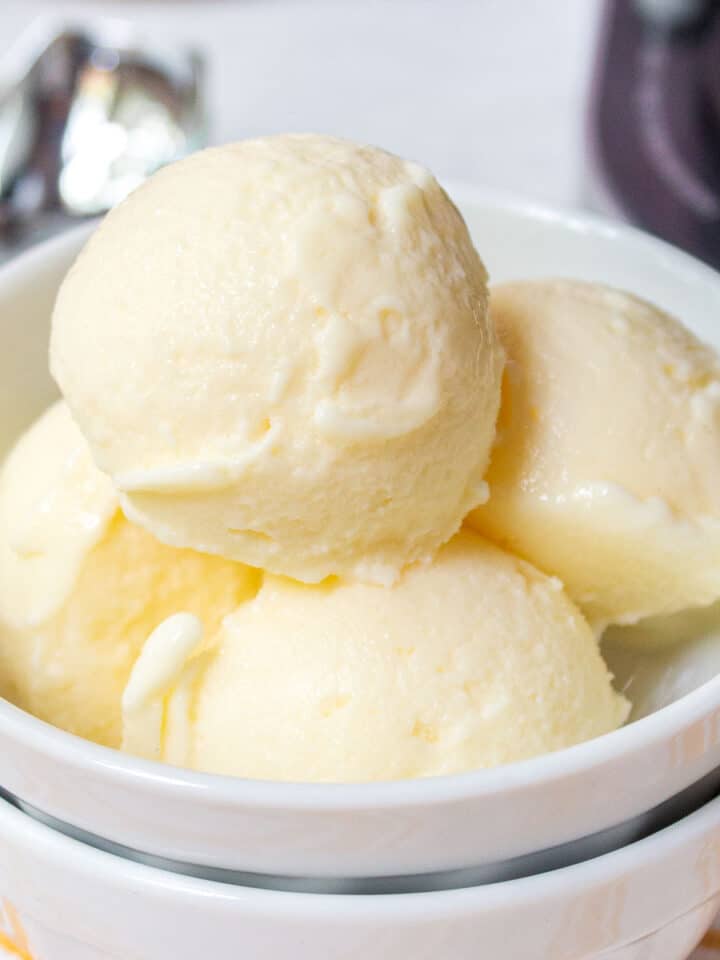 This is an easy healthy ice cream recipe. Ninja Creami vanilla protein ice cream uses a Fairlife Core Power protein shake for a low-effort vanilla ice cream recipe that's high-protein. 190 calories and 26 grams of protein in a whole pint (and only 14 grams of carbs).
Sweetened with Stevia and sugar free instant pudding mix, you'll love the flavor. You can follow this same recipe with a chocolate protein shake. Plus, the recipe includes directions for both a standard pint and a deluxe pint.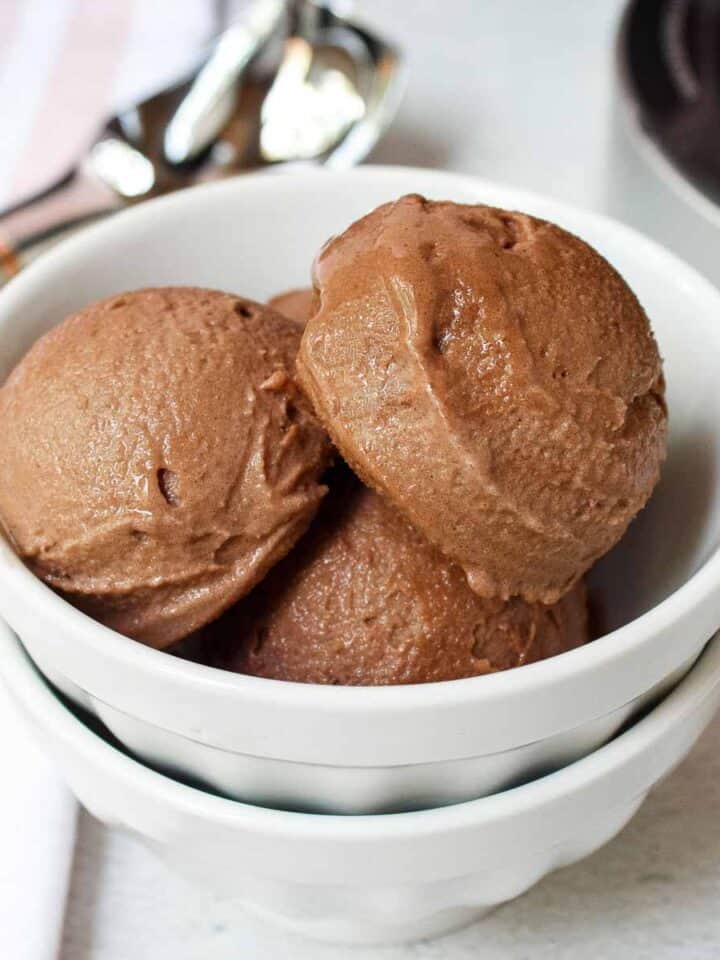 This Ninja Creami chocolate protein ice cream without protein powder or a pre-made protein shake. Instead, this recipe uses Fairlife ultra-filtered 2% chocolate milk. 340 calories and 28 grams of protein in the whole pint.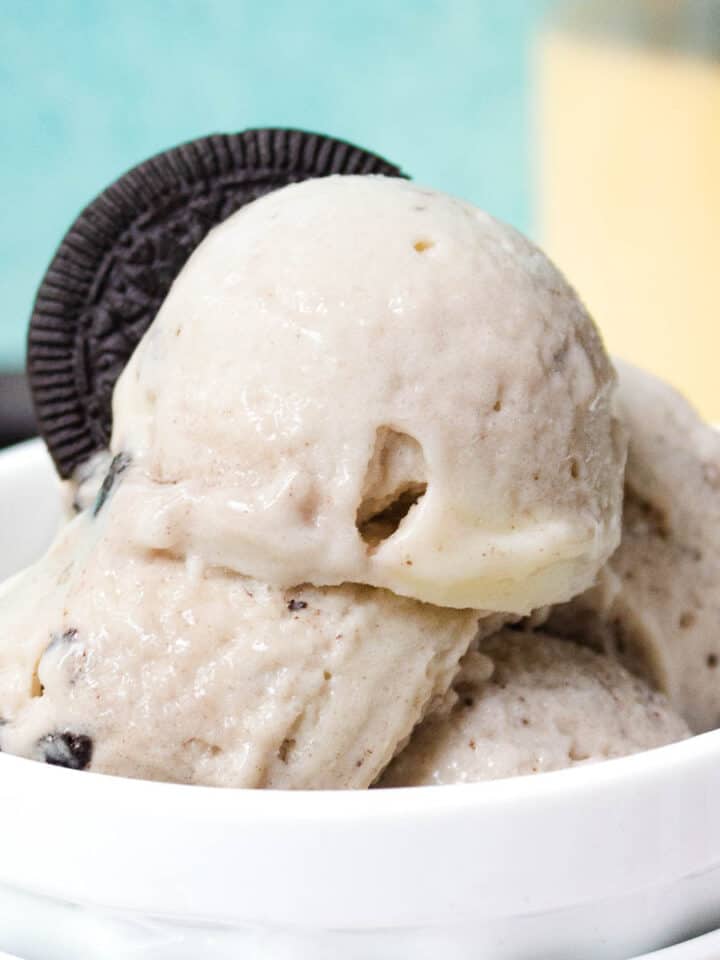 Take your vanilla protein ice cream to the next level with this Ninja Creami Oreo protein ice cream. Cookies and cream never tasted so good!
This sweet treat is made with a vanilla Fairlife Core Power Shake, stevia, instant pudding mix, and Oreo Thins. 340 calories and 27 grams of protein in the entire pint.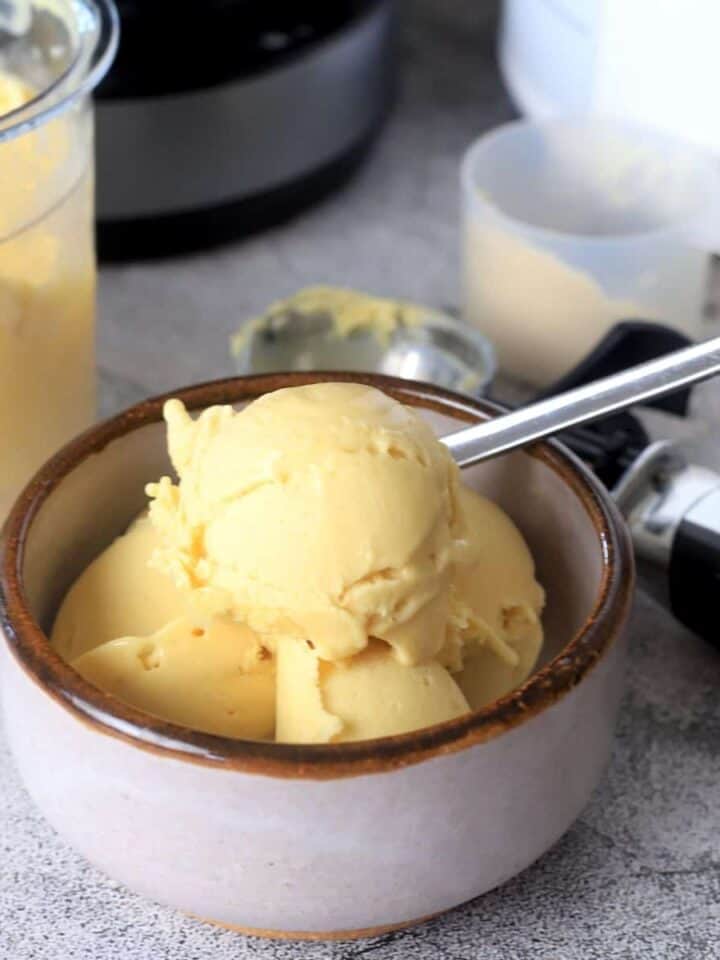 This is the ultimate protein ice cream recipe because it include instructions for using whey protein powder or a protein shake.
Nutritional information will vary depending on the protein powder but should be under 100 calories and around 17 grams of protein (and only 1 gram of carbohydrates) when following the recipe. Low calorie and high protein? Yes!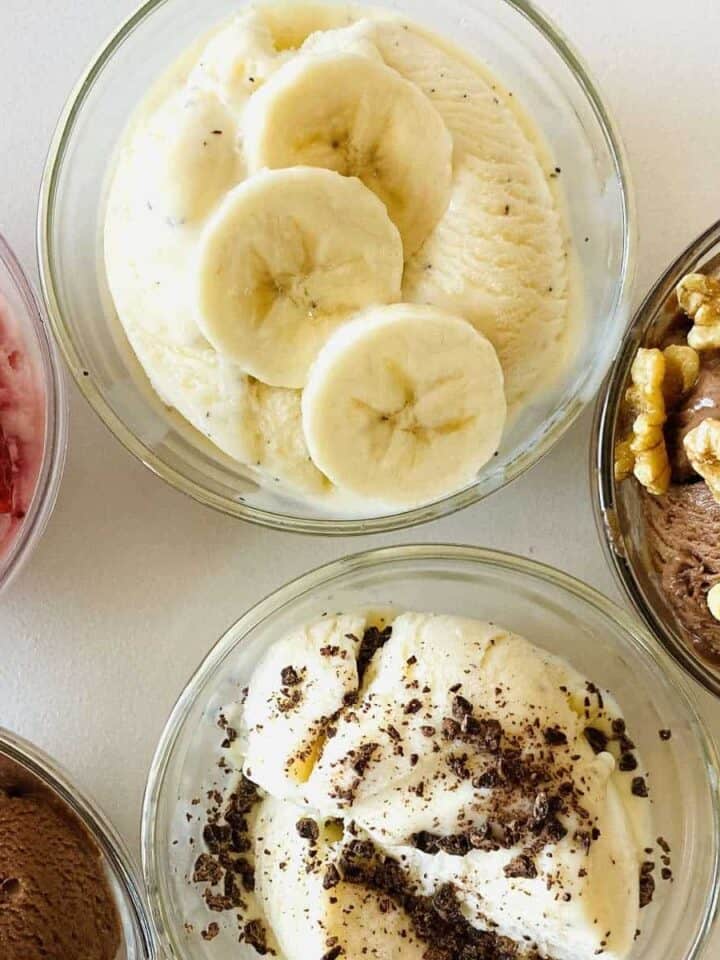 This recipe includes more than 20 flavors to pick from. Keto, sugar-free, cottage cheese (That's right! You can also add cottage cheese to your recipe the boost the protein.), and more, this recipe has it all.
The secret ingredient to customizing your flavor is using your favorite protein shake. This recipe also features guar gum for those avoiding the aspartame found in sugar-free instant pudding mix.
What flavor will you pick? My top picks are strawberry, chocolate peanut butter, banana cream pie, and mint chocolate chip.
FAQ
Does Ninja CREAMi really need 24 hours?
Most recipes do require 24 hours to freeze, but some recipes like low-fat lite ice cream recipes may only need 12 hours to freeze. The only way to know for sure is to try and find out!
What is lite ice cream on Ninja Creami?
The lite ice cream button is for reduced fat or low sugar mixes which freeze harder than full-fat and full-sugar recipes. If using sugar substitutes, use the lite ice cream program.
Related
Browse all of my Ninja Creami recipes.