Bookmark these easy recipes with frozen meatballs to save on cooking time for your next family favorite meal on a busy weeknight.
Cooking with frozen meatballs is very convenient and can be time-saving compared to homemade meatballs. You can find homestyle meatballs, Italian meatballs, chicken meatballs, turkey meatballs, and more at the grocery store in the freezer section.
Since they are frozen, they are a convenient option for quick meals or last-minute preparations. They eliminate the need for extensive prep work and can be easily stored in the freezer until needed.
This post contains affiliate links. As an Amazon Associate, I earn from qualifying purchases.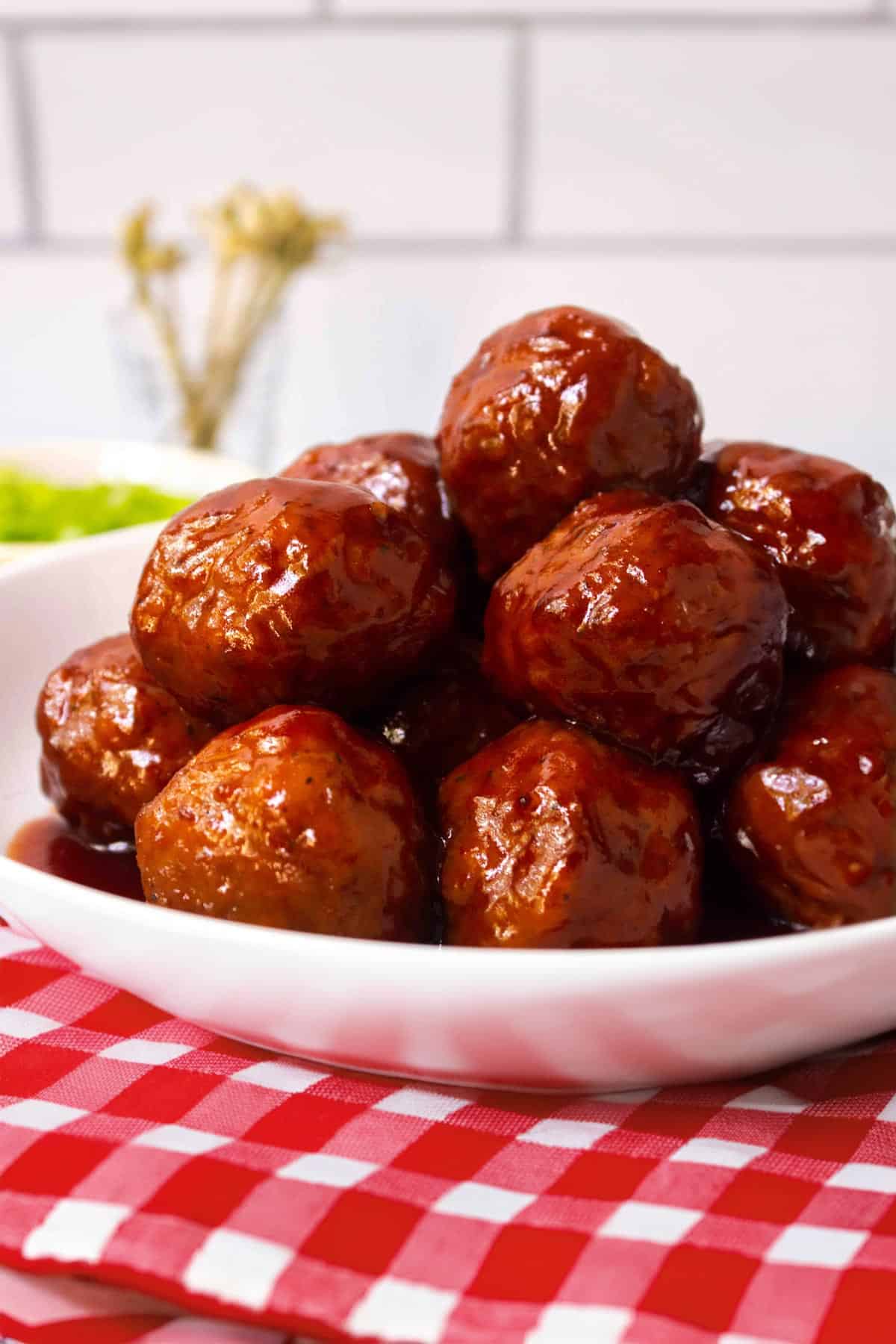 Frozen meatballs are the perfect party food because frozen meatball recipes are easy to throw together, and you can keep cocktail meatballs warm in the Instant Pot or crockpot. For a large crowd, you can find store-bought meatballs in bulk size packaging at Sam's or Costco.
Frozen meatballs are generally pre-cooked, so they require less cooking time compared to making meatballs from scratch. This is particularly helpful when you're short on time or looking for a quick and easy meal solution.
Food safety note: Not all frozen meatballs are pre-cooked, so be sure to read the product packaging. Additionally, even though some frozen meatballs are pre-cooked, it's still recommended to heat them to a minimum internal temperature of 165ºF (74ºC).
Frozen meatballs can be used in various dishes and cuisines. Whether you want to make spaghetti and meatballs, meatball subs, meatball stir-fry, or even appetizers like Swedish meatballs, having a bag of frozen meatballs allows you to explore different recipes without the hassle of making them from scratch.
To make your own meatballs, try my buffalo turkey meatballs. There are many different ways to serve meatballs. Explore these delicious side dishes to serve with meatballs.
Jump to:
Slow Cooker
Crockpot meals cook low and slow, so you can set it and forget it. Just like the Instant Pot, you can keep your meatballs warm for extended periods of time, making this an excellent option for preparing food ahead of time or keeping food warm for a family gathering.
Air Fryer
An air fryer is a countertop convection oven that takes up very little space but is very powerful. You can usually air fry food much faster with way less time spent pre-heating. Use an oven-style air fryer or a basket-style air fryer.
Stovetop
Leave the kitchen gadgets behind and try a classic stovetop recipe.
Storage
Leftover meatballs can be stored in the refrigerator for up to 3 to 4 days. To store, place the meatballs in an airtight container or zippered food storage bag.